By
Ron Otto
on Mar 21, 2015 in
Attractions
,
Europe
,
Food and Drink
,
Going Out
,
Leisure Travel
,
Regions
,
Spain
,
Speciality Travel
,
Travel Miscellany
,
Western Europe
Madrid is one of the biggest small towns I know. It has all the benefits of a major cosmopolitan capital with a great diversity of food, nightlife, art and culture while contained in a central location thats easily walkable. Most importantly a diversity of people, in Madrid you encounter people from all parts of Spain and the rest of the world. Anyone who has been to Madrid before will understand what I am about to explain, Madrid is geographically gifted (Spain should actually be on the same time zone as London), it has a special quality of light that is crisp and clear in the mornings and has a warm high definition quality that energizes in the evening. The sun sets late and a deep blue twilight rises into the night with a magical fairytale quality, making the transition into dark seem somehow light and effortless. I believe this to be one of the reasons you will find people shopping at ten pm and eating dinner at 11pm. Madrid is all about a lifestyle, getting in the groove of the city, about a higher quality of living. Often overshadowed by Barcelona's big reputation, Madrid's identity is constantly evolving and with that I find Madrid is about quality over quantity. There are many great cultural and culinary things on offer but here I want to highlight some of my favourite indulgent activities to do in Madrid.
A privileged pass to privacy
If you are an art lover you probably like to visit a museum or gallery when you visit a new city. I can not even count the times I have been in a museum, whether in New York, London, Paris, and even in Madrid, where I just wanted to be able to enjoy a painting quietly, just for a few minutes without human obstruction or interruption. Or even get through the museum without having to doge all the crowds. Virtually every time I make a visit I always wonder what it would be like to enjoy a painting in a museum on my own without a sea of school tours and bustling tourists shuffling about me in front of my favourite works by Hopper or Goya. What a luxury it would be to graze through a museum with just a few close friends for an hour or two. With 2,536,844 visitors to the Prado Museum in Madrid last year and almost one million at the Thyssen (my favourite in Madrid because of it's chronological collection), any fantasies I had about a visit in solitude were all but dashed, or so I thought.
It is possible to experience both the Prado and Thyssen on your own or with a group of your favourite people, no public and no crowds! The Prado makes their permanent and temporary collections accessible after hours. You can even have dinner and entertainment catered for after your viewing in their main halls. For a set price you get up to two hours of viewing, your own guide and a run of the museum as you choose. The Prado is a huge museum and so this exclusivity has a price to match. Starting at approximately 4500 Euros (not including catering) you can experience some of the great works of art in peace and tranquillity.
The Thyssen Museum also offers a privileged pass to its permanent collection in the mornings before opening to the public. You can have a whole hour of unobstructed viewing silence for a much more reasonable price of approximately 800 Euros.
Luxury wine tasting and vineyard visit
When you think of Madrid, wine is probably not the first thing that springs to mind. La Rioja is probably the most famous wine regions of Spain but it is not too convenient if you do not have much time. Just over a year ago a friend who is a chef introduced me to a local wine that is nothing less that grand. Big and beautiful and surprisingly from Madrid!
Just a 35 minute drive from the center of Madrid you will find one Spain's best kept wine secrets, Valquejigoso Vineyards. This relatively small family run estate of 59 hectares, is planted with Cabernet Sauvignon, Cabernet Franc, Merlot, Petit Verdot, Syrah, Tempranillo, Garnacha, Graciano y Negral producing two red grand wines, V1 and V2, in some of the most modern facilities in Europe. The landscape from afar looks flat but closer inspection reveals its rolling green valleys covered with grapes and olive trees and at its center we find the family villa. When I arrive at the villa for my first visit I wondered where was the bodega?" Where do they produce the wine? The director of Valquejigoso explained to me that all of the production takes place underground, under the villa, maintaining the environmental aesthetic of the natural countryside. The underground facility is huge considering the limited production of this exclusive wine. V2 is priced at about 62 euros a bottle with production at 17,000 bottles and V1 at about 420 Euro per bottle at 1500 bottles, and then only released if the owner feels that the wine is good enough!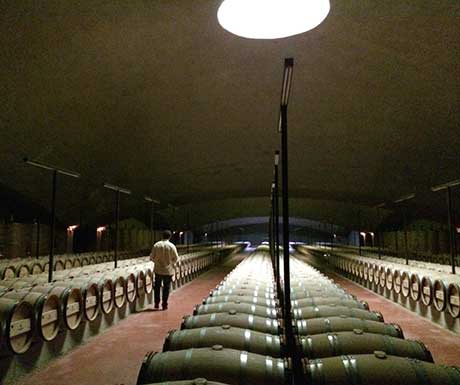 On my visit we toured the vineyard in 4×4 and afterward were invited for a vertical tasting. During our visit the enologist and director, Aurelio, pointed out how the land produced grapes of different quality and how grapes from the top of a particular hill would produce wine that was different from the same grapes at the bottom of the hill. We then tried the wine from barrels at different stages of its production, when it was in the barrel a year, three years and off course taste from the bottle. We even got to try the wine from the very spot we saw during our tour, from the top of the hill and how it differed from the wine in another barrel that came from grapes at the base of the hill. It was a great example of how truly complex wine making can be.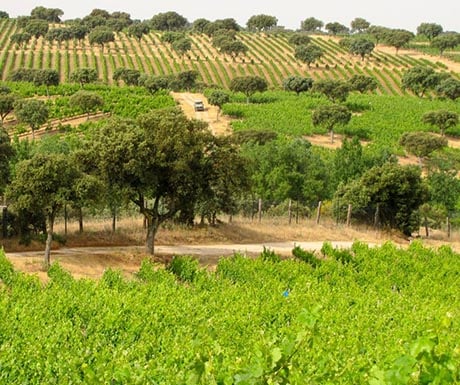 The estate is not running mass tours and tastings or accepting bus load of tourists but you can visit by appointment. A tour of the vineyard and wine production facilities with a vertical tasting is approximately 80 euros per person. And if you really want to get the most out of your visit, a barbecue lunch of grilled venison or beef tenderloin with all the best Spanish delicacies can be arranged for a small group.
Car and driver for a day
Madrid is privileged in its central location, with cities like Toledo, Segovia, Avila, Aranjuez and el Escorial all in easy reach which makes it great for going on a day trip. Toledo and Segovia are only 28 minutes by high speed train, but public transport has its limitations, the train is never going to wait for you and you really will not get a unique perspective on such a fixed route. Some of the most beautiful and interesting attractions are all along the way. One of my favorite routes is going north of Madrid to Segovia but first stopping by a small village called La Padraza. In the summer they have a festival of music and lights where the entire village lit by candle light with concerts in the main plaza. From there you take a winding road through the countryside west to Segovia where you will get breath taking views of the city visible only by car. The return to Madrid will take you past a secluded summer palace in San Ildefonso and up the pine forrest covered mountain bringing you to an unrivaled view of Madrid. Along the route there a several outstanding restaurants specializing in farm to table delights that you can only experience if you go by car.
If you really want to experience a more authentic Spain, on your own terms and see things most tourist do not even know about try hiring a car and driver and get off the beaten path in comfort and style. One of the characteristic of luxury travel is uniqueness, and in this case getting to see things that most people can not.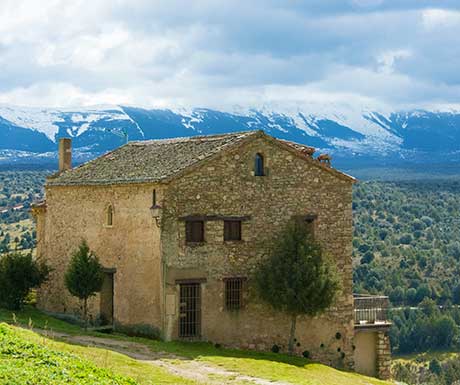 Personal shopper
Shopping has never been big on my list of things to do when I travel. I tend to buy things as I need them and focus other activities like eating. Even at home I only seem to buy as the need arises so personal shoppers were never very high on my list of services that I would use, especially when travelling. That is of course was until I had the opportunity to try one as a result of winning a shopping spree here in Madrid. I discovered it was more about maximizing my time, choice, and enjoying rather than actually someone picking out a wardrobe for me. My experience with my personal shopper started with a phone call, she ask for my sizes, style preferences, a photograph and we then scheduled a day to meet. My personal shopper did not schedule very much time with me, only about two hours. She knew my budget and that I wanted to see what she could do with just that. She took me to about 5 stores, each had clothing set aside for me in my sizes. It was fantastic, every time we entered a store they were expecting us, made sure everything was ready and even had some refreshments in a couple of them. I walked in, tried what she had set aside, we discussed the choices, what I like (which was most of it to my surprise) and what didn't work. With that we moved on to the next stores and she would make adjustments to what was already selected. An effortless, seamless experience that I actually enjoyed. Had I gone to each of those store on my own, it would have taken an entire afternoon and I probably would not have found the items that I liked.
For the person who doesn't like to shop it is a fantastic way of getting what you want quickly and making the experience as painless as possible. For the person who loves to shop it allows you to discover the best of the Spanish retail experience and the joy of being helped to find those exclusive boutiques with merchandise you won't find anywhere else. With the added bonus that logistics, language and sizing are organised for you. And I have to admit the special attention and champagne along the way is the best!
VIP football
Probably the most common thing that springs to mind when they think of Madrid is football (soccer). Real Madrid is known worldwide and their fans make a pilgrimage to Bernabeu Stadium whenever they are in town. Watching any Real Madrid game is an electrifying experience, you truly appreciate the fans love of the game and far the best way to experience a match is sitting in the VIP sections, center field, right next to the presidential box with access to the hospitality suite. A VIP ticket even includes entry to the Real Madrid Museum at the stadium and access to the cities tour bus. One VIP ticket with hospitality will cost you from 435 euros.
Ron Otto is Onwer of Best in Spain.
If you would like to be a guest blogger on A Luxury Travel Blog in order to raise your profile, please contact us.