Canada, as vast, wild and seemingly impenetrable as it is, presents itself as a never-ending list of incredible experiences. Yet, even if you were to return year after year for the rest of your life, chances are you'll not tick everything off. Yes, it's that big. So, in 2015, we turned to the local population for advice on which places and which experiences we should be prioritising above all else. This feature is a rundown of just four of our local's suggestions. There's no canoeing on Lake Louise or Niagara Falls boat rides on this list; instead, we've chosen experiences that will instil the same awe, without losing that all important essence of authenticity. This is Canada from the local perspective. A Canada we're keen for you to meet.
A foray to Fogo Island
Fogo Island has become somewhat of an obsession for us over the past few months. The more we learn about its unique beauty, its wildlife and natural wonders, the more we want to share it with the world. We were delighted, therefore, to see the island (and its iconic inn) was a top pick amongst our locals. A rugged landscape that's exposed to the elements, Fogo Island sits amongst spectacular icebergs, is passed by migrating whales, boasts a charm unique to Newfoundland and is home to a boutique hotel whose design never fails to leave us breathless. Arrive by helicopter, stay in world-class luxury lodgings and explore this rugged wilderness before the world really turns its attention to this far-away paradise.
Food-inspired Toronto
Moving back to the mainland, it's time to see one of the country's major cities from the perspective of a dedicated foodie. This means forgoing the CN Tower to make time for some culinary inspired explorations at ground level. A city that's fast becoming a big player in Canada's foodie arena; Toronto has a wholly international approach to cuisine. Home to a China Town, a Koreatown, a Polish quarter and so much more, the flavours you'll experience here will take you on a full blown tour of the world. Begin your introduction to the city's offerings with a guided tour around the famed St Lawrence Market. Brimming with colourful food stalls from local vendors, you'll get to taste what's on offer and learn all about the area's take on cuisine. After that, it's time to get booked in at the very best restaurants that will introduce you to a myriad of exotic flavours from around the world.
Arctic encounters in Manitoba
Who knew you could come face to face with some of the Arctic's most treasured highlights in Canada? Our locals did, and they were eager for us to introduce you to the delights of Churchill, Manitoba. A destination that welcomes the presence of Polar Bears and migrating Beluga Whales; Churchill is one of the best places in the world to see Polar Bears up close, and it's the only place in the world that you can snorkel with Beluga Whales. That's right, snorkel. With whales. In Arctic waters. Days here are spent hiking or driving over rugged tundra, spotting bears, whales and other unique wildlife. The landscapes are endless and magnificent and have the power to make you feel tiny whilst the experiences on offer will undoubtedly astound.
Explore the Yukon on two wheels
We'll end our Canadian adventure in the northwest and fix our attention on the Yukon Territory. It's easy to become distracted by the bright lights and natural draws of Vancouver and wider BC when you're travelling the West coast, but the landscapes, the charm and the wildlife that the Yukon boasts, we've discovered is just too good to miss. Cycling the mountains here is a great way to truly engage with what the province offers. In any one day you'll spot moose and bears, look down upon stunning lakes and endless forests and witness some of the most spectacular sunsets you've ever seen. The locals are friendly and welcoming, making this place feel like home, and the temptation to stay forever is very real.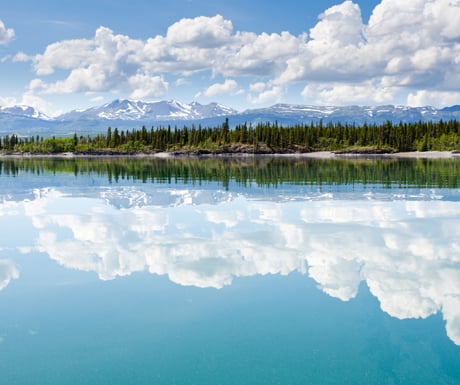 Tom Marchant is Co-founder of Black Tomato.
If you would like to be a guest blogger on A Luxury Travel Blog in order to raise your profile, please contact us.