By
Paul Johnson
on Sep 03, 2015 in
Accommodation
,
Asia
,
Bars
,
Featured
,
Going Out
,
Maldives
,
Regions
,
Resorts
,
Restaurants
,
Spas & Pampering
,
Special Features
,
Speciality Travel
,
Travel Miscellany
I don't make this statement lightly when I say it is difficult to find fault with JA Manafaru. Situated at the northernmost atoll in the Maldives, this luxury island resort is about as close to perfect and as you're ever likely to find anywhere in the world, and our first glimpse of this idyllic island was from the seaplane we'd taken from Male.
On arrival we were greeted by a large welcome sign and a team of staff, accompanied by drummers, ready to whisk us away to our accommodation after our long journey.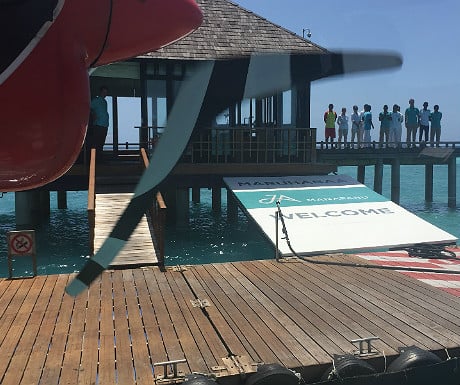 It doesn't take long to appreciate the wonderful island setting – JA Manafaru is one of very few islands in the Maldives that you can easily walk barefoot right the way around.
Following a rebranding in 2014 the resort now has 84 rooms and is looked after by 350 staff spanning 18 nationalities. There is even a staff village with a pool and restaurant, as well as a mosque.
No sooner than we had arrived and we were introduced to our villa host, Dima, from Ukraine. Dima, who could never do enough for us throughout our stay, drove us to our accommodation – a beautiful beach villa suite – on one of the island's many buggies.
Inside it comprised of a large double-bedded room, a separate lounge area (with beds for the children), a generously-proportioned bathroom with an eye-catching circular bath as the centrepiece, and a private outdoor space at the rear, with a small pool and a place to lounge – all finished very tastefully as you can see.
Sliding doors allow you to partition the rooms off from each other should you wish, or simply leave the entire area open plan.
We were very generously given Champagne and fruit juices on arrival, as well as fruit and an array of local delicacies.
We went out briefly and, on returning to our room, found we had been treated to some lovely gifts – hats for the adults, and inflatable dolphins for the children… we were being thoroughly spoilt from the 'off'!
It doesn't just stop there with the setting, the accommodation and the excellent team of staff who genuinely seem to care, though. The quality of the food is pretty amazing, too, and there are four main restaurants to choose from – Kakuni (buffet), Andiamo (Italian), Ocean Grill (seafood and meat) and the Asian restaurant White Orchid – as well as one or two bars.
At Kakuni, breakfast is served each morning, with a nice mix of European and Asian influences. Buffets are also available and lunchtime and in the evenings, with every Friday night dedicated to Maldavian cuisine, complete with music and dancing from their traditional Boduberu band.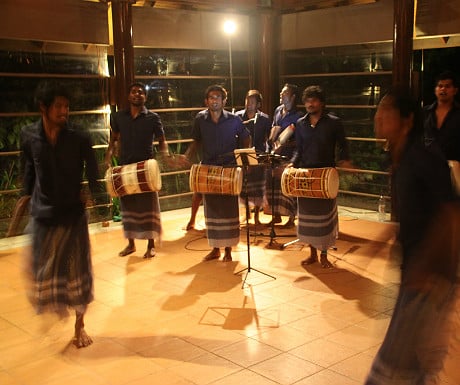 Andiamo enjoys a beautiful poolside and offers the most wonderful pizzas as well as other delicious fayre.
Perhaps the most beautifully positioned of all the restaurants, though, is Ocean Grill, where you are so close to the beach and sea that you can hear the waves lapping and feel the welcome breeze as you dine.
It was here that we had a cookery class with Moosa, the ever-attentive and ever-smiling Executive Chef, and learnt how to prepare a selection of Maldivian snacks. Pictured are mas roshi (tuna discs), bajiya (curried tuna samosa) and biskeemiyaa (cabbage and egg roll).
Finally, White Orchid offers Asian fusion cuisine, combining Chinese, Japanese and Thai influences.
One other very special venue where you can dine is The Cellar where the walls are made from Indonesian lava in order to keep wine at the right temperature. It has the capacity to accommodate 3000 bottles of wine and houses 300 different wines from 12 countries. Wine tastings are held here as well as private dinner parties.
For my main, I had the grilled fillet of king salmon with capers, garlic mashed potatoes, fresh green asparagus and roasted bell pepper coulis.
Conclude your meal with the dome of white and dark chocolate and a compote of wild berries and you will not be disappointed!
As mentioned, in addition to the restaurants, there are a few bars where you can just sit and relax and enjoy the peace and tranquillity – even at full occupancy, JA Manafaru is big enough and offers enough options for guests, for it to never feel like it's busy.
Light drinks and snacks are available at the Infinity Bar and Pool.
And the Horizon Lounge is open in the evenings – a lovely spot to watch the sunset.
Additional facilities on the island include a 'Coolzone' for the children, a watersports centre and the Calm Spa & Salon. At the latter, I enjoyed a Maldivian massage – a therapeutic massage based on Maldivian healing traditions that clears negative engergy with fluid, synchronised movements and locally-produced natural coconut oil.
There are also many other activities to enjoy away from the island. Our children enjoyed the fishing excursion so much that we did it twice, venturing out on the resort's dhoni in the late afternoon and dropping our lines and fit the edge of the boat. Once dusk fell the interest in the bait grew and we pulled out a few fish. The beauty of the trip is that you can take your catch back to the resort and have it cooked to your liking. You don't get much fresher than that!
Our children put us to shame and caught all four of our fish on our first time out…
…and here's a couple of them that we had pan-fried at Ocean Grill shortly afterwards.
Another highlight for us was the dolphin trip where we were lucky enough to be followed by a pod of dolphins for a considerable length of time.
We would also recommend the snorkelling excursion. If you prefer the fish to come to you rather than snorkel, though, there is fish feeding at the end of one of the jetties each evening. Besides an array of different fish, this can be a wonderful opportunity to see stingray and even turtles.
Another highlight of our trip (there were so many!) was the afternoon where we visited a local inhabited island. This was a unique opportunity to get an insight into the daily lives of Maldivian people. As well as wander around the island, we visited a local house, the school and even the hospital.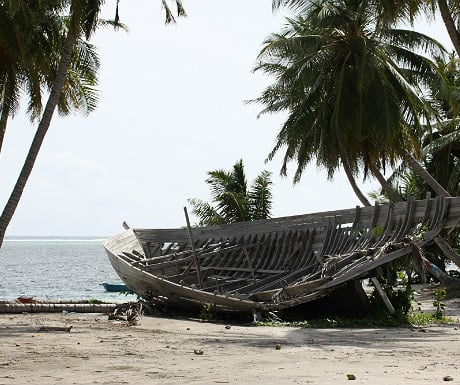 Although we packed a huge amount into our stay, we also left feeling as though there was so much we hadn't managed to do, such is the wealth of opportunities available on the island. For example, you can also go diving, take part in big game fishing, attend gym classes, try your hand at paddleboarding and even enjoy a castaway experience on your own deserted island.
Just prior to our departure we did squeeze in striking a few golf balls into the sea from an idyllic setting beneath a palm tree. Before you jump to conclusions about this, please note that the golf balls are eco-friendly – they are made of fish food that dissolves in the sea. Another example of how JA Manafaru has every detail covered!
But what really made JA Manafaru special was the staff – from the groundsmen through to management, everyone was so utterly welcoming, nothing was too much trouble, and each and every member of staff that we encountered had a genuine enthusiasm for fulfilling the needs of guests that is all too rarely seen on such a consistent basis.
Disclosure: The above formed part of a luxury trip to Dubai and the Maldives sponsored by Hayes & Jarvis, specialists in personalised, luxury holiday itineraries for discerning travellers to over 55 destinations worldwide.