By
Zach Smith
on Nov 11, 2015 in
Accommodation
,
Belize
,
Central America
,
Costa Rica
,
Hotels
,
Leisure Travel
,
Panama
,
Regions
,
Resorts
,
Spas & Pampering
,
Speciality Travel
Attentive staff, fine dining, or pristine spas – what puts a luxury resort over the top? Experienced travelers will tell you that in the end, the most exceptional hotel is only as memorable as its surroundings. And where better than the beach? The following beachfront hotels make it possible for you to roll out of your hotel and directly onto the sand. They are also far enough off the beaten path to make each guest feel like they have a little bit of the coast to themselves. Pick your favorite beachy pastime – these resorts all have their own specialties, including surfing, snorkeling, and yoga.
1. Milarepa Luxury Bungalows, Mal País, Santa Teresa, Costa Rica
Milarepa strives to improve the entire wellbeing of its visitors. During your stay you should make at least a few appointments at the on-site yoga studio. This is a serene environment for meditation – the studio opens up to a tranquil patch of rainforest greenery.
Milarepa is in Mal País, a small beach town on Costa Rica's Nicoya Peninsula. It has four bungalows that are all a short walk from the beach. In the middle of the property you can visit a communal dining area with an immaculate kitchen where both casual cooks and expert chefs can feel at home.
Mal País has some of the most impressive surfing waves in the country. At the local beach you will find consistent waves that are easy enough for people still getting the hang of surfing. You can only access this part of the coast by a rough dirt road, which helps keep this quiet surfing town from getting crowded. While staying in Milarepa you can easily make hikes to the Montezuma Waterfalls, and through the protected wet and dry forests of the Cabo Blanco Reserve.
2. Blue Osa Yoga Sanctuary and Spa, Puerto Jimenez, Costa Rica
Blue Osa Yoga Santuary and Spa combines a pristine beach setting with an excellent yoga studio. Guests come here to focus completely on meditation and yoga. In the yoga studio you'll have access to blocks, straps, and mats – all the accessories you may need to accompany your practice.
Blue Osa Yoga also offers yoga retreats as well as teacher training courses. You can also sign up for group yoga classes, or make use of the yoga studio on your own. In between your yoga classes and long walks on the beach, Blue Osa provides you with everything you need to stay healthy. Food here ascribes to a farm-to-table ethos, and the sanctuary grows organic food in its own garden. There are vegetarian, gluten-free, and vegan options served at each meal. Visit the spa for a treatment that uses plants harvested from the rainforest.
While you're staying at Blue Osa you should make a visit to nearby Corcovado National Park. This park has long hiking trails that will take you through rainforest, swamps, and beaches. Look out for crocodiles!
3. Turneffe Island Resort, Turneffe Island, Belize
Turneffe Island (or Turneffe Atoll) is a straight shot across the water from Belize City. Turneffe Island Resort puts you a short distance from Belize's top wildlife destinations. Sail for Half Moon Caye to see the Booby Bird Sanctuary, and go for a snorkeling trip around the Lighthouse Reef. The Lighthouse Reef surrounds the Belize Blue Hole, an underwater sinkhole that has a reputation as one of the most interesting and unusual dive spots in the world.
Turneffe Island Resort has eight freestanding cottages. These idyllic beach getaways all face the Caribbean, and each villa has a screened porch.
Visit the hotel's restaurant in the main lodge to try expertly prepared fresh fish. Turneffe Island Resort has a laidback, beach party atmosphere, and on Friday nights the resort hosts a Belizean barbecue on the beach. The kitchen serves appetizers and cocktails on the patio of the main lodge every evening.
4. Turtle Inn, Placencia Peninsula, Belize
Turtle Inn sits on the Caribbean coast of Belize's Placencia Peninsula. This area is known for having some of the most attractive beaches in Belize, which also happen to be the best beaches for sunbathing and swimming. Be sure to visit Maya Beach while you're in the area.
Choose from accommodations that have views of the ocean, the pool, or the garden. You can book freestanding thatch-roof cottages or entire beach houses. These are all steps from the beach.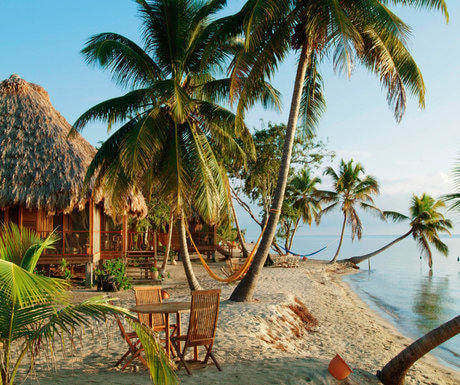 There is a fusion of several different cultures at this resort. Francis Ford Coppola and his wife own the property, and the décor here is inspired by the Coppolas' travels to Bali. Their kitchen serves upscale Italian cuisine, and a selection of wines from the Coppola collection.
5. Playa Venao Resort, Playa Venao, Panama
Venao Beach is remote beach on Panama's Pacific Coast. There is a sprinkling of surfers in the area, but the waves here are fairly easy and better suited to surfers who are looking for low-maintenance waves. The waves crash over a sandy bottom, another reason this beach is ideally suited for less-experienced surfers.
Most of the resort's cottages and 2-story bungalows face the infinity pool. Shady palm trees and wooden paths make the living quarters look like a scenic beachside village. From the edges of the pool you can see waves crashing on the beach – guests can spend many a happy sunset here.
Zach Smith is CEO of Anywhere.
If you would like to be a guest blogger on A Luxury Travel Blog in order to raise your profile, please contact us.