By
Jack Huang
on Mar 11, 2016 in
Accommodation
,
Africa
,
Asia
,
California
,
Hawaii
,
Hotels
,
Leisure Travel
,
Morocco
,
New Zealand
,
North America
,
Oceania
,
Regions
,
Speciality Travel
,
Thailand
,
USA
When it comes to staying in shape on a luxury getaway it can be difficult to muster up the motivation to keep the pounds off, what with the room service lobster, champagne by the bottle and the body-hugging king size bed that seductively whispers "never leave."
In fact, we've been conditioned to roll our eyes and cast doubt over a so-called fitness centre at luxury hotels and resorts. All too often, it means little more than an ageing cardio machine tucked away in a beige coloured airing cupboard, in a room the architect planned never to see the light of day.
Thankfully, there are hotels around the world that have bucked the trend to entice guests with gyms we'd be proud to be seen working out in. Gyms with weights to challenge the mightiest, swimming pools worthy of an Olympian, rooftop terraces designed for yoga and tai chi, and with views to be drooled over.
Combining state-of-the-art equipment, A-list trainers and more than a touch of the extravagant, these are the world's most unique hotel gyms to stay shredded in on holiday.
Turtle Bay, which features in Hollywood rom-com Forgetting Sarah Marshall, is situated between Kuilima Point and Protection Point on the North Shore of the island of Oahu, Hawaii. This Hawaiian resort recently underwent a multi-million dollar renovation and provides a stunning location for what's considered one of the best yoga-music festivals in the world, Wanderlust.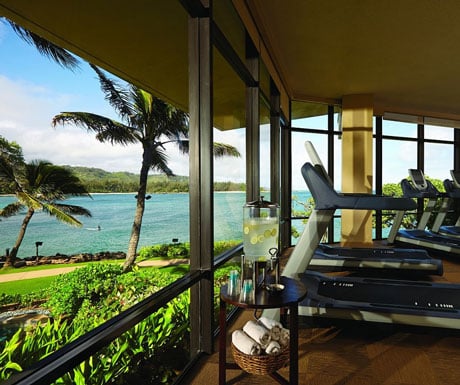 Alongside all the usual suspects, this luxe hotel gym provides its guests with Hot Hula classes – to really fire up the core in the Hawaiian heat – next-generation functional fitness equipment and beautifully energetic views over North Shore's legendary surf breaks from the treadmills.
Okay, so Cal-a-Vie is technically defined as a Health Spa but it gets special mention among its counterparts for its beautiful Pavilion fitness centre; modelled on a Provencal villa where antique chandeliers and sconces illuminate the workout spaces. Voted the number-one 'Destination Health Spa in North America' by Travel + Leisure, this celeb-favoured retreat offers comprehensive fitness programmes, designed around each guests' specific needs, with incredibly well-trained fitness experts.
The gym itself includes weight training facilities, Zumba Latin dance classes, a full Pilate's studio and spinning room. Most magnificent of all is the yoga studio; a French chapel brought over from Europe and reconstructed on Cal-a-Vie's grounds. And did I mention all guests receive the latest in workout clothing for their sweat sessions? A service unrivalled.
Matakauri Lodge, Queenstown, New Zealand
Matakauri Lodge is located in Queenstown, New Zealand. The uber-exclusive hotel has just 11 rooms, and a fitness centre that's small in comparison to most on this list. However, luxurious doesn't always have to mean unnecessarily expensive in equipment or design. Sometimes location rules all, and set among a South Island mountain range known as The Remarkables – for good reason – Matakauri Lodge's fitness centre is awe-inspiring on biblical proportions.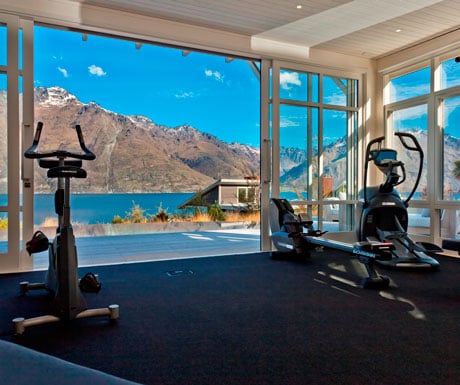 Located on the edge of a pine forest, with uninterrupted views to Lake Wakatipu and towering Cecil Peak, the fitness centre and adjoining spa offers a private and peaceful experience in an unrivalled natural environment. Staring out of the floor-to-ceiling windows into the wilderness, even the most earnest of athletes will find it tempting to stop mid-workout and slink legs first into the tranquillity of the outdoor hot tub and heated swimming pool on the private deck.
La Mamounia, Marrakech, Morocco
Since 1923, Marrakech's flawless, Arab-Moorish-inspired La Mamounia has attracted some of the world's best-known historical figures and celebrities, from Winston Churchill to Princess Caroline of Monaco. Majestic and serene aren't words typically assigned to gyms, but La Mamounia's philosophy towards a sweat session is what sets it apart. One of the world's most stylish gyms, it has something psychedelic about it. With striking cobalt blue walls that evoke Yves St. Laurent's famous Majorelle Gardens and beautiful views over the property's 20-acre, tree-laden gardens, it's easy to see straight through the state-of-the-art equipment.
Morocco's most lavish hotel extends its gyms' opulence out onto the fitness pavilion, where guests can enjoy yoga, Pilates and other fitness classes in the legendary garden, among fruit trees, fragrant flowers and 100-year-old olive trees. Nearby, guests can enjoy a dip in the glittering turquoise waters of the ozone-treated La Ménara pool. The hotel also offers a second gym for guests who want a more 'private' workout experience; celebrities often frequent this discreet spot.
Bangkok's newest urban luxury resort has a distinctly unique and special fitness centre; it the world's first and most luxe Muay Thai boxing gym. 'Muay' is a traditional Thai sport that is often referred to as the Art of 8 Limbs because of its use of punches, kicks, elbows and knee strikes. Muay Thai is not simply a fighting sport, it also helps to increase fitness levels and emotional condition.
The gyms full-size professional boxing ring, complete with ceiling-to-floor leather punching bags, offers beginners daily personal training sessions. For those more advanced in Muay Thai, The Siam runs one-week training programmes, which includes a personalised chef's diet plan. On top of this, the 1,300 square-foot space has a fully-equipped workout area with Life Fitness and Octane equipment, floor-to-ceiling mirrors overlooking a monastery and a stylish adjoining rooftop terrace for relaxing yoga and tai chi classes.
Terranea is a land unto itself. With one foot in the city and another on the beach, the 102-acre private peninsular paradise is a world away from the bustling LA scene. Surrounded on three sides by the crashing waves of the Pacific Ocean, the coastal setting of Terranea's 5,000-square-foot Fitness and Wellness Centre is beautiful enough to warrant its place on this list.
Big emphasis is placed on fitness and wellness at the hotel's sprawling Mediterranean-inspired spa and high-tech gym. Outdoor, ocean-view cycling on the shaded terrace, water aerobics and circuit training provide a more energetic and active offering than the average hotel gym. Although, I have to reveal the real reason behind my childlike giddiness toward Terranea. One of the personal trainers was an original American Gladiator who often runs the resorts signature boot camp fitness class; Nature's Gym. Are you ready to feel the power of the Gladiators?
Jack Huang is CEO of Truly Experiences.
If you would like to be a guest blogger on A Luxury Travel Blog in order to raise your profile, please contact us.