Imagine world class architecture on a beautiful, wilderness estate of 5 million acres, where you can almost touch the stars. Vastness and purity embrace you, in a setting where you will truly encounter nature. In autumn photographers travel from all over the world, when a million Sockeye salmon journey up the Chilko River to spawn, and dozens of grizzly bears come to its banks to dine before winter. Couples, friends and families from multiple generations also travel here, and return with some of the best memories of their lifetimes. These memories are made by connecting with nature at the highest possible level, yet in the lap of luxury. Where is this magical place?
The Chilko Experience in British Columbia
Located in British Columbia, The Chilko Experience is a private 25-acre estate set in in the middle of a 5,000-acre wilderness tract of pristine paradise that is almost hard to imagine. Snow-capped mountains with 10,000 year old glaciers, have formed rushing streams, which feed rivers with such pure blue water, that all the locals drink from them. Chilko Lake is the largest alpine lake in North America. It is 50 miles long and so beautiful, it makes Tahoe look like a mud puddle The Chilko Experience environment is guaranteed to overwhelm your senses upon arrival.
The result of one man's dream to unite luxury and nature
The Chilko Experience is very definitely not another wilderness lodge. It's actually the result of one man's dream to combine the best of luxury and nature for his family and friends. However now that Phil & Anne Huston's family has grown up and have their own careers, the couple decided to open this incredible, luxury estate experience to new families and friends. Each week 12 new guests have the chance to enjoy a Randolph Hearst San Simeon type experience.
There's one thing you can be sure of – this is the perfect balance between Vanderbilt luxury and Muir adventure. John Muir was the founder of the US National Park System, and I don't believe Vanderbilt needs an introduction!
World-class architecture mainly thanks to Pioneer Log Homes
The best log home builders in the world, Pioneer Log Homes of BC, are mainly responsible for the amazing architecture at The Chilko Experience, along with Phil's wife, Anne, who has been an antique dealer and collector for more than 30 years. Pioneer Log Homes ship homes all over the world, including four for the President of Kazakhstan, who was so thrilled with his first four homes, that he ordered 16 more straight away.
Perhaps the friendship between Phil Huston and Bryan Reid (owner of Pioneer Log Homes), injected even more creativity and fluidity into the project. The two men, who met on a fishing trip, had the luck to land three ship carpenters, who worked on the project for almost 4 years. Ship carpenters have a remarkable skill set, that is reflected in the beautiful craftsmanship you can see throughout the homes at The Chilko Experience.
Anne Huston decorated all the homes, from her warehouse, that was full of treasures from her collection that she had lovingly sourced over the years.
To really see the properties, go to Log Homes, choose the Main House on the dropdown menu, on the http://chilkoexperience.com/ website, and check out the 3D Virtual Tour.
Adventures to suit everyone
From bear watching and horseback riding, to ATV tours and Viking style axe throwing, the range of adventures and nature experiences at The Chilko Experience, have something to suit everyone, regardless of age or abilities. Every day there are a multitude of activities, to ensure that each member of the family gets exactly what they want in the quantity that they want it.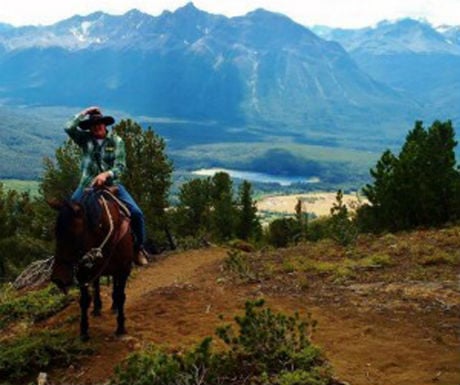 Laughing your tail off real fun in the middle of stunning scenery is undoubtedly the ultimate way to encounter nature. These unforgettable experiences are not only fun, but can be both humbling and inspirational.
Daily activities include bear watching, ATV backwoods trail riding, kayaking, canoeing, fishing, horseback riding, hiking, paddle boarding, jet boating the world-famous Chilko River, and cruising on the 50 mile long Chilko Lake.
A game or two of Chilko darts is a must – this is the game that women find surprisingly empowering, while men can't help but channel their distant Braveheart genes. Throw specially designed Viking axes at competition targets – you really shouldn't leave Chilko without trying it! Some guests have special requests, which in the past have included shooting a rifle like Annie Oakley and felling a tree like a lumberjack.
Better kids, much better kids and better families
Both with his own family, and time and time again, with new friends and families who come to visit The Chilko Experience, Phil has witnessed how exposure to nature at its purest level makes better kids, much better kids and better families.
That same kid who dreamed of going to Disney for years, and loved it, will amaze you with his reactions to his first time he catches a fish, or rides a horse. These experiences have such substance, that later in his life he will tell his own children and grandchildren about them.
And the evenings ……
The evenings are all about roughing it …..with an open bar, lots of hospitality and a chef prepared meal at a private estate. Let's put it this way, during the daytime you've had your fair share of Muir adventure, so the evening time is all about Vanderbilt luxury. After a day's adventure, come back to your beautiful log home, have a wonderful hot shower, and prepare for an evening of delightful luxury, in interesting company.
Disclosure: This post is sponsored by The Chilko Experience.