Whilst reading an entertaining piece on this very blog regarding the 'Top foodie cities in Europe', I was delighted by the appearance of an Italian city (Bologna), amongst the likes of London and San Sebastian but struck by the absence of what I consider to be one of the best foodie cities in the world: Copenhagen. Serving everything from 'New Nordic', often utilising unique and indigenous ingredients, to the highest quality French, Italian and Asian cuisine, Copenhagen is the home of many elite establishments, eclectic in both style and approach to the food they present to their increasingly knowledgeable and demanding clientele.
Despite being an expensive destination, I've also always found Copenhagen's restaurants to be thankfully bereft of the pretension that can often accompany venues that are held in exceptionally high regard. Those I have had the pleasure to visit have been warmly welcoming and relaxed rather than intimidating or demanding of obsequiousness, effortlessly maintaining excellent standards of presentation and service… and with that we come to the edible elephant in the room. One cannot mention Copenhagen and food without talking about noma.
Whilst an easy hit to include and voted the 'Restaurant Of The Year' for 4 of 5 years between 2010-14 (an award now independent of Restaurant magazine) I've chosen to exclude noma. Having held two coveted Michelin Stars since 2008 and serving renowned 18-20 course menus, comprised of signature dishes featuring such inventive fare as Poached Quails Egg served on Burnt Hay to a Salt that is infused with native Wood Ants, who's acid produces a lemon-like taste (not being able to grow Lemons in the cold) noma is already deemed an essential entry on every foodie's bucket list. To date however, there has always been somewhere else that has caught my eye.
So if you don't manage to wangle a table at the world's perennial 'number one' here are just a few of the plethora of excellent, diverse alternatives; from the experimental and award-winning to the revelatory walk-in standouts, all of the following adhere to several key ingredients: quality of food, impeccable service and most importantly of all, a memorable and enjoyable dining experience.
1. a|o|c
Not to be outdone, Aarø & Co better know as a|o|c is another Copenhagen landmark to have been bestowed with two coveted Michelin stars. Set within the cellar of a 17th Century mansion, close to Amalienborg, Frederick's Church and the Rosenborg Castle, a|o|c is an elegant and intimate dining affair, seating around 40 diners but also has private dining rooms if required.
The ambience and acoustics mean you are able to converse easily with your fellow diners (something noticeably absent from many modern establishments) and the enthusiastic and attentive staff take a genuine interest in the diners ensuring a convivial and inclusive atmosphere.
Offering four to seven course 'sensory' menus or a nineteen course menu if you really want to push the boat out, the cuisine is heavily centred on natural and seasonal Nordic produce, the focus of head chef Søren Selin being the purity of the ingredients in order to invigorate all of the senses.
Current menu highlights include – Grilled Greens, Langoustine, Sea Beet & Spinach Purée and Danish Lamb Beetroot and Smoked Marrow.
Founder of a|o|c and winner of the Danish and Nordic Sommelier Championships, Christian Aarø is on hand to assist with selections and pairings from their excellent cellar, so you can be sure of a stellar accompaniment to any meal.
Given the appeal and equitable prestige of the restaurant, booking early is advisable, though you will often find it more accessible than noma.
2. Geranium
When I had first conceived this post Geranium was the only other restaurant in Copenhagen, in addition to a|o|c and noma, to hold two Michelin stars: it now exceeds both of its brethren, having been awarded a further star in February of this year. Led by head chef Rasmus Kofoed, 2011 winner of the Bocuse D'or (arguably the Olympics for chefs), Geranium is a worthy holder of its title as Copenhagen frontrunner. It is worth noting that a Scandinavian chef has won gold or silver in each of the biennial Bocuse D'or competitions since 1991, with Rasmus taking silver and bronze in previous competitions.
Approaching Geranium, situated in the picturesque Fælledparken (Common Garden), diners are whisked to the 8th floor where the lofty ambience offers an enviable Copenhagen city view, on a clear day you can even see the windmills of Øresund in the distance (just!).
Changes are frequently made to the innovative set menu of twenty courses, often reflecting whichever local produce is in season. Recent personal highlights include Candied Carrot Shell filled with Sea-Buckthorn Foam and Celeriac with Seaweed Powder, Skyr and Fish Roe but there will undoubtedly be several items from the current menu that will pique your interest.
Many of the intriguing courses are comprehensively explained by either the server or chef responsible for them, adding a personalised and pampered touch but the atmosphere never strays into the manufactured or clichéd and the four hours or so you will likely spend on a sitting will simply fly by.
The alternative of a juice accompaniment, as carefully considered and innovative as any wine pairing, is a nice change of pace from the norm and something I would recommend trying, though rest assured that the comprehensive wine menu should sate any palate.
It is recommended to book early to ensure they can accommodate on your chosen dates. I had previously found that there was more availability than at noma and a|o|c though this is less likely now, with the addition of the third star.
3. Amass
Amass can be found south-east of Copenhagen's city centre, in the former shipyard area of Refshaleøen in its own secluded industrial complex, a little out of the way but a culinary experience worth the journey.
An establishment that serves to perpetuate the positive cultural stereotype of friendly, enthusiastic Danes, Amass is the brainchild of Matt Orlando, another chef with an illustrious résumé (noma, Fat Duck, Per Se). In fact it was whilst Matt was Chef de Cuisine at noma that it enjoyed many of its plaudits as the worlds number one.
The décor is exposed and stripped back, the mural decorated concrete and lighting functional and modern, yet the atmosphere is neither cold nor uninviting.
Three metre windows offer views of the restaurants own 500m garden where a variety of herbs, flowers and vegetables grow, incorporated into the frequently changing menu every day. Using unique ingredients like Orpin Flowers and Fireweed (a plant that tastes like Rhubarb) that are at their peak today but may not be tomorrow, gives a sense that you are experiencing something unique, that may never be recaptured.
It is this fundamental connection to the food being grown, metres away and a commitment to sustainability that separates Amass. Green kitchen waste is fed to the egg supplier's free-range chickens; kitchen oils are sent away to be used for biofuels; coffee ground is reused in daily cooking and fed to their worms, which in turn help to naturally fertilise their plants.
When warm enough, guests are welcomed into the garden, in-between courses, for a quick stroll and view of Copenhagen's harbour and the restaurant gardens nightly bonfires.
Great care is employed to ensure an extensive and complementary wine list, sourced from local producers. Something Matt learned whilst at Per Se was to support and actively seek out relationships with local farmers to truly understand their processes, qualities and the effort involved in growing their produce and as such Amass place tremendous value upon the growing of the wine and less on the cellar ageing process. Additionally Matt and co. hold a distinct affection for beer and are keen to stress its complexities and parity with wine, offering patrons many locally sourced tipples.
Signature standout dishes include Hot Smoked Foie Gras and Burnt Kale, Chicken Skin and Almond. Tim Carman of the Washington Post informs '…the chicken skins are cooked in blocks overnight at 175 degrees, rendering out the fat and are then compressed under pressure and sliced thinly then roasted to create a crisp but lush texture'.
Situated only 200m or so from Nyhavn (and only about 50m from the Metro stop Kongens Nytorv) Kong Hans Kælder can be found in the gothic vaulted cellar of the oldest building in Copenhagen, built around 700 years ago during the reign of King Hans (1455-1513).
Entering its fortieth year and only on its fourth chef (Mark Lundgaard), Kong Hans Kælder founded by the Grønlykke family, occupies a building that was additionally once the residence of legendary author Hans Christian Andersen.
A leading restaurant in Copenhagen since the 1970s, Kong Hans Kælder in fact lost its Michelin star in 2014, having been the first in Copenhagen to receive one, way back in '83. Since first conceiving this post Michelin have in fact again rewarded the arduous and creative endeavours of the kitchen and awarded them with a star for 2016, describing the fare as being of a 'very good standard' with a dining experience that is 'particularly charming and characterful'.
Whilst this may seem like somewhat restrained praise in this world of attention grabbing superlatives, I can certainly vouch for the quality of the New Nordic meets classic French cuisine, though admittedly Kong Hans Kælder was the first restaurant I had visited in Copenhagen and I have exceptionally fond memories of my experience.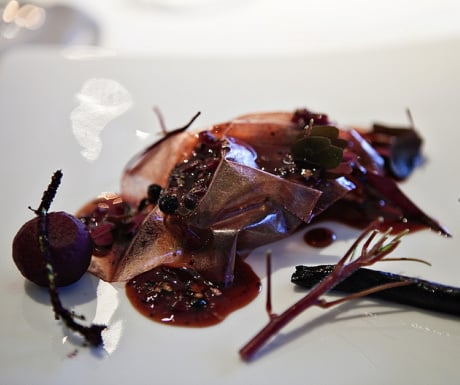 The menu embodies classic virtues and presentation with the emphasis on the quality of the food, far removed from anything gimmicky. Choose between five classic dishes on the 'Signature' menu or ask for the more creative 'best of' nine-course 'Innovation' menu. Recent highlights have included Dried Venison, Caviar and Tuber Melanosporum (Périgord Black Truffle) along with Consommé of the Calf Tail often followed by a Rødgrød berries and a dizzying array of speciality cheeses.
Nearby Kunsthallen Nikolaj (Nikolaj Contemporary Art Centre), Holmens Kirke (Church of Holmen), Rundetaarn (Round Tower), Christianborg Palace and The Royal Danish Theatre are just some of the central Indre By district sights within a few hundred metres of Kong Hans Kælder, ensuring you can whet your appetite, comfortably spending an entire day in it's vicinity.
5. Era Ora
Italian for 'About Time' and opened in 1983 by owners Edelvita Santos and Elvio Milleri, Era Ora is situated canal side, nearest to Christianshavn St. Metro. not far from the Christiana commune, easy to find if you look out for the corkscrew spire of the nearby Church Of Our Saviour.
The only Italian restaurant in Scandinavia to possess a Michelin star, Era Ora has only just recently been awarded its twentieth straight and has plenty to offer to back up the consistency of its accolades.
The majority of the 'fixed' but frequently changing menu may trace its roots to the Tuscan region, with ingredients flown in from Italy, but the welcome addition of new, young chef Nicola Fanetti, elevates the kitchen of Era Ora, creating new modern flavour combinations from different regions of Italy so… 'Sardinian lamb lives to be infused by Tuscan Fennel Pollen and Mozzarella from Campania finds its perfect companion in Umbrian Black Truffle.'
The ambience is rustic and comfortable, with effusive storytelling behind each course, care of the polished service staff adding a wistful depth to the experience but the real pull for me was the cellar.
Reputedly housing 90,000 bottles of Italian wine, if you can't find something to delight you here, there may be no hope for you. However let my recklessness (and subsequent destitution) serve as a cautionary tale; wide-eyed enthusiasm, coupled with a lack of restraint will have a predictable but significant impact upon the pocket. Given the number of options and pairings a recommendation is almost redundant but our list was favourably dominated by some excellent Brunello Di Montalcino and Mascarello e Figlio Barolo.
If you can't make it to La Pergola in The Eternal City, this will more than satisfy until you do.
6. FormelB
Located on the convenient artery of Vestobrogade, near to the manicured Frederiksberg Gardens, which always remind me a little of Greenwich, FormelB is another Michelin starred establishment, embodying all the virtues it takes to maintain such an award but minus the grandiose dogma which can sometimes accompany it.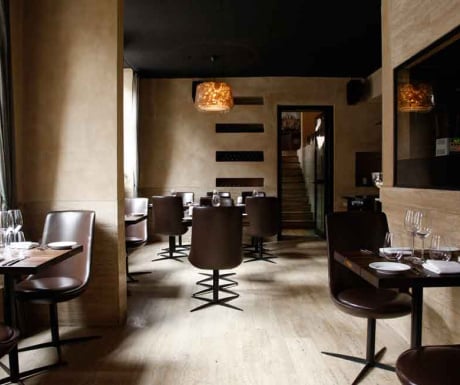 The décor is relaxed yet warmly reassuring; quality fittings, dark wood and stone underpinned up by accents of brass in an understated but elegant manner seem to confidently strut the fine line between design and comfortable function in that typically Danish way. I in fact dined here alone but the welcoming, personable and professional staff ensured I felt completely at ease in my solitude.
Started by Kristian Arpe–Møller and Rune Amgild Jochumse in 2003, when in their early twenties, FormelB caters for 80 or so diners in a sitting. The modern six-course menu with a leaning toward the French, changes every fortnight (and with the seasons) with portions that I found to be larger than many of the establishments on this list, so I would recommend taking a good few fellow diners so you can sample a little bit of everything when they cannot finish.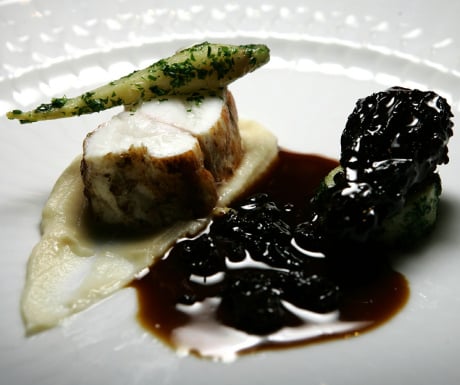 Thankfully and very much in keeping with all of the establishments on this list, FormelB also keeps a fantastic cellar. Many of the 400+ strong incumbents are part of a constantly changing, experimental line up, composed largely of French offerings that are sought out by sommelier Martin luel–Brockdorff Bek (who can often be found running FormelB's hipper but louder sister restaurant; UFormel). If booking, for a unique dining view, ask for the enviable table that in fact is situated above the glass ceiling cellar, overlooking the bottles within.
If, as I was, you happen to be wandering around Frederiksberg in the late afternoon before you venture into FormelB, make sure to stop at the unique nearby Cisternerne i Søndermarken, a dripstone cave turned underground gallery located approx. 500m away, opposite Copenhagen Zoo. The current exhibition is a collection of video installations entitled 'That Dream Of Peace' by Eva Koch (open until 5 p.m. Tues-Sat).
7. Relæ
Located in the trendy but casual Nørrebro district in the central north of the city, now known for its superb coffee and multiple boutique galleries, the stripped back, low key Relæ offers Michelin starred, certified organic cuisine with an ethos to feature sustainable, locally sourced ingredients in a relaxed but efficient setting where you pour your own biodynamic wine.
Set up in 2001 by Christian Puglisi (born in Italy but raised in Copenhagen) and Kim Rossen, both of whom served terms in noma's kitchen, Relæ's four or seven course menus feature a slight Mediterranean influence, evident beneath the heavy New Nordic focus.
Patrons can choose between the omnivore or herbivore set menus, though these are not publicised beforehand so this is only a good option is you are a terrible procrastinator such as myself. Recent experimental options have included Risotto style Sunflower Seeds with melted 'Kornly' Goat Cheese, Squid Tagliatelle topped with Dried Shrimp Crumble and Lemon Powder and Pork from Hindsholm with salted and unripe Strawberries, Enoki Mushrooms and Sand Leek.
For a truly unique experience ask for "Table 0" to get a taste of the latest off-menu innovations, an up close view of the kitchen at work and a chance to converse with the chefs.
After your organic feast you walk it off with a stroll down the cobbled Jægersborggade toward the Assistens Cemetery, burial site of both Hans Christian Andersen and Søren Kierkegaard. If venturing out this way, pop into Ro Chokolade (also on Jægersborggade toward the cemetery) beforehand for some homemade, high quality chocolates (closes at 5 p.m.).
If for any reason Relæ is unable to accommodate you, Manfreds, Relæ's sister restaurant on the same street, welcomes walk-ins and offers the same relaxed atmosphere and high quality, experimental cuisine.
8. Kiin Kiin
Located just down the road from another restaurant from the Relæ stable (Bæst); Kiin Kiin was, for some time, the only Thai restaurant outside of Thailand to possess a Michelin Star. However Michelin has been rather smitten with Thai restaurants of late, upgrading a handful of establishments in both San Francisco and New York from 'Bib Gourmand' to one star.
It's the creativity however, not the star, which separates this 'Thai on the corner' from its many global competitors. The cosy yet design conscious setting rounded off with a friendly and attentive service feels more like an exceptional dinner at a close friends than restaurant.
Head chef Henrik Yde-Andersen often serves guests himself, though we didn't see him during our visit as he currently divides his time between sourcing ingredients and seeking inspiration in addition to several high profile global residencies at other establishments (Eastern Mangroves in Abu Dhabi amongst others).
From the time you are seated in the comfortable ground floor lounge, a welcome onslaught of appetizers appears almost immediately, each exquisitely cooked takes on popular Thai street foods, from 'house satay' with Peanut Ice Cream served on Crispy Chicken Skin to Frozen Tom Ka, which comes as powdered coconut snow with all of the constituents (mushroom, pickled onions et al) fencing it in.
Once your palette has been piqued you are led upstairs for the main event; a heady mix of well-balanced flavour combinations each complementing the previous and following course in a Japanese style service. Whilst the menu typically changes from month to month, the standout example of our seemingly endless courses: a perfectly cooked Beef parcel hibernating beneath an Onion 'papyrus' with a fresh Pea Purée and Ginger was fantastic and several of my dining companions, seasoned travellers across Thailand, many of whom have experienced Nahm in London, had high expectations for Kiin Kiin. Consensus was that this was one of their favourite Thai dining experiences anywhere in the world.
I would have little idea as to where to start with some of the unusual flavour combinations at play here and with a lot of the wine options being Alsatian in origin, we opted for some of Kiin Kiin's own beer (brewed in conjunction with Mikkeller), a spiced pilsner with Lemongrass and another that had more of a Tangerine and Anise type flavour. This is another establishment that also prides itself on a considered juice pairing and since we had a teetotaller in our party, I got the odd sip (the Mango and Tamarind was particularly good).
If you possibly have room, I'd recommend the petit fours and coffee, delicately brewed tableside, accompanied, as are all the courses, by evocative storytelling.
Named for the creators Jacob Mielcke and Jan Hurtigkarl, Mielcke and Hurtigkarl occupies a very enviable position within the Royal Danish Garden Society's Frederiksberg gardens, offering high quality, experimental dining with alfresco appetisers.
Ditching the sometime obsessive predilection for solely Nordic ingredients, menu options are either a frequently changing five-course 'Experience' or seven-course 'Full Experience' version. Fear not however, the typically indigenous Reindeer Moss, Sea Buckthorn and Woodruff are ever-present but often impeccably paired with oriental accompaniments. So our delicious meal (including appetisers) featured the likes of Crab Gyoza, Scallops bathed in Miso and Rice Noodles, Shredded Chicken flavoured with Yuzu Zest or petite Takoyaki (wheat flour batter balls) infused with ginger and diced squid, topped with razor thin Danish cured Ham.
We felt like we might be missing out by ordering the only marginally more reasonable (£20 less) five-course menu so we opted for the 'Full….' though this then precluded us from a full wine pairing option. At an additional 875dkr we decided being able to eat again the future might be better, a rare example of restraint. Should you wish to indulge and seek advice for a wine accompaniment, Jose Santos, the exceptionally charismatic and award-winning sommelier is on hand to assist with selection. He formerly served with the creator's father, Roy Hurtigkarl, at another culinary incarnation (Gastronomique) on the same premises, in previous years.
The fact that Michelin has overlooked this establishment is mystifying but despite the missing accolade this place is hardly a secret, so ensure you book early. Open in the evenings, Tuesday to Saturday (nothing is open in Copenhagen on a Monday) this is a venue best visited in the warmer months, for the lighter evenings where you can enjoy your appetisers on the terrace with prasine views of the garden grounds and the occasional strutting peacock before retiring to the elegant dining room to admire the featured contemporary art installations and make sense of the Avant-garde lavatories.