Once an up-and-coming beach destination for the young, hip and well-travelled, Croatia has now become one of the most visited, coveted and desirable destinations in Europe. With over 700 islands, this archipelago in the Adriatic has fast become a must-visit hot spot for anyone who loves sun, sea and (almost) sand… Although many of Croatia's beaches are rocky, all can be forgiven once you catch sight of those views. Here are 10 of the best beaches in Croatia.
Bačvice Beach, Split
This may be one of Croatia's most popular beaches but it's still one of the most beautiful. Visiting the beach is not just a thing to do in Split; it's more of a way of life. So if you're after warm, shallow waters and an electric atmosphere, this is where you need to be.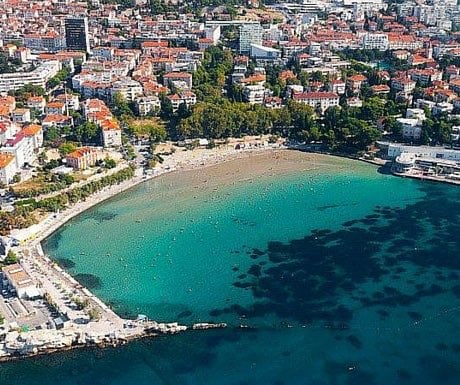 Queen's Beach, Nin
A sweet stretch of sand that protrudes out into the turquoise sea within a small compact area lined with hip bars and cafes. It's lined by green grassy dunes which add to the beautiful picture, and the medieval town is nearby for those who want to escape the sun for a while. Watersports lovers can enjoy good windsurfing and then relax by giving themselves a ready-made mud bath from the heath behind the beach. It's also conveniently located than 10 miles from Zadar Airport.
Spiaza, Susak
This tiny little island is a soft sandy gem hidden amongst all the pebbly paradises of the archipelago. If you want seclusion, romance and the sense of a desert island getaway, you need to make tracks for Susak. Spiaza is the largest beach on the island and has shallow waters perfect for younger children. It's also the only beach where nudity isn't allowed if you're trying to avoid that…
Zcre Beach, Pag
Pag Island is famed as the "Rocky Island". If you don't mind swapping sand for pebbles, you'll fall in love with the people, the food and the all year round party atmosphere at this vast beach. It's lined with nightclubs and huge venues so you can enjoy the Croatian music scene on a very big scale. Not the place for a quiet family break.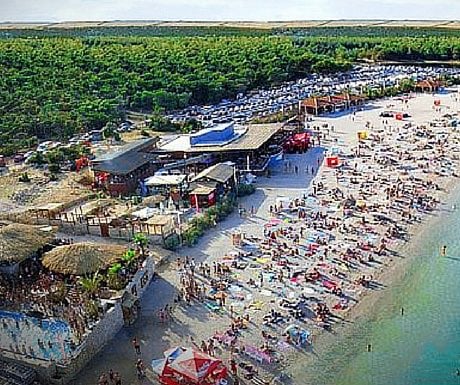 Omis Beach, Omni
Known as the 'Omis Riviera', this is the place to go for soft golden sands, lush greenery and dramatic mountain scenery. The beach itself is made up of a selection of wide sandy stretches which is lined with beautiful green pine trees. Add the stunning, craggy mountain backdrop and you've got yourself a pretty perfect beach scene.
Zlatni Rat, Brac Island
This beach is an iconic landmark and it's featured in so many guidebooks so it's a pretty popular place for tourists these days. Yet despite the crowds, there's still so much local charm and you can't beat the beautiful views of the Adriatic Sea with shallow enough waters for dipping, bathing and swimming. Hang around for sunset and you'll see some of the crowds disperse and have more space to enjoy a sundowner.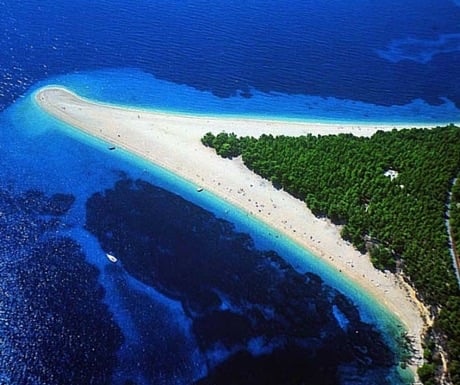 Banje Beach, Dubrovnik
A visit to Dubrovnik's Old Town is a must and just a 10 minute walk will take you to the city's most popular beach. It's well equipped with deck chairs, umbrellas, communal showers and there's plenty of water sports for the active. It's also the perfect place to rent a pedalo and make your way along to the city walls and get beautiful views of the city that Game of Thrones fans in particular would enjoy.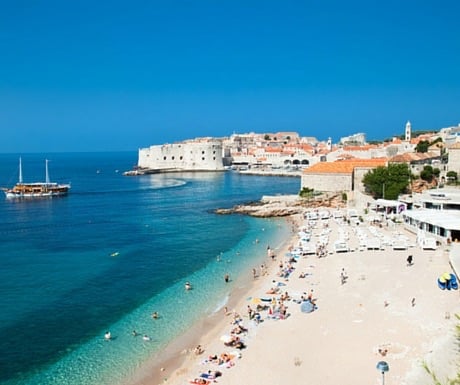 Sunj Bay, Lopud
Getting to Sunj Bay is all a part of the island-hopping experience. Take the scenic ferry route from Dubrovnik and take a hike across this car-free island to reach the quiet Sunj Bay. It's the right place to come if you're ready to escape the pebbles of the mainland and bury your feet in some sand. Make the most of the 30 minute walk from the port which leads you through some incredible, untouched countryside.
Oprna Bay, Stara Baska
If you want off-the-beaten-path, the quaint village of Stara Baska is the ultimate spot to get away from it all. It has a lovely pebbly beach which lies within the sheltered cove of Oprna Bay and with just one humble beach bar in sight, this tiny little sunbathing heaven is far from commercialised. You need to trek down a long, steep path to get their, so it's not for anyone concerned with accessibilty. Don't forget your trainers for the journey…
Saint John, Cres Island
Saint John is located at the foot of an ancient city which has been built entirely from stone. So if you want the perfect fusion of culture, history, beach and nature, head to this fabulous beach spot on Cres Island. It's the perfect place for yachting too and brings in some spectacular boats to watch as you relax. As with Oprna above, it is accessed through a steep slope so you need to be in good shape to make your way down there.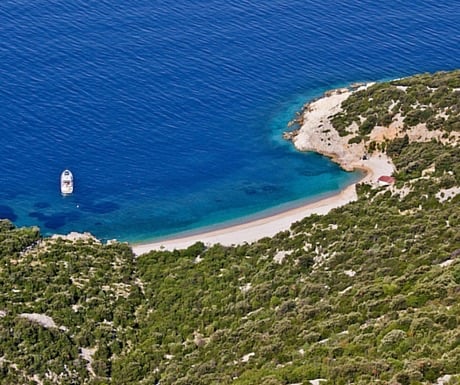 Christos Hajipapas is Head of Business Development & Strategy at Cyplon Holidays.
If you would like to be a guest blogger on A Luxury Travel Blog in order to raise your profile, please contact us.