By
Craig Burkinshaw
on Apr 24, 2016 in
Adventure Travel
,
Africa
,
Asia
,
Attractions
,
Australia
,
Brunei Darussalam
,
California
,
Caribbean
,
China
,
Eastern Europe
,
Europe
,
Events
,
Going Out
,
India
,
Indonesia
,
Japan
,
Leisure Travel
,
Malaysia
,
North America
,
Oceania
,
Peru
,
Regions
,
Russia
,
Saint Lucia
,
South Africa
,
South America
,
Speciality Travel
,
Travel Miscellany
,
USA
,
Worldwide
,
Wyoming
Whether you're seeking wildlife spectacles, otherworldly scenery or the buzz of a festival, there is a wide range of options for travelling to a new destination this season. We've listed ten of the best places to visit at this time of year to help you plan your next spring-summer adventure.
Australia's Ningaloo Marine Park
While experiencing cooler temperatures than the summer months, Australia between April and June basks in pleasant temperatures, with less rain and plenty of sunshine. The change in temperature triggers the start of autumn, and in the south of the country the landscape becomes dappled with golden hues. With fewer visitors than earlier in the year, you can enjoy all the attractions of summer without the crowds and uncomfortable heat.
This is a great time of year to head to Ningaloo Marine Park on Western Australia's northwest coast, where large numbers of whale sharks feed in the nutrient-rich waters between late March and early July, when the coral is spawning. Boat trips from Exmouth take you out to the reef, where you can swim and snorkel with these gentle creatures.
Whale sharks are the largest fish species in the world at up to 12 metres long. Completely harmless to humans, they move around slowly in the water while feeding on plankton. During the trip, you'll be able to learn all about their behaviour, feeding patterns and how best to approach them.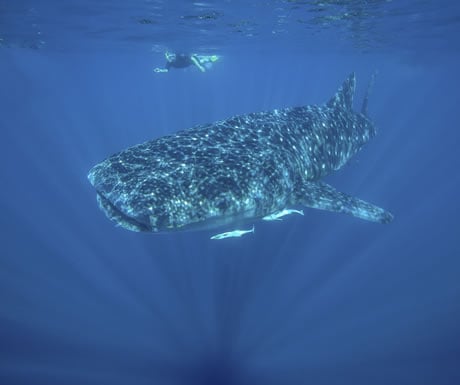 St Petersburg's White Nights Festival
From late-May to July each year, St Petersburg hosts the White Nights Festival to mark the natural phenomenon of constant daylight at this time of year, caused by the city's northerly position.
The festival is a series of ballet, opera and musical events, with daily evening performances of ballet or opera held at the Mariinsky Theatre and the Mariinsky Concert Hall, and popular music stars holding concerts in the Palace Square.
The oldest and most popular event is Scarlet Sails, which pays tribute to the Russian children's tale of the same name written by Alexander Grin in 1922 and celebrates the end of the Russian school year in June. You can sit on the banks of the Neva River and watch as a sailing ship illuminated by a glowing red light floats by, while fireworks explode in the sky above you.
Northern India's Ladakh region
While most of India endures searing heat and monsoon rains from June onwards, the high altitude of Ladakh in the country's northern tip helps it stay relatively cool and dry, making it a wonderful place to visit at this time of year.
Despite being part of the Indian state of Jammu and Kashmir, the Ladakh region offers a very different culture to the rest of the country, with its proximity to the Tibetan border reflected in its large number of Tibetan Buddhists and traditional way of life.
Stretching from the Himalayan to the Kunlun Ranges, you'll be struck by the area's dramatic mountain scenery, which provides excellent opportunities for walking and photography.
The region's capital, Leh, nestles in the mountains. It may take some time to adjust to its altitude of 3,500 metres, but there's plenty to see in this historic town, from traditional mud brick houses and bustling street markets to the imposing ruins of Leh Palace. A walk up to white-domed Shanti Stupa rewards you with impressive views over the town, which was once an important trading post for Himalayan people. If you don't mind an early start, you may wish to witness atmospheric morning prayers at Thikse Monastery, which is around half an hour's drive from Leh.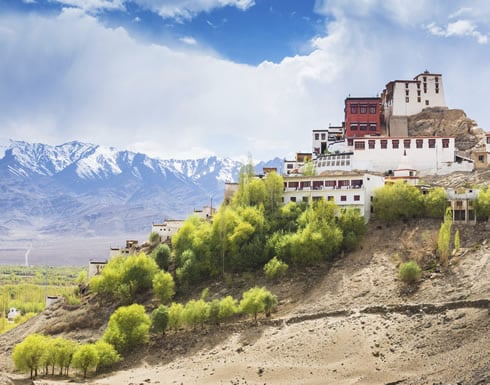 Peru's Machu Picchu and Lake Titicaca
By May, Peru's rainy season will have come to an end and the landscape will be incredibly lush and green. This is one of the best times to enjoy all of Peru's main attractions, at a quieter time than the festival month of June and the peak months of July and August. You can choose to embark on a trek in one of the mountainous valleys surrounding Machu Picchu, which range from 1 to 12 days and vary in difficulty. Although, if you want to complete the classic Inca Trail to Machu Picchu itself you'll need to book in advance as permit numbers are heavily restricted each year.
Alternatively, you could travel into the Sacred Valley – the Inca's heartland – by road before taking the train from the town of Ollantaytambo to Machu Picchu. Reaching this mysterious yet familiar site as the sun rises and the clouds clear to reveal the sacred ruins is unforgettable, but the journey there is often just as scenic as you follow the course of the Urubamba River along the valley floor through dense forest.
For a more relaxing experience, enjoy a peaceful boat trip out on Lake Titicaca under vivid blue skies. The largest lake in South America, the Inca civilisation believed that the world was created here by the god Viracocha, and the local people still hold onto their pre-Conquest traditions. You can visit some of the traditional communities that live on the lake floating on islands made from reeds, or travel out to the pre-Incan burial grounds of Sillustani, where stone chullpas (burial towers) dot the shores of Lake Umayo.
China's Yunnan Province
At this time of year, China is experiencing warm weather but has yet to reach the hot and humid conditions seen in the summer months. May is the peak month for the wildflowers of Yunnan Province to bloom, and you can take in strikingly beautiful scenery as the mountain slopes are transformed by the vibrant colours of rhododendrons and other flora.
One of the most visually impressive areas within the province is Tiger Leaping Gorge, which  was formed by the Jinsha River forcing its way between the Yulong and Haba Mountains. While just 30 metres wide at its narrowest point, it's one of the world's deepest river canyons with a maximum depth of 3,790 metres. A two-day trek around the gorge allows you to explore this region in-depth, and stay overnight in a local guesthouse in the middle of the gorge.
South Africa's KwaZulu-Natal coast
Between May and July, the coast of KwaZulu-Natal in the east of South Africa plays host to the sardine run, a natural spectacle that sees millions of sardines (or South African pilchards) migrate northwards along the coastline from the Agulhas Bank. The vast shoals of these fish – often more than seven kilometres long and 1.5 kilometres wide – catch the attention of many predators, creating a feeding frenzy that's exhilarating to watch.
Thousands of sea birds, such as Cape gannets, plunge into the water to catch their prey, where a variety of shark species, including hammerhead, great whites and bronze whalers, are already feasting on the fish. Bottlenose and common dolphins also pursue the shoals, working together to round the fish up into 'bait balls' and push them to the surface before tucking in to their meal.
You can go on predator viewing boat trips, diving charters or simply snorkel in shallower waters to witness the spectacle more closely. Alternatively, there are several vantage points along the coastline where you can watch the drama of predator-versus-prey from dry land.
Borneo's rainforests and beaches
Travelling to Borneo during May allows you to avoid peak season prices, larger crowds and the most extreme temperatures of the year. Both Sarawak on the northwest coast and Sabah in the north enjoy favourable weather conditions, although tropical storms are never unheard of at any time of year.
Sabah's northeast coast experiences its lowest annual rainfall in May, so it's an ideal time to relax on the sandy beaches and explore the diverse sea in marine parks such as Tunku Abdul Rahman National Park, where you may encounter black-tip reef sharks, barracuda and rays. For more wildlife encounters, you can take a trip to Lankayan Island, to see and snorkel with turtles in the island's clear waters at the start of the turtle season.
Back on dry land, conditions for trekking in Sarawak's rainforests are at their best at this time of year. You'll have a good chance of seeing orangutans high in the trees, as well as encountering other wildlife such as proboscis monkeys, tarsiers, gibbons, slow lorises (small, nocturnal primates with large eyes), sun bears and pygmy elephants.
Japan's flowers and festivals
The first week of May in Japan is 'Golden Week', a national holiday when many local people travel around the country, making public transport and hotels busier. But, once this week is over, the warm, mostly dry weather and lush green foliage around the country makes this one of the best times to visit.
It's also the only time of year to view wisteria in full bloom, with purple and cream flowers hanging gracefully from the plant's long vines. One of the best places to experience this is Kawachi Fuji Garden in Kitakyushu, where you can stroll through a wisteria tunnel made up of around 20 different species of white, blue, purple and pink wisteria.
With the waning of the cherry blossom season across much of Japan by May, your best chance of catching its tail end is to head to northern Hokkaido, where the cooler conditions hold back the cherry blossom blooms until later.
Head to Tokyo on the third weekend of May to witness one of the city's largest festivals and parades, Sanja Matsuri, which is held in honour of the three men who established and founded Tokyo's oldest temple, Sensō-ji. Colourful floats and over 100 Buddhist shrines are paraded through the streets of Asakusa (a district in Taitō, Tokyo), accompanied by geishas, musicians and dancers in traditional Edo period costume.
The USA's national parks
This is an ideal season for visiting both the northern and southern parts of the USA, with pleasant temperatures and sunny days coupled with greater access into many of the national parks. You'll also find the parks much quieter than in the summer months, particularly those in the north such as Grand Teton National Park. Here, you may well have a scenic trail all to yourself as you hike through seemingly deserted mountains and valleys with perfectly still lakes, some of which may still be frozen over in higher ground. Wildlife such as black bears, bison and moose are readily seen, and a wider range of activities becomes available, from canoeing and climbing to cycling and fishing.
The national parks in the southern US, such as Yosemite, also offer excellent conditions for hiking, and you can make the most of the warmer climate by heading to the Californian coast for some beach relaxation before it becomes more crowded in the summer months.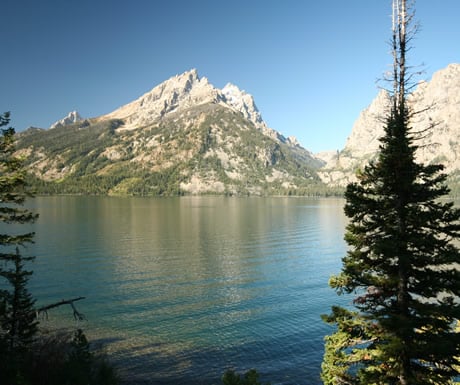 Saint Lucia's jazz festival and natural wonders
While the peak season for travel to Saint Lucia has just come to an end, this is still one of the best times of year to visit the island, whose natural beauty has earned it the name 'Helen of the West Indies'. Prices are significantly lower than in February and March, yet the rainfall is only slightly heavier, which in turn has its benefits as the landscape becomes more lush and green.
The beaches should be quieter at this time of year, giving you more space to relax without being disturbed. While temperatures are getting hotter and humidity is rising, it's still worth exploring the island's tropical interior, where you can hike up the volcanic hills and mountains to be rewarded with sweeping views over the rugged coastline and out to sea.
At the beginning of May, the Saint Lucia Jazz and Arts Festival takes place on Pigeon Island – a tiny island artificially joined to the mainland's northwest coast. This colourful festival runs for just over a week with performances from both local and international musicians. It also showcases dance, theatre, fashion and poetry representing the various cultures that have influenced Saint Lucia over the years.
Craig Burkinshaw is Founder of Audley Travel.
If you would like to be a guest blogger on A Luxury Travel Blog in order to raise your profile, please contact us.