Africa's top 10 luxury lodges
When people think of safari, basic mobile camps that mainly serve the purpose of seeing exceptional game often come to mind. However, although these mobile camps are fantastic and offer a very rustic and authentic approach, they are not the only option. A lot of safari accommodation is extremely luxurious, while maintaining the key qualities that make a safari trip so special. These lodges are so spectacular that, if it were not for the drive/flight there, you would have no idea that you were in the middle of the bush! Without further ado, here are Africa's top 10 luxury lodges.
Zarafa Camp, The Linyanti, Botswana
Many of the safari regions in Botswana are split into private reserves, so privacy and exclusivity play a huge part in why the country is regarded by many as the foremost safari destination. The Linyanti is one of these reserves, and there is no lodge within it more luxurious then Zarafa Camp. Not only is Zarafa in a fabulous location, overlooking the Zibadianja Lagoon, but the owners have gone to great lengths to ensure that traditional does not have to mean basic! With only four guest rooms, each large, marquis-style tent comprises doors reclaimed from
Zanzibar
, furniture made of wood from destroyed areas in the 2004 Tsunami, and floors constructed from former railway sleepers. Not only are the rooms gorgeous, but the overall standard of guiding, service, food, and game viewing is hard to beat! Zarafa is a truly remarkable lodge.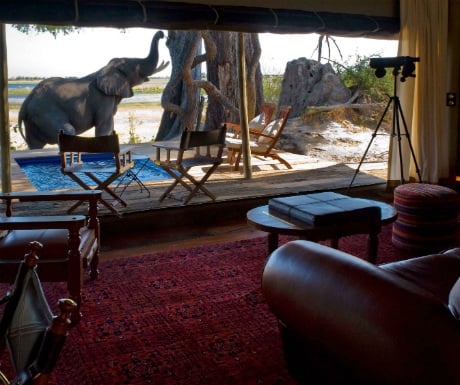 Singita Sasakwa, The Serengeti, Tanzania
You cannot think of an African safari without imagining the mighty
Serengeti National Park
. Located in Northern Tanzania, the Serengeti is perhaps the best place to view game in the whole of Africa. Home to countless camps, none stands out more for pure magnificence then Singita Sasakwa. With heated infinity pools overlooking the park, gorgeous four-poster beds, handcrafted furniture, and a view that can only be described as breathtaking, this lodge is the definition of elegance. Whilst the accommodation is fantastic, the wide range of activities on offer, such as lawn croquet, snooker, archery and mountain biking, ensures that a stay here is one that will not be forgotten in a hurry! If you are looking to combine the mother of all safari parks with the most spectacular lodge, Singita Sasakwa is for you!
Molori Safari Lodge, Madikwe Game Reserve, South Africa
Molori Safari Lodge is situated in South Africa's Madikwe Game Reserve, giving it a unique position in a non-malarial area. This makes it a great choice for those with children who do not wish to compromise on luxury. Molori is a truly exceptional lodge – arguably South Africa's most luxurious! Home to only five suites, privacy is a given here. All have floor-to-ceiling glass windows leading to their own private infinity pools. Two of the suites are presidential and extremely special, with a study, living room, dining room, master bedroom, bathroom and dressing room, as well as a personal butler for the duration of your stay. Molori also boasts impressive facilities, such as a lovely spa, exercise room, and even a planetarium! Molori Safari Lodge is a fantastic choice for those who wish to combine a safari with a visit to
Cape Town
, or for those with children who are looking for an unforgettable experience.
Singita Lebombo, Kruger Private Concessions, South Africa
You'll notice there is a theme to this list – Singita properties! Singita is one of the most luxurious safari accommodation companies in the business, with awesome lodges in stunning locations. Singita Lebombo is no exception. Set in the Kruger National Park itself, this gorgeous lodge offers some of the best game-viewing in all of South Africa. It is in an amazing position, perched on a cliff overlooking the N'wanetsi River below. Each of the 15 suites is private and remote, with a contemporary design and a lavish feel. Whether you want to use the spa, have a rest on the private deck, or visit the large wine cellar, a stay at Singita Lebombo is guaranteed to be first rate!
Singita Boulders, Sabi Sand Private Reserves, South Africa
Continuing with Singita once again, we come to Singita Boulders, located in South Africa's famous Sabi Sands. Without doubt, Singita Boulders is one of the best lodges in this area! Home to twelve stylish suites, each with its own private pool, Boulders is a truly top-notch lodge. As well as the luxurious accommodation, there is a very high level of food and service, and a large variety of activities, including walking safaris, which are a great alternative to drives for viewing game. The lodge is located within a private reserve in the Sabi Sands with only one other lodge (Singita Ebony), so a stay at Boulders ensures unrivalled exclusivity and privacy.
Abu Camp, Okavango Delta, Botswana
The Okavango Delta is considered one of the best places to view game, not just in the country of Botswana, but within the whole continent of Africa – and there are few camps as luxurious as Abu Camp! With just six suites and a location in a quiet area, Abu Camp is a perfect choice for those wishing to enjoy a private trip. Each suite overlooks the lagoons and floodplains, resulting in a truly exquisite view. However, it is the resident herd of rehabilitated African elephants that makes Abu so exceptional. Guests have the chance to walk with the herd and learn about them from some of the best elephant handlers in the business, making a stay at Abu extremely special!
Vumbura Plains, Okavango Delta, Botswana
The Okavango Delta is also home to the Vumbura Concession – regarded by many as one of Africa's finest private reserves – and its flagship camp, Vumbura Plains. This is one of Africa's supreme and most luxurious camps, confirmed by its heavy price tag! The property is split into two camps, each with seven large suites, complete with private plunge pools. Vumbura Plains offers extreme privacy and exclusivity, and astonishingly good game viewing at any time of the year. It really is the full package!
&Beyond Ngorongoro Crater Lodge, Ngorongoro Crater, Tanzania
One of Africa's most famous destinations, the Ngorongoro Crater is a jaw-dropping sight and one of the most beautiful places to be on safari in the whole of Africa! The Crater itself is a self-contained ecosystem, packed with Africa's Big Five. Perched atop the Crater's rim, 600m above the action, is the super-luxurious &Beyond Crater Lodge, which enjoys the Crater's finest views. The rooms have to be seen to be believed – huge four-poster beds, indoor fires, and bathrooms complete with roll-top baths and your own private butler. The main areas are lavish, to say the least. Sumptuous sofas and antique artefacts create an eclectic atmosphere of African tribal life as well as colonial exploration – &Beyond Crater Lodge is truly unique!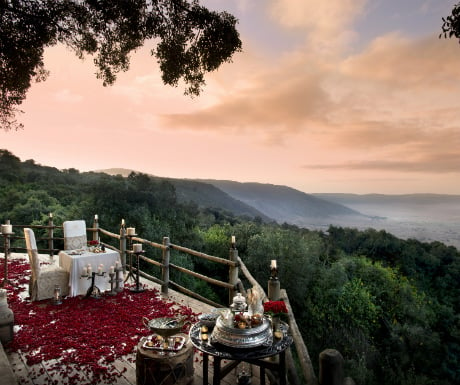 &Beyond Sandibe Lodge, Okavango Delta, Botswana
Another of &Beyond's stunning properties, but this time in Botswana's Okavango paradise, Sandibe is exceptionally rich in big game and located in a remote area, close to a permanent water channel. This brand new lodge has become one of the most luxurious properties in the Delta, with eight stylish cottages opening onto exhilarating views of papyrus and grassy floodplains! Each has a smart en-suite bathroom, a separate al-fresco shower area, and a private viewing deck where guests can lounge while trying to spot any passing game. Each suite also includes its own private plunge pool and fireplaces to ensure your comfort whatever the weather. Sandibe is the most comfortable and decadent patch of wilderness you could imagine!
Londolozi Granite Suites, Sabi Sand Reserves, South Africa
Located in the heart of South Africa's famous Sabi Sands, the private Londolozi Reserve is a phenomenal destination for leopard and one of Africa's finest Big Five game-viewing areas. With just three rooms, Granite is the most exclusive but also the most luxurious (and expensive) of the Londolozi camps! The emphasis here is on exclusivity and personal service. The rooms are stunning, with huge separate lounge areas, as well as outside decking areas, complete with private heated pools and freestanding outside baths. Each suite looks out over the Sand River – the views are astounding. With superb food, service, guiding, and game-viewing, Granite is one of the best – if not the best – camp in the Sabi Sands!
Julian Carter-Manning is a Co-founder and MD at Yellow Zebra Safaris.
If you would like to be a guest blogger on A Luxury Travel Blog in order to raise your profile, please contact us.
Did you enjoy this article?
Receive similar content direct to your inbox.