Luxury in relation to travel is more than just great hotels in fabulous locations – that's easy to replicate. Take one beautiful beach, add one 6-star hotel and label it luxury. What's harder to replicate, and what defines luxury as we see it, are exclusive experiences. Travel that's intimate. Personal experiences that are authentic yet belong to you alone. Here are five exclusive experiences in Sri Lanka from our Secret Sri Lanka itinerary that feature unique moments, combined with remarkable accommodation.
1. A bird's eye view of Sigiriya – fly over the Rock Fortress by private plane
Hold your breath as you see one of Sri Lanka's most famous sights like few do. Board your private charter flight in Colombo bound for Sigiriya, and fly over the UNESCO World Heritage Rock Fortress to see this magnificent sight from the sky. When your feet touch the ground, the rock's 1000 steps can be climbed – or not! Maybe the aerial view was enough and you can just head to Ulagalla, a stunning eco resort situated on a 60-acre private estate. Settle into one of Ulagalla's individual villas with private plunge pools overlooking lush rice paddy, and you can imagine climbing those 1000 stairs!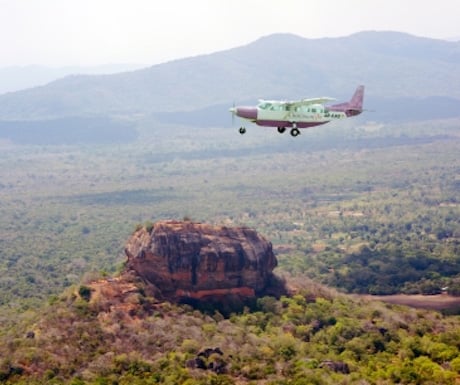 2. A picnic breakfast in Sri Lanka's tea country packed just for you
The sun has announced its arrival, the day calls and all around the picturesque countryside and tea plantations are luring you outside. Experience Sri Lanka's tea country intimately – at Thotalagala a freshly prepared hamper – a rug, fresh-baked bread, sparkling wine, and other edible delights – are made especially for you. Take your goodies and find a secluded spot with your loved one or family for a private picnic breakfast.
3. Sunset drinks from the roof of your exclusive Galle villa
Imagine a colonial-era villa with just a few spacious rooms, a courtyard pool, an onsite chef and stunning living spaces that invite you to linger. Then imagine using the whole villa for your private group, or family holiday like we did recently. Perfectly situated within the walls of this quaint city, the villa's locale makes it ideal to explore the city on foot. This exclusive villa has the perfect spot to end your day – with drinks on the private roof top terrace as the magnificent colours of sunset take your breath away. If you like, we'll arrange a candlelit dinner too. After all, the view is all yours!
4. Hello Colombo! Embracing the old and welcoming the new
Like all of Sri Lanka, Colombo is changing as tourism gathers pace in the country. This city is becoming more vibrant and cosmopolitan, while still embracing its heritage. Explore the city as you want to know it, at your own pace, with a private and gentle walking tour. Stroll one-on- one with a local and discover the city's secrets – old and new. The boutique hotel Maniumpathy is the perfect place to stay to explore all the capital, while immersing yourself in a place that values its history and its cuisine.
5. Immerse yourself in iconic Sri Lankan architecture
No architect has had more influence over the distinctive aesthetic now synonymous with Sri Lanka than world-renowned Geoffrey Bawa. Bawa was one of Asia's most influential architects and the main driver of a style that became known globally as 'tropical modernism'. Surround yourself in the work of Bawa at the Last House – the final building he designed. Play croquet on the lawn, swim, surf, enjoy a massage, eat delicious seafood and generally unwind at this exclusive beachside villa.
Lincoln Harris is Founder at India Unbound.
If you would like to be a guest blogger on A Luxury Travel Blog in order to raise your profile, please contact us.