By
Zach Smith
on Jun 16, 2016 in
Attractions
,
Caribbean
,
Central America
,
Costa Rica
,
Cuba
,
Ecuador
,
Going Out
,
Guatemala
,
Leisure Travel
,
Panama
,
Peru
,
Regions
,
South America
,
Speciality Travel
,
Worldwide
This Summer, don't settle for a quick cannonball into the chlorinated waters of your local pool. Step out of your Summer routine and visit a beach that's far from your usual Summertime destinations.  This guide will help you find your coastal oasis with blue water, untouched sand and lush palm trees swaying in the breeze.
Uvita, Costa Rica
Costa Rica has some hugely popular beach destinations– some complain that places like Tamarindo can feel overcrowded with the influx of visitors. Not so with Uvita! This beach has yet to become a popular destination, and has more than its fair share of laidback charm.
Uvita is home to Marino Ballena National Park, which has some of Uvita's nicest beaches. At low tide you can walk along a sandy bar that's shaped like a whale's tale. Humpback whales can be seen swimming near Uvita from late December until April, and Olive Ridley and hawksbill sea turtles lay their eggs on shore between May and November. (Sea turtles are an endangered species, so it's important not to disturb them.)
Carate, Costa Rica
Carate is on the shore of Costa Rica's Osa Peninsula. The Osa Peninsula is an isolated area with many miles of virgin rainforest. Along the coast you'll find beaches like Playa Madrigal, where you can swim in the brisk Pacific water and listen for the sounds of monkeys and birds chattering in the jungle near the beach.
Boca del Drago, Panama
Boca del Drago is on Isla Colón, which is one of the islands of Panama's Bocas del Toro archipelago. This archipelago is commonly referred to as the "poor man's Galápagos" because of its rich biodiversity. The surf at Boca del Drago can get a little rough, but you'll typically find tranquil, shallow water that makes this a great spot for swimming. Keep an eye out for the starfish that like to congregate near the shore.
Coiba National Park, Panama 
Off the shore of Coiba National Park you'll see 38 small islands. In the crystal-clear waters surrounding these islands you can swim and snorkel with some of the area's 700-plus species of fish, 33 types of sharks, and 20 species of whales and dolphins. Many of the fish that swim in these waters are brightly colored and make underwater adventures near Coiba's beaches particularly memorable.
Monterrico, Guatemala
This park is a protected area, where sea turtles come ashore to nest between July and December. You'll find that the beach only has a few visitors on weekdays, but is becoming an increasingly popular weekend destination. There are some waves, and an undertow that should make you cautious while you're swimming, but the views of the Pacific from the beach are definitely worth a sunny afternoon.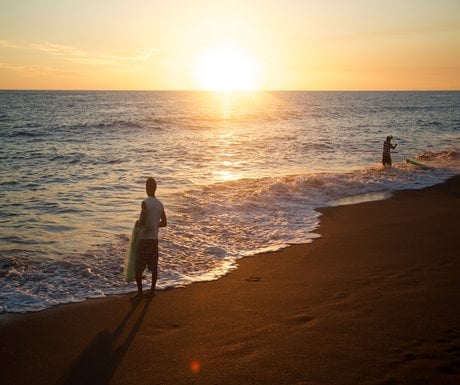 Huanchaco, Peru
The people of Huanchaco used to eke out their living fishing in the rich waters of the Pacific. Now this beach has become one of the most interesting beach destinations in northern Peru. Fishermen used to take to the water in handmade reed boats, and you can see still see these traditional boats lining the shore. Interested visitors can also sign up for a fishing trip with one of the local fishermen on one of these traditional seafaring vessels.
Playa Roja, Peru
Cold Pacific waters means that this isn't a good destination for swimming, but exploring the beach is quite an adventure. In order to reach Playa Roja you'll need to take a buggy ride over the steep dunes. You'll see wildlife like sea lions and cormorants. Visitors will also have the chance to see Humboldt penguins —these tufted birds are a rare sight, and definitely worth a day trip.
Puerto Lopez, Ecuador
Come to the beach at Puerto Lopez for whale watching from late June until early October. Humpback whales come here to rear their newborn calves. On a whale watching tour you'll get to keep an eye out for baby whales, and see enormous full-grown whales breeching and slapping the surface of the water with their fins.
Bay of Pigs, Cuba
The Bay of Pigs is the site of the attempted CIA invasion of Cuba in 1961. It's known as Playa Girón in Cuba, and is within the borders of the Ciénega de Zapata National Park. Like so many beaches in Cuba, the Bay of Pigs has incredibly clear water. Visitors come here for scuba diving and snorkeling. Barracudas, lionfish, and moray eels are common sights in these waters. You can go farther offshore to find excellent dive sites near coral reefs and shipwrecks.
Playa Ancón, Cuba
We saved the best for last. Playa Ancón has some of the most breathtakingly turquoise water and bright white sand you'll see anywhere in the Caribbean. It's right outside the city of Trinidad, which is best known for its well-preserved Cuban architecture. Bring bug spray, and try not to visit in the morning or dusk, as pesky sand flies can disrupt you beachside bliss.
Zach Smith is CEO of Anywhere.
If you would like to be a guest blogger on A Luxury Travel Blog in order to raise your profile, please contact us.