By
Spencer Groves
on Jun 29, 2016 in
Accommodation
,
Attractions
,
Europe
,
Food and Drink
,
Going Out
,
Greece
,
Leisure Travel
,
Regions
,
Resorts
,
Restaurants
,
Spas & Pampering
,
Speciality Travel
,
Travel Miscellany
,
Western Europe
If you happen to know anyone who works in travel, then you'll know that they always seem to be jetting off left, right and centre – touring the globe, staying in countless hotels and discovering new places. We recently embarked on one such adventure to Costa Navarino in the Peloponnese region of Southern Greece – a destination none of us had been to before (and – we have to admit  – some had never even heard of before!)
Following the trip, there was an unprecedented amount of praise for both destination and resort.  The office buzzed with stories of activities tried, how nice the rooms were, which ones had the best views and which tasty local delicacies had been consumed. One person even changed his family holiday plans to return to Costa Navarino again! So, what's all the fuss about?
The resort comprises of two hotels, run by one of the world's leading hotel chains (Starwood). They share facilities and form a central 'village square' area, with a selection of restaurants, bars and even an open air cinema.  It's the brainchild of local-born self-made billionaire, Vassilis Constantakopoulos, who's vision was to revitalise this area of Greece with international luxury ecotourism.  And what has been achieved here is nothing short of extraordinary.
There's an overwhelming feeling of there being nothing you can't do: there's so much on offer… and, unusually for this kind of resort, there are loads of culturally enlightening things to see and do beyond the hotel grounds (leaving the complex is actively encouraged!). From cooking lessons in local homes to offshore reef diving, there really are too many to mention in just one article, but let's try:
1. Visit Voidokilia beach
The result of an amazing natural phenomenon, this beach is almost a complete circle. It's beautifully unspoilt, with calm turquoise waters with soft sand – no wonder The Times voted it one of the best beaches in the world.  It's a conservation area, so no cafes or trinket stalls – the hotel will pack you a picnic to ensure hunger pangs don't cut your visit short.  We trekked (2 hours) from the hotel to reach the top of the hill where there's an old castle overlooking the bay. From this high vantage point, you can really appreciate it's circular shape.  Another option is to borrow some bikes from the hotel and cycle a flatter route direct to the beach (takes around 15 minutes).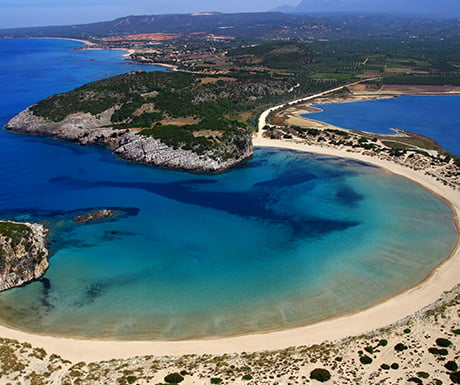 2. Go scuba diving
Choose from reef, wreck, cave and canyon with over 15 dive sites nearby. If you'd just like to have a taster session, you can take a lesson first in the Westin Waterfall swimming pool.
3. Learn to windsurf, wakeboard, paraglide, waterski or sail the coastline on board a luxury yacht
If you're into watersports, there's no shortage of aqua-based activities, with experienced instructors and top-end equipment available to rent for a small fee.
4. Go rock climbing
There's an indoor rock climbing wall in the resort, or if you're feeling more adventurous, you can take an excursion to a nearby rocky island and scale the cliff face.
5. Play golf
There are two signature golf courses (one designed by two-time Masters champion Bernhard Langer), plus tuition available for all skill levels. And a driving range, if you just want to see how far you can whack the ball!
6. Pedal away on a mountain bike
You can either borrow a bike and go solo, or join a guided trek (with different routes for varying fitness levels). Our favourite trail covers various different types of terrain – beginning at the wetlands, before entering a forest and pausing for a photo-op at the spectacular Kalamari waterfall.
7. Dive into one of the swimming pools
There are three outdoors and even more indoors… not forgetting the private pools that come with the higher room types.
8. Hit the beach
Similar to those found in the Algarve, the beach is spacious with golden soft sand (ideal for sandcastle building!).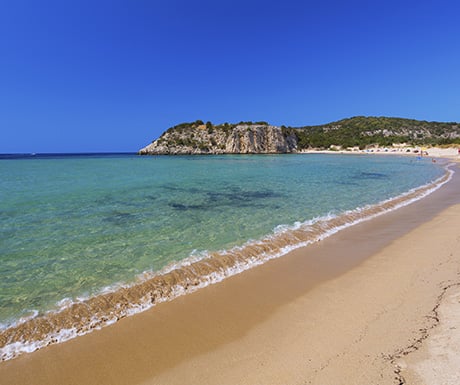 9. Go sightseeing
Within a 2 hour radius there are over 15 historical sites – including four UNESCO world heritage sites. Get in the mood for the forthcoming Olympic Games with a visit to Ancient Olympia, the site of the original games, or explore sites like the Castle of Methoni (pictured), the Temple of Apollo and the Palace of King Nestor (legendary warrior from the Trojan War).
10. Enjoy upscale dining
The food is frankly amazing. There are over a dozen restaurants to choose from, located in the resorts communal square. We sampled a delicious, succulent steak at signature restaurant Flame, served with idyllic views overlooking golf course:
11. Learn how to make olive oil
See the whole process, beginning with harvesting the olives from a tree, then visiting a nearby mill to see how they're pressed before sampling end product with a traditional meal, topped (of course) with a drizzle of olive oil.
12. Take a cultural tour
Take your pick from: philosophy tours, astronomy tours, art tours, mosaic making classes, cooking classes or photography experiences…
13. Go 10-pin bowling
A family favourite, it's nicely done – in the heart of the complex, with an American-style diner attached.
14. Make a splash in the waterpark
There are three long waterslides for all ages, plus a shallow play-pool where younger children will happily play for hours.
15. Hit the gym & spa
As you might imagine, no expense has been spared in creating the state of the art fitness centre, with all the equipment you'd expect – plus classes ranging from dance to yoga and even a 21m indoor lap pool (pictured).
16. Shoot some hoops
Take a break from the heat in the indoor sports hall with basketball court, badminton, volleyball and table tennis tables.
17. Get in training for Wimbledon
There are extensive sporting facilities both indoors and out, including multiple tennis courts with professional tuition available. If tennis isn't your thing, there are 8 different racquet sports available…
18. Go karting
Feel like an F1 star at the well-maintained karting race track. They also have a state-of-the-art simulator – similar to what real F1 drivers use to practice races on F1 tracks across the globe.
19. Check out the local birdlife
There's a mini museum, plus guided bird-watching tours to spot endangered species and the migrating birds who also seek out Costa Navarino when it gets too cold in Northern Europe.
20. Spend an evening at Pylos
At this nearby town, you'll find traditional Greek tavernas and bars, all set on the shoreline of the beach.
21. Spend a few hours at Kids Club
We were particularly impressed by the quality of the kids clubs.  There are two, one for babies and toddlers and one for ages 4- 12. We can safely say they're the best we've ever seen at a resort of this type – run to exacting standards by a warm and friendly team, clean facilities (pleased to report zero trace of nasty nappy odours – always a good sign!), and no danger of boredom given the comprehensive activity programme on offer.  The areas have clearly been designed with children in mind: from adjoining bedrooms for sleepy explorers to pull down mirrors perfect for face-painting.  There's a separate indoor children's pool, with a huge soft play centre for when it's too hot to bounce around outside. The indoor spaces are light and bright. The outdoor spaces provide lots of shade and are really innovative, designed with plenty of scope for imaginative play:
You name it, you can do it in Costa Navarino. This makes it an excellent destination choice for couples who like to keep active; the rooms at The Romanos are particularly special for romantic escapes.  With so much going on, it's also a good destination for families with children of various ages; even hard-to-please teenagers will find something to get excited about here.
One more thing we loved about Costa Navarino is that it won't ever feel over-crowded.  All the facilities are well spread out. The hotels were almost at maximum capacity on the second day we were there, but you wouldn't know it.  It all feels very spacious, thanks to clever design touches like double height ceilings and extra-wide staircases and doorways. Rest assured, you won't ever have to fight for a lounger here, even during peak season.
May – September is the best time to visit Costa Navarino.  We went at the end of May, and can highly recommend it as the temperatures were warm, but not too hot – meaning we were able to enjoy the resorts' extensive list of outdoor activities.  September is also a great time to go, once the summer heat starts to wane.  July and August are both the hottest and busiest months of the year, whilst March is the preferred month amongst the golfing community.
And with flight times of just 3.5 hours from London, you could be exploring this beautiful part of the Peloponnese sooner than you think!
Spencer Groves is Commercial Director at letsgo2.
If you would like to be a guest blogger on A Luxury Travel Blog in order to raise your profile, please contact us.