By
Paul Johnson
on Jun 30, 2016 in
Accommodation
,
Attractions
,
Europe
,
Featured
,
Food and Drink
,
Going Out
,
Greece
,
Hotels
,
Leisure Travel
,
Regions
,
Resorts
,
Restaurants
,
Special Features
,
Speciality Travel
,
Travel Miscellany
,
Videos
,
Western Europe
Equidistant from Europe, Asia and Africa, Greece's largest island is 260 kilometres long and anything from 12 to 56 kilometres wide. It is mountainous in parts and offers huge variations in both landscape and climate. Welcome to the island of Crete where olive groves and vineyards are interspersed with short mountain ranges, and where the north of the island's inviting bays and ports contrast with the more rugged coastline of the south.
This was my seventh time on the island and my sixth visit to Elounda and on each previous visit I'd stayed somewhere different, such is the wealth of luxury accommodation in this idyllic enclave. But this time was different – I'd so loved my stay at Elounda Gulf Villas & Suites last year that I'd returned to enjoy it with family. Led by owner and Managing Director, Anna Kadianakis, and managed by Dimitris Lentzos, the hotel offers a very personal touch that eludes some of the bigger luxury hotels in the town.
On this occasion, we stayed in two different places, both belonging to Elounda Gulf Villas & Suites. The bulk of the villas and suites are to be found at the main resort, but the hotel also has its own private beach just the other side of Elounda where they have another property which is where we spent our first few nights. Elounda Villa can sleep up to 8 people in 4 bedrooms. It's spacious, with a contemporary design and layout, and just yards from the beach.
The master bedroom has a bold, striped feature wall behind the bedhead, its own lounge area and en suite bathroom.
The bedspread, scatter cushions and ornaments offer a welcome splash of colour.
Olivia toiletries are supplied.
The accommodation has its own lounge and kitchen beyond.
Additional seating can found next to a fireplace just off from the main lounge area.
There are four bedrooms in total, each beautifully presented and with the option for rooms to be configured as twin or double beds.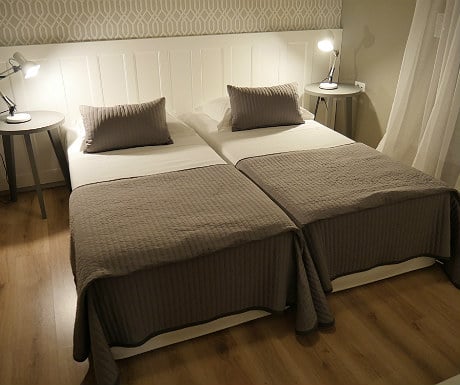 The living area comes complete with 3D TV – 3D glasses are provided and DVDs can be borrowed from reception.
A mezzanine floor houses a study area and additional seating. It should be noted that WiFi works well on all floors within the accommodation as well as outside. (I've stayed at places before where less-than-reliable WiFi access has been blamed on archaic telephone systems on the island but this clearly can't be the case as it was fine here!)
Outside the villa has its own elevated terrace with a view of the beach and sea, and a private pool which is a great size and with lots of sun loungers around it.
There's also an outdoor table and seating with optional shade. Although the restaurant is back at the main resort, you can order snacks here.  On our first morning, because we had arrived late the night before, we actually had breakfast brought to us at the villa which was a lovely way to start the holiday.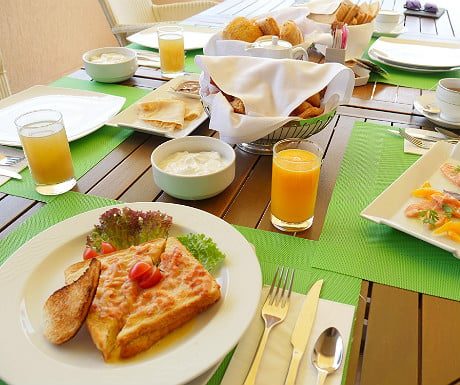 The beach is exclusively for the use of the guests but a handful of times each year it is used for weddings. It just so happened that our stay co-incided with one of these occasions.
As you can see, they do a great job of dressing up the venue for the occasion. This is a great venue for small weddings and is able to cater for wedding parties with up to around 40 guests.
So that you can get a feel for the layout and quality of the accommodation, I shot a short video to give you a more complete overview.
For the remainder of our stay, we stayed at an Aegean Villa back at the main site of the hotel – Villa Erato, with three bedrooms and sleeping up to six people.
There are two double rooms and one twin, each with a slightly unique style.
A pillow menu is provided should you have particular requirements in that regard.
Once again, there is an open plan kitchen, dining table and lounge area.
And outside, there was a shady area that was perfect for when the sun just got a little too hot.
Alternatively, our own pool with a view was perfect for cooling off!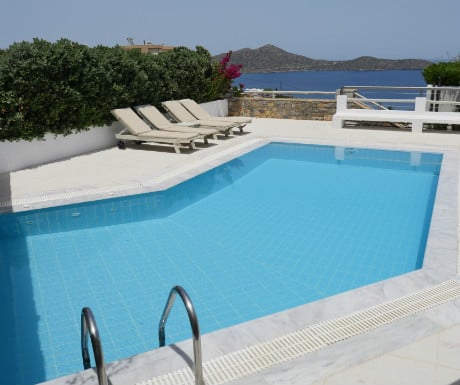 As at Elounda Villa, there is free WiFi and air conditioning throughout and, once again, I put together a short video in order to provide readers with a better understanding of how everything is pieced together.
So which of the two accommodation options did we prefer, I hear you ask?  Well, we actually loved them both and it was really too close to call – we liked the space that Elounda Villa afforded us, along with the beach setting, but we also really appreciated the privacy and having all the amenities 'on site' when staying at Villa Erato. At full occupancy, the hotel can accommodate up to 120 guests but this rarely happens since families of four might accommodate a villa that can sleep up to six, or couples might seek the additional space that a villa sleeping four offers.
At the time of our visit, occupancy was at around 70% but it felt much quieter. This is testament to the way that the hotel has been designed. Suites and villas are cleverly perched on the hillside in a way that it never feels as though you are overlooking someone else, or indeed being overlooked, and the main public spaces are all open plan. Combine this with the generous meal times (see below) and you'll find it never feels busy, even in communal areas such as the restaurant and bar.
Regardless of which you choose, make sure you stay a while and you'll be treated to some local delicacies that will be left in your accommodation such as these Cretan cakes.
…which brings me nicely on to the food. The food at Elounda Gulf Villas was something that stood out for me on my last visit, and once again they delivered. Led by Executive Chef Manolis Kokolakis, most meals are served at the hotel's Argo restaurant where you can dine al fresco. Breakfast, lunch and dinner are all served here, though for those looking for fine dining, there is also the Daphni gourmet restaurant to sample.
Meal times are generous with breakfast served until 11.30am, lunch from 12pm until 4pm and dinner from 7.30pm to last orders at 10.30pm. Table d'hote and a la carte menus showcase regionally-inspired contemporary Greek and Mediterranean cuisine – simple dishes with an emphasis on flavour. The quality of the food is excellent and I'm here presenting you with pictures of a selection of the dishes so you can at least get a feel for at least the presentation, if not the taste!
Trilogy – aubergine salad, beetroot salad and tzatziki with pita bread, Knossos cucumber and kalamata olives.
Sautéed scallops in hazelnut butter served with sweet and sour beetroot cream, Cretan Summer truffle and mushroom air.
Grilled octopus with creamy houmos, tomato marmalade, spicy rocket leaves with a lemon and olive oil dressing.
Fried calamari with fresh green salad and lemon marmalade.
Greek salad with a Cretan twist with dakos.
Warm cuttlefish leaves marinated in marjoram oil served with a refreshing couscous salad with homemade cuttlefish ink mayonnaise… one of my favourites!
Lobster spaghetti with carefully chosen tender lobster pieces and fresh tomato sauce.
Steamed monkfish fillet in lemon thyme and lime with celery purée, tomato confit and basil oil.
Lamb fillet covered in a green crust of fresh Cretan herbs served with citrus fruit flavoured bean purée and thyme sauce.
Chocolate fondant with ice cream.
Creme brûlée with fresh vanilla and raspberry mousse.
Special Greek dishes on the menu include moussaka, soutzoukakia (homemade meatballs with cumin and tomato sauce, served with a potato purée), gemista (another favourite of mine – tomatoes and peppers stuffed with rice and vegetables), kebabs and souvlaki.
There's also a healthy children's menu and choice of 'mocktails' – our boys loved the Little Manhattan (cranberry juice, orange juice, cherry juice, lemon juice, orange bitters and cherry) and the Mock Champagne, and were even given an impromptu lesson at the Argo bar and taught how to make them themselves! This was a lovely 'extra touch' and in line with our experience of the staff throughout our stay – always smiling and eager to please.
The hotel holds close relationships with regional farmers and winemakers, and the sommelier is only too happy to share his expertise with you. The wine list is extensive and includes some excellent Greek white wines including some from the island's Lyrakis Estate where certain grape varieties have been saved from extinction.
Stay a while and the chances are that you'll get to enjoy a Cretan night with live music, dancing and traditional Cretan cuisine (some Sundays at Argo restaurant).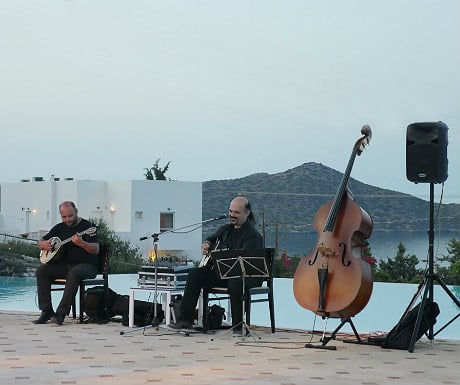 These are fun evenings and, if the mood grabs you, you can even get involved with a little Greek dancing yourself.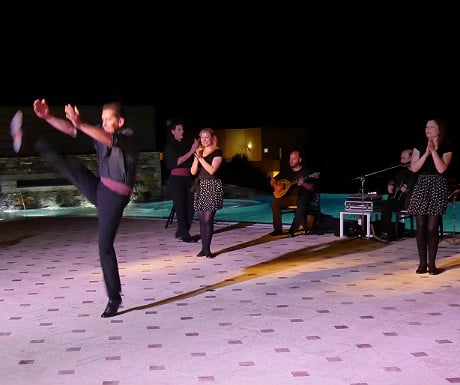 Other facilities at the hotel include the Elixir Spa Gallery where there is a gym room, sauna, steam bath, outdoor Jacuzzi and massage room, or – if you prefer – in-room treatments are available.  And for those travelling with young children but looking for a little respite now and again, there is a kids club towards the top of the resort where you can also enjoy some beautiful views.
Elounda is around an hour's drive from Heraklion Airport, plus you're around two miles from the centre of the town when staying at Elounda Gulf Villas. Although the hotel is happy to offer a shuttle service to the town and beach, I'd recommend hiring a car for this reason. We hired a new BMW X5 from Rental Center Crete – pictured here with the island of Spinalonga as a backdrop – which gave us the independence to explore at our own leisure.
Although Elounda has lots of places to eat and drink around the harbour, for a more sedate experience and a more interesting and, dare I say it, classier selection of shops, I'd suggest venturing that little bit further to Plaka where the tavernas are a little less intrusive in trying to secure your custom.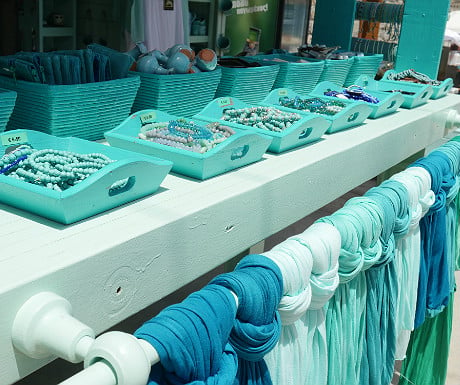 Along with Agios Nikoloas and Elounda, Plaka is one of three places from which you can take a boat trip to Spinalonga. From here it'll set you back just 8 euros per person (or half that for children 10 years old and younger).  Spinalonga has a fascinating history – home to a Venetian fortress is the late sixteenth century and a leper colony as recently as the late 1950s.
Other places of interest nearby include Agios Nikolaos itself and the Lasithi Plateau, and for those looking to explore further still, there are numerous archaeological sites to delve into: the Palaces of Knossos and Phaestos, Gortina, and the Toplou and Areti monasteries. Whether you wish to sun lounge or sightsee, at Elounda Gulf Villas & Suites there are certainly plenty of opportunities to do either…
Disclosure: Our stay was courtesy of Elounda Gulf Villas & Suites.