By
Richard Smith
on Jul 03, 2016 in
Adventure Travel
,
Africa
,
Attractions
,
Botswana
,
Going Out
,
Kenya
,
Leisure Travel
,
Regions
,
Rwanda
,
Speciality Travel
,
Zambia
Safari is full of surprises. Whether it's the noise a hippo makes, or spotting a leopard hiding in the canopy of a tree, days are always filled with new experiences. In addition to the 'standard' wildlife viewing activities, micro-adventures can be built into a safari holiday, to make a great trip even better. Here are five examples, but there are many more for those looking to add extra spice to their African adventure.
Balloon above the Masai Mara in Kenya
The burner fires, the balloon inflates, and you lift into the cloudless dawn skies above the wildlife filled Masai Mara.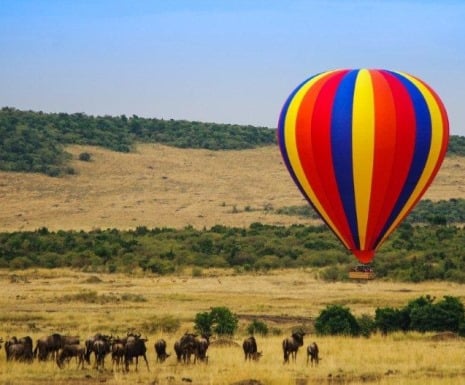 Get close to a primate in Rwanda
Few wildlife experiences match seeing gorilla families interacting on the mist-covered slopes of the volcanoes of Rwanda. The hike to see them can vary from less than an hour to many hours, but any effort becomes worthwhile as soon as you set eyes on a gorilla family in the wild.
Microlight over the Victoria Falls in Zambia
There are many ways to experience the magnificent Victoria Falls but a microlight means you have the least between you and the spray that rises from the crashing water. David Livingstone described the falls as 'scenes so lovely must have been gazed upon by angels in their flight' and from a microlight you'll enjoy the same imagined view.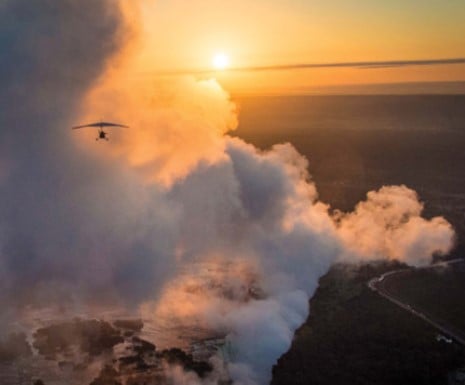 Glide through the Okavango Delta by dug-out
The waters of the Okavango don't head to sea, as most rivers do. In contrast they flow into the middle of Botswana and turn into gradually narrowing channels before disappearing into the sands as an inland delta. This lush area supports an incredible diversity of wildlife.
What better way to explore than soundlessly poled through channels by a local guide in a dug-out canoe.
Become a meerkat's lookout post
Meerkats' mornings typically start with them warming in the sun and foraging for insects. While they do this, or play fight if they're youngsters, they need sentries to ensure they're not about to be picked off by predators.
Stay still enough and one will realise you're the tallest point around and suddenly you are being used as a lookout post.
Africa's luxury safari camps and lodges offers lots of scope for adventure ensuring most visitors come back with big smiles and stories of the best holiday ever.
Richard Smith is Operations Director at Aardvark Safaris.
If you would like to be a guest blogger on A Luxury Travel Blog in order to raise your profile, please contact us.