By
Paul Johnson
on Jul 05, 2016 in
Accommodation
,
Camping
,
Europe
,
Family Travel
,
Featured
,
Regions
,
Special Features
,
Speciality Travel
,
Travel Equipment
,
United Kingdom
,
Western Europe
I know camping is far from many people's idea of luxury, but that's not the way we see it. On the contrary, camping provides the perfect opportunity to be at one with nature – arguably a luxury in itself – and gives families the ideal opportunity to spend quality time together, often away from the technology that dominates our daily lives.  Far from being an oxymoron, luxury camping is very much alive and well… so long as you have good quality gear.
We were delighted therefore to hear from German fitness and outdoor company, Skandika, who asked us to try out their Hurricane 12 tent. We'd been waiting for an available weekend from our busy schedule – combined with a break in the weather – but were largely out of luck so decided instead to pitch the tent in our garden and test it out that way, something which is actually recommended anyway before  you take it away on your first trip.
For a tent that can sleep up to 12 people, it packs up rather nicely into a sturdy bag that's just a little bit bigger (but admittedly a lot heavier!) than our dog.  Of course, tents always fit nicely into their respective bags when you first purchase them, but sometimes it's a struggle getting them back in after their initial use; thankfully, that wasn't the case at all with this one – the large bag has a generous drawstring that allows you to place a loosely folded tent back in, with ample space, before pulling on the cord to make the contents secure.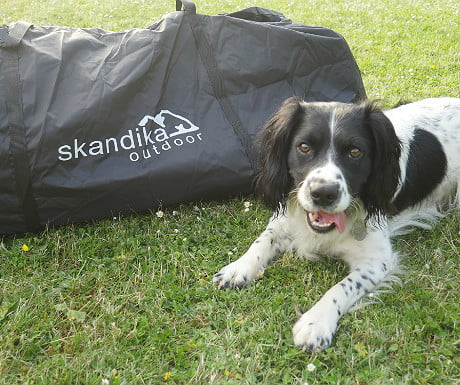 Not being one to read instructions, I laid out the various parts of the tent to see what we had: a main canvas, a series of poles, compartments for each end of the tent, a groundsheet, guy ropes and repair kit. The poles are easy to assemble and made of shatter-proof fibreglass so both strong and flexible. The canvas has good quality waterproof seams, and re-inforced eyelets and tabs to give it extra longevity. It's also made with a fire retardant material, of course.
It all looked very straightforward to assemble so I resisted the urge to refer to the instructions. Unsurprisingly for such a large tent, it was much easier to assemble with the help of a second adult and we had it fully erected within about half an hour (I daresay you could do it faster still with more experience).
The first thing that me struck me about the tent – compared to tents we have had previously – is the ease with which you can go in and out.  It might sound an obvious requirement but, with me being around 6 feet tall, the tent having a maximum height of 200cm really makes life a whole lot easier and allows for a greater freedom of movement once inside.
The compartments inside were easy to clip in and allowed for separate sleeping areas, or a storage compartment, or whatever configuration suits you – one large compartment at one end, with an optional divider and two separate zipped compartments at the other end (one a little larger than the other).
Tents will often claim to sleep a particular number on the assumption that you enjoy being packed like sardines and have no belongings with you – the claim that this tent could sleep 12, though, was realistic; it could comfortably do that but I'd suggest it's best suited to a large family that likes to have ample space, small groups of friends or even two families travelling together… so long as they are good friends also!
Useful interior mesh storage pockets can be used for reading material or any other items of your choosing.
As night fell we made ourselves at home and put the tent to the test.  No doubt helped by the fact that we are in a semi-rural location, the tent offered a great night's sleep. The wind wasn't all that strong, but the tent more than stood up to the conditions with only a few of the guy ropes supplied being used.  I'm sure with its tunnel shape and with all guy ropes in use, it could withstand an awful lot more.
A couple of days later we did encounter some rain, but once again the tent was more than a match for any conditions being thrown at it. I really liked some of the carefully thought out details – for example, simple rigid sections above windows and doorways that prevent water from running back into the tent. We live in Cumbria – one of the wettest parts of the country – so it's re-assuring to have a tent that can comfortably stand up to the elements. A 5,000mm water column – the highest available quality for family tents – provides additional protection from the elements.
This is a high quality product that I would very much recommend and am sure would serve as a good investment for many years to come… for any fellow readers who believe that you can camp in luxury afterall!
Disclosure: This post is sponsored by Skandika.