By
Paul Johnson
on Jul 26, 2016 in
Austria
,
Eastern Europe
,
Europe
,
France
,
Germany
,
Italy
,
Netherlands
,
Poland
,
Regions
,
Road Travel
,
Spain
,
Speciality Travel
,
Switzerland
,
Western Europe
We are heading to Spain shortly with our car and a boat trailer, taking the ferry crossing from Portsmouth to Santander with Brittany Ferries. Our sons are competing in a sailing World Championships for their class of boat so it's set to be an exciting trip! It's a trip that's also required a lot of planning, though, with lots of paperwork – vehicle registration document, motor insurance, breakdown recovery, travel insurance, boat insurance, sailing insurance, sailing class association membership, entry forms, racing rules, medical consent forms, parental declarations, tickets, passports, accommodation info, etc. – and that's before we'd even started packing and loading the trailer with boats and other equipment!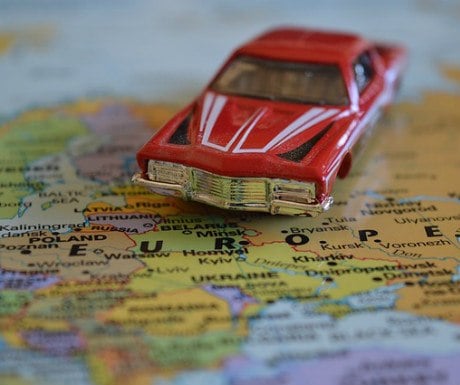 And if all that wasn't enough, we've also needed to research what we've needed as far as taking our vehicle abroad is concerned. Some countries require high visibility waistcoats whilst others require you to travel with a fire extinguisher. It's something of a minefield but in doing my research I did come across various useful resources and have put together this table to help others in a similar predicament. If you're heading for any of the more popular European countries for UK travellers such as France, Spain and a handful of others, then I hope you'll find this table a helpful summary of what you require, depending on where you're going.
The definitive guide for UK drivers travelling in Europe

 AT
 BE
 CH
 DE
 ES
 FR
 IT
 NL
 PL
GB plate or GB Euroflag number plate

✔

✔

✔

✔

✔

✔

✔

✔

✔

Headlamp converters

✔

✔

✔

✔

✔

✔

✔

✔

✔

Warning triangle

✔

✔

✔

✔

2

✔

✔

✔

✔

High visibility waistcoat

✔

✔

✔

✔

*

✔

†

✔

Spare bulbs

✔

✔

✔

First aid kit

✔

✔

✔

‡

✔

Fire extinguisher

✔

✔

Snow chains (when required)

✔

✔

✔

✔

✔

✔

✔

Breathalyser (NF approved)
✔

§
Red – compulsory; black – recommended
* One for each person in the car
† Two vests strongly advised. One must be in the body of the car (not the boot).
‡ Should conform to DIN13 164 standard
§ Two strongly recommended
We hope you find this information useful. Don't forget also to travel with your full driving license, a copy of your DVLA driver record, an International Driving Permit (where required), an original copy of your vehicle's registration document (V5c) and your motor insurance. Although not always a requirement, it's also a good idea to carry a set of headlamp beam convertors, just in case you find yourself driving at night.
It should be stressed that the above table doesn't necessarily cover everything you need to know, but it does address a number of the basics. It's still a good idea to do your own research and find out as much as you can, well ahead of your time of travel.
Did you know, for instance, that in Spain children under the age of 12 cannot travel in the front of the car (unless the rear seats are already occupied by children), and that the drinking and driving limits vary depending on the extent of your driving experience? Of course, it's a good idea not to drink at all if you're driving, particularly if you're doing so in an unfamiliar country, but the point is that each country has its own differences and quirks, and it's worth finding out as much as you can, far in advance of your trip.
Wherever you are travelling this Summer, do drive safely!
Images: Shutterstock
Disclosure: Our trip to Spain is sponsored by Brittany Ferries.