Spending your summer holidays in Paris with your children is a great idea. There are so many beautiful places to see and child-friendly things to do that everyone is sure to have a good time. But during summer, the weather can get hot… really hot! And after visiting an iconic monument such as the Eiffel Tower, the Louvre or Notre Dame Cathedral, or having walked the streets of the French capital for a couple of hours, nothing beats a great tasting ice cream to cool everyone down.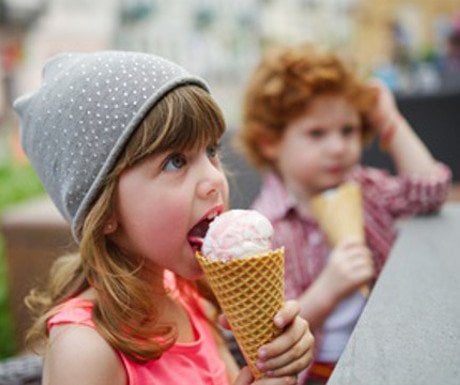 Forget the bright colored popsicles. They are refreshing, that is a fact, but they cannot be compared to the rich, creamy, mouthwatering ice cream you can find in certain areas of the city. Here are the 10 most exquisite ice cream parlors in Paris.
1. Berthillon – a tradition in the heart of Paris
Take a stroll on Ile Saint Louis, one of the two islands on the River Seine in the heart of Paris, and take a good look around you. You will notice that everyone has an ice cream in hand (or is waiting in line to get one). They are all enjoying Berthillon ice cream and if so many people line up to experience the flavors, this can only mean one thing: Berthillon is one of the best ice cream parlors in Paris. The original shop opened on the island in 1954, and its success brought all the restaurants in the area to serve Berthillon ice cream. "Quality is our passion" is what they claim, and what they claim is true. You haven't experienced Paris as a local if you haven't tasted Berthillon ice cream.
29-31 Rue Saint Louis en l'Ile, 75004 Paris / Metro Pont Marie / Open from 10am to 8pm from Wednesday to Sunday (closed in August).
2. Amorino – of ice cream and flowers
Where ever you are walking in Paris, be it the Latin Quarter, Montmartre, Saint-Germain or the Marais, you will always find an Amorino ice cream parlor. This French ice cream company started with a small boutique on Ile Saint Louis (quite a daring move knowing it was Berthillon territory) but their delicious flavors soon grabbed the attention of a much larger public. And so more and more parlors opened in France and abroad, serving authentic Italian gelato shaped like a flower on top of crispy cones.
23 boutiques in Paris.
3. Raimo – the oldest ice cream parlor in Paris
Raimo might not be in the most touristic area of Paris, but if you are a big fan of ice cream, then heading out to the far eastern side of Paris is well worth it. Raimo is the oldest traditional ice cream parlor in Paris (it opened in 1947), and has therefore pushed the art of making ice cream to a whole new level. Their rich and fluffy ice cream is an enchantment, and their sorbets are so good you'll have the impression you are eating the real fruit. And if you don't know which flavor to taste, then try many. You can mix up to 8 flavors!
59-61 boulevard de Reuilly, 75012 Paris / Metro Daumesnil / open every day from 10am to 10:30 pm.
4. Scaramouche – new and already a success
Although quite new compared to the other ice cream parlors in this list (they opened in 2015), Scaramouche is already playing with the big guys. Created by Elizabeth Bard (author of the best seller "Lunch in Paris"), this ice cream parlor serves delicious Italian gelato in a decor inspired by the classic movie "Scaramouche". As for the flavors, think of the world, as that is where the ice cream makers here get their inspiration.
22 Rue la Vieuville, 75018 Paris / Metro Abbesses / Open from 4pm to 8:30pm Wednesday through Sunday.
5. Glaces Glazed – off beat and delicious
While many ice cream parlors prefer the classic decor (pastel colors, little angels or Italian renaissance sculptures), Glaces Glazed decided to make things differently. The thunderbolt logo says it all: a trendy and modern concept, inspired by the rock and electro scene. In terms of flavor, you will find the same modern inspiration: beetroot, ginger & rum, or caramel banana and curry… Fresh ingredients, a highly creative, daring and delicious flavors and a friendly team all add up to make this ice cream parlor one of the best ones in Paris.
54 Rue des Martyrs, 75009 Paris / Metro Pigalle / Open from 1:30PM to 8:30PM Wednesday through Sunday.
6. Gelati d'Alberto – truly Italian, truly delicious
The lovely cobblestone street of Rue Mouffetard in the Latin Quarter is a great area for a stroll. There are a lot of bars and restaurants, but one particular shop will stand out as you walk: Gelati d'Angelo. With the bright colored ice cream (no color enhancers or other preservatives though), you can be sure your attention will be grabbed. So might as well treat yourself to a nice traditional Italian gelato! You won't find exotic flavors here, but only the typical, delicious traditional flavors you would find in a quaint old little Italian town.
45 Rue Mouffetard, 75005 Paris / Metro: Place Monge / Open every day from noon to midnight.
7. Martine Lambert – for the connoisseurs
You have finished visiting the Eiffel Tower, the Invalides or the Musée Rodin and you are looking forward to taking a break and enjoying delicious ice cream. Search no more as within walking distance, you will find Martine Lambert. Not a lot of people know this little ice cream shop, or at least not the tourists. But the locals do, and they know that Martine Lambert's ice cream is truly delicious! Eat in and enjoy the extraordinary frozen creations that they come up with, which are not only a feast for your taste buds, but also for your eyes. A well-kept secret ice cream parlor you truly don't want to miss…
39 Rue Cler, 75007 Paris / Metro: Ecole Militaire / Open from 10am to 2pm and from 3pm to 7:30pm every day.
8. Grom – an Italian in Paris
Visit the Saint Sulpice and Saint Germain Churches (respectively the biggest and the oldest churches in Paris), and then walk around in the charming Saint Germain neighborhood. And when all of that is done, treat yourself to some of the best ice cream in Paris at Grom. The Italian chain of delicious ice cream has finally set foot in Paris and offer their mouthwatering flavors to all who walk down the streets of Saint Germain. And the good news is, they come up with a new flavor every month, so even if it's your 10th time around, you'll still be surprised how good this ice cream tastes like!
81 Rue de Seine, 75006 Paris / Metro: Mabillon / Open every day from 9AM to midnight.
9. Chacun ses Goûts – frozen yogurt at its finest
And just when you thought you have had enough of all this ice cream and sorbet, in comes Chacun ses Goûts and their delicious frozen yogurt. Start off by choosing 1 of the 4 basic yogurt flavors and then add the toppings you want. Don't worry, there are a lot to choose from, and you are limited only by the number of topping that can fit in your cup!
Various areas in Paris / Sunday through Wednesday from 12:30pm to 8pm, and Thursday through Saturday from 12:30pm to 11pm.
Magali Déchelette is CEO at Family Twist.
If you would like to be a guest blogger on A Luxury Travel Blog in order to raise your profile, please contact us.