By
Paul Johnson
on Aug 17, 2016 in
Cruises & Boat Travel
,
Europe
,
Featured
,
Food and Drink
,
France
,
Going Out
,
Regions
,
Restaurants
,
Spain
,
Speciality Travel
,
Travel Miscellany
,
Western Europe
It started with a bang. A very loud bang. And it didn't take us long to realise what had happened. The boat trailer that we were towing had become detached from our car and one of the boats on it had come straight through our rear windscreen. Panic set in. We were due to catch a ferry in the afternoon. Now we were up against it, needing to get the glass replaced and make it to the Brittany Ferries ferry port in Portsmouth, about an hour's drive away, arriving at least 45 minutes before departure.
We had planned to spend the day at Portsmouth Historic Dockyard so luckily had at least some time on our side, but it was still going to be a tall order. Even more luckily, though, the incident had happened on a roundabout just a mile or two away from 1st Direct Windscreens, run by Mark Copeland – the most amiable and helpful man we could have hoped to meet at this moment of crisis. Mark must have seen the look of panic in our faces. This wasn't just any trip. We were catching the ferry from Portsmouth to Santander so that our boys could compete in their first ever sailing World Championships, representing Great Britain for the first time.
Missing the ferry wasn't really an option for us – we probably wouldn't have just been able to catch the next one as they book up a long way in advance, and we wouldn't really have had time to drive through France and still make the competition. Flying was also not an option as we needed to get the boats out there. Mark, though, was going to do everything he could to ensure that we made the crossing. He called his wife to go and collect the glass that we needed (she is a teacher and fortunately it was the school holidays) before proceeding to call all his customers who he had booked in that day in order to re-arrange his schedule. He then sent us off to a nearby Costa to 'relax' and said that he would call once everything was sorted.
Whilst we waited, not knowing whether we would make the ferry, we deliberated on what had happened. We had stopped at a hotel the previous night and called ahead to check that it was going to be OK to park with a trailer. We were told there was no problem, because there was a number of double spaces away from the main entrance which were rarely used. However, when we arrived, all the spaces were full so we had to detach the trailer and park in one corner of the car park on an incline to ensure we were out of the way. Trying to hitch the trailer back on to the car, whilst supporting the weight of the trailer with three boats on it, wasn't an easy task, but we heard a 'click' as we placed it back on the towbar and all was well (or so we thought). In hindsight, we can only assume that it hadn't clicked into place properly or maybe someone had tampered with it overnight, we don't know.
Anyway, the call came and we returned to the car to find all was well. Mark had worked wonders and pulled out all the stops for us. We just had to get on our way and catch that ferry. All this, I should add, happened on our thirteenth wedding anniversary. Unlucky for some! When we finally made it to the port, with about 20 minutes to spare, we allowed ourselves a wry smile when we were also directed to lane 13 for the ferry. We were glad to be leaving the chaos of the day behind us and were soon boarding the Pont-Aven, Brittany Ferries' flagship, with our boat trailer safely secured.
The crossing from Portsmouth to Santander takes 25 hours. As we set sail, we spot HMS Victory at Portsmouth Historic Dockyard – we'd been before, but had wanted to see the re-vamped Mary Rose (I recall it being salvaged in 1982, raised to the surface after 437 years on the bottom of the Solent) but would have to wait a little longer before we could visit again.
Instead, it was time to explore the ship.
Our first stop was at our cabin so we could offload our luggage. We stayed in a Club cabin (the De Luxe and Commodore cabins were already fully booked despite booking in December) which is small but was more than ample for our needs given that we weren't planning to spend much time there other than to sleep.
The sofa that you see turns into a bed and there is one that folds down from the other side of the cabin as well as two from the ceiling – perfect for our needs as a family of four.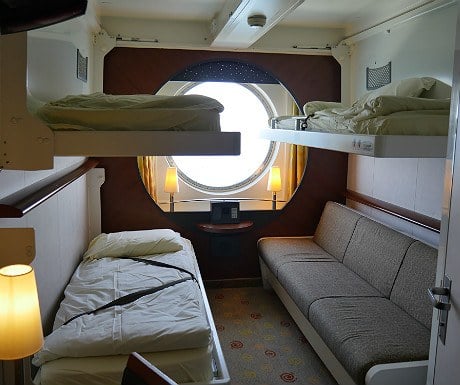 The cabin makes amazingly efficient use of the available space and there's even room for a dressing table and mirror, along with some storage space, and a small bathroom with lavatory, wash basin and shower.
A hospitality tray with a kettle and tea, coffee and hot chocolate is also provided.
For dinner, we chose to dine at the restaurant where there is a buffet starter with a huge choice, including large baskets of prawns and langoustines, as well as a variety of other dishes to choose from.
For the main course, you can select from an a la carte menu – because we dined on both our outbound and return journeys, and had a varied choice between us, we can share with you a number of different dishes to give you a feel for what to expect.
Piperade, Serrano ham and a poached egg
Roasted organic Scottish salmon in a shellfish kari gosse sauce
Fillet of duck tornedos
Breast of guinea fowl with seafood conchiglionis
Poached sole with carrots in many ways
Fillet of beef with mushroom tartlet and kampot red pepper sauce
For dessert, there was a buffet selection once more. It had been well 'picked at' by the time we got there, so my photograph doesn't really do it justice. Instead, here's a picture of four happy on-board chefs, justly proud of their evening's work.
Whilst the thought of spending an entire day on a ferry might fill some of you with dread, it really needn't. There is so much on board that the time flies by and, if you embrace it, it's actually a very relaxing way to reach your destination.
We had a drink at the bar, watched a film at the cinema, made one or two purchases from the shop, and relaxed with a spa treatment. For toddlers, there's a play area and a 'Games Planet' for teenagers. There's even a swimming pool on board if you fancy a quick dip.
Although, there's free internet on board, it's dependent on a satellite link and I didn't find it too reliable. It's certainly not suited to streaming so make sure you download anything on iPlayer in advance if you plan to pass the time watching some of your favourite programmes.
You could be forgiven for thinking that prices on-board are high, given that it's a captive audience, but that couldn't be further from the truth. Prices are in fact very reasonable indeed, whether it be the ferry shop, the cinema (£20 for a family of four to watch a recent blockbuster), or the food and drinks at the restuarant, café and bars.
Before we knew it, 24 hours had flown by and we were privileged to be invited onto the bridge by the purser as we approached Santander. This was a wonderful opportunity to get a prime view of our destination and see the captain and crew at work.
There's also a small section of glass floor that you can stand on and look down below… if you dare.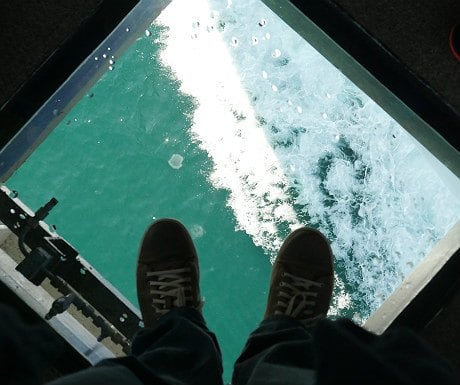 But one of the real highlights of this experience is seeing the pilot from Santander approach the ferry. Pilots, in case you're not aware, are responsible for bringing ships in busy or congested waters, such as the port at Santander.
I captured the moment the pilot boarded the ferry to take over – this is actually quite a dangerous manoeuvre and consequently considered to be a fairly high-risk job.
As we approached Santander, we admired the blue skies and sandy beaches, and what had happened just a day earlier was now a distant memory – proof that taking the ferry can be a truly relaxing way to travel.
I'm also pleased to report that our return journey was uneventful… and didn't involve lane 13.
Disclosure: This post is sponsored by Brittany Ferries.