By
Karyn Wofford
on Oct 07, 2016 in
Accommodation
,
Florida
,
Food and Drink
,
Going Out
,
Hotels
,
North America
,
Regions
,
Resorts
,
Restaurants
,
Travel Miscellany
,
USA
Luxury hotels and resorts are taking notice of the public's demand for green practices and natural products. Not only are consumers looking to protect their health, but the environment as well. What is a gorgeous hotel on the beach without breathtaking views of pristine nature?
Sandpearl Resort, Clearwater Beach
The Sandpearl is certainly the showstopper of the Clearwater area, with friendly valet and bellmen waiting to assist you when pulling up to the towering overhang, which leads into the lobby, complete with seashell chandeliers, self-playing piano and beautiful Gulf of Mexico views. A welcome glass of Champagne is also served upon arrival.
Eco efforts
The LEED (Leadership in Energy and Environmental Design) Certified resort is also a part of the Florida Green Lodging Program, which lists locations that use environmentally conscious practices. In addition to using energy and water conserving fixtures and appliances, Sandpearl donates unused soaps to Clean the World, an organization that sends leftover hygiene products to suffering communities, preventing disease. 25 million soaps have been donated from various resorts and hotels since 2009.
Sandpearl features an extravagant beach entry pool surrounded by palm trees, covered lounge chairs, beach bar and a water fall at the foot of the back entrance staircase. Chlorine is not used in the pool, oxygen based Ozone treatment is used in its place. Ozone is easier on the skin, swim suits and the environment. The beach is mere steps away where lounges and beach beds are available to guests.
Food
The resort features several dining options, with the most formal choice being Caretta on the Gulf, a AAA four diamond restaurant. From elaborate breakfast buffets with fruit, made to order eggs, smoked salmon and apricot French toast, to seasonal seafood, organic vegetables and artisanal cheeses for dinner, Caretta on the Gulf promises an elegant dining experience.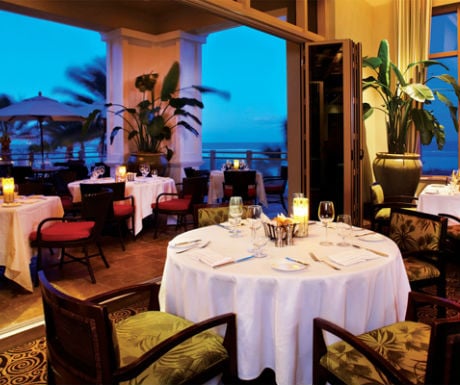 For casual dining, Tate Island Grill sits right on the sand, serving salmon salads, crab cake sandwiches, chicken wraps and nachos. Room service menus are extensive and available throughout the night.
Bob Heilman's Beachcomber is a five-minute walk from the resort, serving local seafood, a list of wines and prime meats. The meal starts with a relish tray of apple butter, beets, corn and cottage cheese with chives along with fresh banana and white breads. Traditional Oysters Rockefeller and bacon topped Clams casino are sharable appetizers perfect for a larger group or family. One of the best, and most unusual dishes are the Frog Legs, which are lightly fried and dressed with garlic. The broiled seafood platter comes with scallops, large shrimp and salmon dusted with a mild Cajun seasoning. Shrimp Primavera is the perfect choice for a picky eater… not too crazy, focusing on the shrimp and cheeses. Live piano music adds to the cozy, upscale atmosphere, perfect for a romantic or relaxing meal.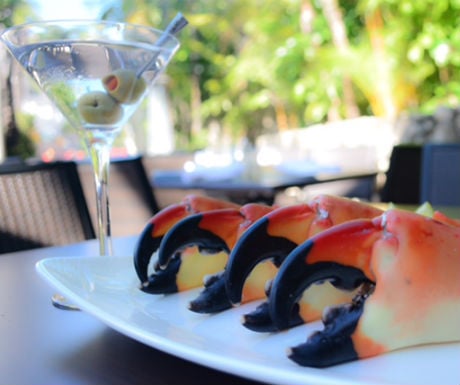 GullWing Beach Resort, Fort Myers Beach
The GullWing meshes extended stay and luxury together with spacious, apartment style suites with large balconies overlooking the ocean. While the resort does not offer amenities such as beach side service or dine in restaurants, it's perfect for escaping to a remote retreat, while still remaining relatively close to food and shopping.
Beach space along Fort Myers Beach is plentiful, with a lot of flat, sandy areas for lounging or engaging in activities. Cushioned lounge chairs are available for soaking up the sun.
Eco efforts
GullWing is also part of the Florida Green Lodging Program, meeting high standards of sustainability. Recycling is a priority, and it's made easy with containers available throughout the property. Leftover soaps are collected and sent to Clean the World while eco-friendly fixtures prevent water and electricity waste.
Margaritaville Hollywood Beach Resort, Hollywood Beach
Margaritaville went "casual-lux" with their Hollywood Beach location. Walking into the lobby, it struck me as if I was strolling into the Ritz Carlton. While the resort is completely family friendly, adults and kids have their own getaways. A play area complete with water slide, large beach entry pool and walk up grill is available for the whole family, while the 11th floor terrace pool and bar is exclusive to adults. Rooms are large with spa-like bathrooms and balconies equipped with wooden Adirondack chairs.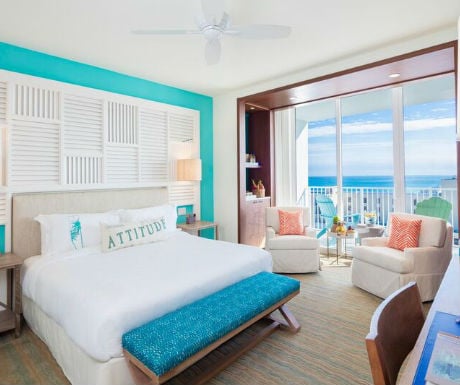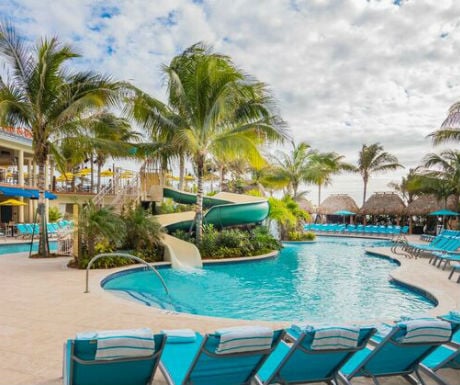 Speaking of spas, the St. Somewhere Spa offers an extensive list of services. Jimmy Buffet touches are everywhere, from quotes on the walls to little parrots embroidered on the soft, dreamy sheets.
Eco efforts
Guests rooms have an automatic HVAC shutoff system when not occupied and the fitness center lights are programed to switch off when empty as well. These qualities greatly increase energy conservancy of the 349 room resort.
Food
While Margaritaville Hollywood Beach Resort features several dining options, JWB Prime Steak and Seafood is front and center on sustainability and fine dining. The interior has been constructed using partially reclaimed material, creating an upscale, rustic look. JWB also runs a spear caught fishing program, which promotes safer, ecologically sustainable fishing methods. Nets and line damage ocean life, while spear fishing preserves the ocean's eco system. The menu offers dishes with organic, local ingredients and cocktails with natural purees.
Sunset Vistas Beachfront Suites, Treasure Island
Similar to Gullwing, Sunset Vistas features large suites that fit those looking to stay for a while. With large kitchens, multiple bedrooms, living areas and master suite jacuzzis looking out toward the water, you might not want to leave.
Eco efforts
Recycled paper products are used and recycling is encouraged. Housekeeping uses green cleaning products and energy efficient lighting has been installed. Sunset Vistas isn't finished with their eco renovation; they are currently in the process of become a Florida Green Lodging location.
Food
An adorable café sits on the second floor beside the fitness area. It's definitely casual dining and they have wonderful French toast. The Treasure Island area is known for its restaurant scene, so there are many dining options for those looking to explore.
Shrimpy's Blues Bistro, a cozy, eclectic seafood joint, is just minutes from Sunset Vistas. Organic, wild caught seafood and local ingredients go into every dish. The Royal Red Langostino Shrimp steamed in Cajun spices make a great appetizer for the table. These particular shrimp are from the lobster family, so they have a hearty texture and taste. The Po' Boys come with lightly fried Gulf Shrimp, Ipswitch Clam or Apalachicola Oysters and pair wonderfully with the seafood gumbo or horseradish mashed potatoes. The Surfer Quesadilla cleverly combines white pepper shrimp, scallops, a three cheese blend and avocados. If you are looking for something lighter, the Florida Key Lime Ceviche is a refreshing choice. Shrimpy's serves breakfast, lunch and dinner.
Edgewater Beach Hotel, Naples
Naples is the Florida "it" town for luxury and upscale vacationing. The hotel sits in the heart of the area, while occupying a prime spot on the sugary beach with turquoise water. Edgewater is a sister hotel of the Sandpearl, but features suites with kitchens and multiple bedrooms. Suites are accented with modern décor and wood style flooring.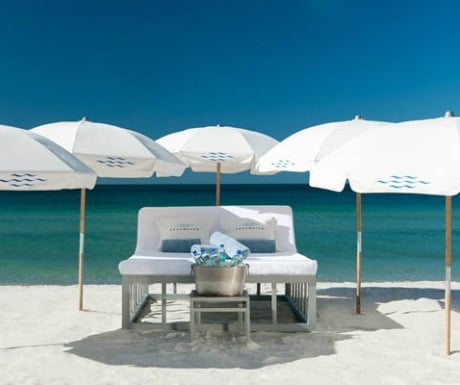 Eco efforts
Green cleaning products are used by staff and eco toiletries are provided for guests. Paper products used by the resort, such as coffee cups, notices and letters, are made from recycled products and soy based ink.
Food
Poolside dining and beach side service are available, but Coast is the main dining option. Chef William "Bill" Zimmer carefully and artfully creates each dish while adjusting ingredients to each guest's preferences or needs. He hand-selects local, organic ingredients himself, putting thought and quality into every menu item. Tender Red snapper, grouper, and buttery soft steak with tri colored carrots, broccolini and perfectly balanced sauces are available for dinner. Lobster Eggs Benedict, steak and eggs, fresh fruit and artisan cheeses are a few of the breakfast selections. If you want to go simple, hit the cookie bar, complete with milk from 2-4pm in the lobby.