Perhaps no other aspect of Italian culture has been exported throughout the world more than its culinary traditions. Italian cooking, and eating for that matter, embodies a simple elegance and restaurants in the country's capital are packed with diners exuberantly taking in and projecting that spirit. Even in a city such as Rome with the Coliseum and Sistine Chapel, food is a huge attraction and one of our favorite reasons to visit.
We struggle each visit to decipher the varied cultural expectations and rules on dining: the permitted time of day to drink cappuccino (never after noon!), and whether or not it's acceptable to put grated cheese on risotto (definitely not seafood risotto!). Likewise, while shopping for the best wine, olive oil and cheeses in fresh markets we've spent hours studying the various protected status of these items and the meaning behind DOCG wines and other DOP labels.
In an effort to make the process of eating fresh and local easier, the Slow Food movement was established to help consumers and promote local businesses, with the goal of protecting against industrialized agricultural production and exploitation of labor and the environment.
Here is a list of our favorite traditional and regional restaurants in Rome, all part of the Slow Food association where you are guaranteed to find high quality products and homemade recipes.
This place we've arrived at several times hungry after a long day of touring. It is located in one of the most central squares in Rome behind the city's historic outdoor market, Campo di Fiori. The place offers the option not only to experience fresh food, but also to dine al fresco as their few outdoor tables provide a great setting for people watching in a bustling neighborhood.
Their flight of appetizers, especially their interpretation of Tuscan panzanella is one of our favorites. The "percorso romano" is a good choice if you're especially hungry. For under 30 euro they offer a full menu including a selection of appetizers, a serving of pasta choosing among Rome's classics (carbonara, cacio e pepe or amatriciana), followed by a second course meat dish with a seasonal vegetable side, and dessert, water and bread. Not only are they part of the Slow Food association, but they were recently granted the "snail of approval" for their efforts to provide sustainable food from the Osteria d'Italia association, considered a Michelin star for Slow Food restaurants.
Piazza della Cancelleria 80, Rome
2. Ciao Checca
This lunch establishment offers very trendy and healthy "slow street food". With efficient service they provide all natural food with no food additives nor chemical agents and being environmentally conscious they don't use microwaves.
The interior has been newly and elegantly remodeled with ample dining area. There are several gluten free options on the menu such as gluten free pesto taglioni, patty melt cheeseburger and pasta fagioli. They offer also a great drink menu, from craft beer and organic wine to a variety of fruit smoothies.
Piazza di Firenze 25, Rome
3. L'Asino D'Oro
This place with a Tuscan/Umbrian theme is a refreshing change from the Roman classics. The chef opened the restaurant's original location in Orvieto. Now located in one of Rome's most trendy neighborhoods, Monti, the place is always packed as locals seem to enjoy the nonconforming menu inspired by the owner's homeland in central Italy.
The menu changes often based on the season and creative mind of the chef owner. Some of the steadfast menu items include wild boar with chocolate and gnocchi with tomato sauce and lamb. On weekdays from Tuesday through Friday they offer the best deal in the city, a 16 euro lunch with 4 courses including a soup, appetizer, pasta dish and a meat dish. To accompany your meal, there is a good selections of wines and craft beers. The setting is modern and bright and you'll notice on the wall their 3 years of winning the Slow Food "snail of approval" award.
Via del Boschetto 73, Rome
This spacious restaurant with ample seating couldn't be more intimate. With ancient Roman bricks embedded in the walls and vegetables served from the family's home garden, the place surprises with you with over 200 seats.
They have a theater room for events and banquets, and piles of outdoor seating on the veranda and inner courtyard mimicking the piles of ancient Roman amphora, remnants of the neighborhood's past as the center of trade. They have a vast selection of natural wines and serve up the Roman classics such as carbonara and cacio e pepe made with homemade pasta, and also bring in fresh fish on weekends directly from Rome's closest beach, Ladispoli. The neighborhood is Rome's newest hipster food spot, having evolved several times from the ancient city's river port, to a modern meatpacking district, and now home to one of the city's largest farmers markets.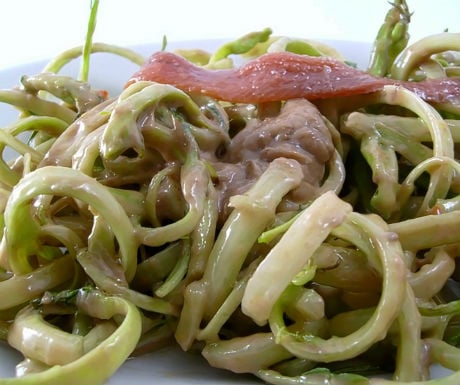 Check out their other location in Piazza dei Quiriti near the Vatican called Velavevodetto ai Quiriti.
Via di Monte Testaccio 97, Rome
Step out from one of Rome's most imposing and inspiring monuments in the middle of 2,000 years of history and you'll find this steadfast traditional establishment. Open since 1960, this place is as Roman as they get.
On the menu you'll find all the local classics at affordable prices made with high quality ingredients, such as spaghetti amatriciana and veal saltimbocca. Other dishes we recommend are the gnocchi with Gorgonzola cheese, grilled lamb chops or the barley soup with lentils and porcini mushrooms harking back to the simple roots of Roman cooking.
Salita dei Crescenzi 31, Rome
Greg Grant is Owner of Hosted Villas.
If you would like to be a guest blogger on A Luxury Travel Blog in order to raise your profile, please contact us.