By
Diana Cherry
on Nov 26, 2016 in
Asia
,
Attractions
,
Austria
,
California
,
Colorado
,
Europe
,
Going Out
,
Greece
,
Italy
,
Jordan
,
Leisure Travel
,
Middle East
,
New York
,
New Zealand
,
North America
,
Oceania
,
Regions
,
Speciality Travel
,
Switzerland
,
Thailand
,
USA
,
Western Europe
,
Worldwide
"Lights, camera, action…!" And you should definitely have your camera ready for these amazing breath taking film locations. So many times I have watched some fabulous films and been inspired by the backdrop, wishing I could be transported there or indeed know where they are in order to get my itinerary arranged and tickets booked and to step in the same footsteps as Julia Roberts, Cary Grant, Julie Andrews, Leonardo Di Caprio, Marlon Brando or many of the world's great actors. Here are 10 film locations that really should all be on everyone's bucket list!
Schilthorn Mountain – 007: On Her Majesty's Secret Service
Schilthorn Mountain in the Bernese Alps of Switzerland overlooks the valley of Lauterbrunnen. On the summit there is an interactive exhibition, showing scenes from the movie and a panoramic revolving restaurant called Piz Gloria. The restaurant is a must and surely it's a given that you order a martini shaken not stirred…
The Empire State Building, New York, USA – An Affair to Remember
It is said to be one of the most romantic movies of all time – and arranging to meet your loved one at the top of the Empire State Building is an iconic message of love. Or maybe you will bump into the love of your life in the lift going up instead!
Dead Horse Point, Colorado, USA – Thelma & Louise
Take your best bud and head on a road trip of all time. Dead Horse Point is a State Park of Utah with dramatic vertical cliffs meeting canyons carved by ice, water and wind. The visual display is truly remarkable. Maybe refrain on the 'Let's keep going…' ending of the film.
Los Angeles, USA – Pretty Woman
Living the high life as you take to the boutique luxury shopping on Rodeo Drive and stay in the top suite at the Four Seasons Beverly Wilshire – of course with the best view! You can even re-enact some of the classic lines  "Slippery Little Suckers" as a snail goes flying…
Forza d'Agro, Messina, Sicily, Italy – The Godfather
Take a drive through the Sicilian countryside, eating simple, but delicious food and drinking nice wine, soaking up the atmosphere. Wander the streets of Forza d'Agro (the village of Corleone in the film) – Ciao Tutti!
Salzburg, Austria – The Sound of Music
The hills are definitely alive with alpine scenes overlooking the beautiful city of Salzburg. Take your family in the summer holidays and hike in the hills – you'll soon have all the family singing…
Angthong National Park, Koh Samui, Thailand – The Beach
A touch of paradise as you escape to the beautiful islands in Thailand. This marine park can be reached as a day trip from Koh Samui and is a spectacular site of beauty at its best. Walking up to one of the islands peak you get an amazing perspective and view of the national park with it's breath taking turquoise waters and golden beaches.
New Zealand – Lord of the Rings
A world of fantasy, but you can make it a reality by heading to the stunning landscape in New Zealand. You could easily arrange a 2 week tour with day to day sites used in the film and I have no doubt you will not be disappointed and will be blown away by the sheer marvel of the scenery! Here is a list of a few must see places – Mt Ngauruhoe (also known as Mt Doom), Hobbiton, Kawarau Gorge (otherwise known as Anduin River), Putangirua Pinnacles and Skippers Canyon.
Wadi Rum, Petra, Jordan – Lawrence of Arabia
Get your desert boots on and your camels at the ready in discovering the breath taking landscape of Jordan. Wadi Rum is a desert wilderness in southern Jordan with sensational sandstone mountains and natural arches. Lawrence's Spring (a natural watering hole) can also be visited and is named after the British soldier Lawrence of Arabia.
Kefalonia, Greece – Captain Corelli's Mandolin
I think many of us fell in love with the Greek island of Kephalonia in the beautiful film adaption of Captain Corelli's Mandolin. The crystal blue waters, quaint Greek villages and undulating lush landscape are definitely worth exploring. Many of the beaches are only accessible on foot or via narrow twisting roads, but this is part of the charm of this beautiful island. All you would need to find is a traditional Greek tavern and Nick Cage with his Mandolin.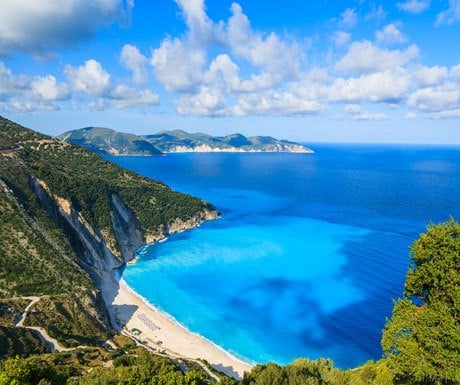 Diana Cherry is Director of Operations at Oxford Private Travel.
If you would like to be a guest blogger on A Luxury Travel Blog in order to raise your profile, please contact us.