Experience awe-inspiring moments surrounded by breathtaking scenery, and feel the magic of Mother Nature when you witness the spellbinding astral show of the Northern Lights. Explore some of the world's most beautiful and dramatic islands, lying just north of the Arctic Circle, where a spray spouting up from the sea is the first signal that a pod of whales are coming your way.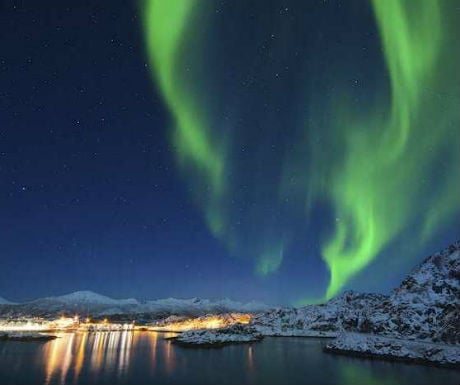 The striking landscape shifts from white sandy beaches, colourful villages and majestic mountains, to coastal pine forests and rugged shorelines, where it seems as if dramatic mountains rise up out of the sea.
Beauty, adventure and bucket list experiences go hand-in-hand in this captivating part of the world. Savour these magical moments in an ultimate luxury, slow travel adventure, with 3 of the best winter snow experiences in Norway available from InnTravel.
1. Discover Norway's most dramatic, beautiful Arctic Islands
Travel between three very different, stunning Norwegian islands with a good chance of spotting the Northern Lights. Cruise on the famous Hurtigruten coastal steamer, in clear blue waters that sparkle with the reflections of snow-jagged peaks. Go whale-watching and head off in snowshoes to explore snowy landscapes.
Marvel at the large flocks of birds that show you where there are shoals of fish, and wait for that wonderful moment when you see the spray spout up from the sea, signalling a whale pod approaching.
Each island has its own distinctive character. Awe-inspiring Austvågøya, home to the picturesque fishing village of Henningsvær, is a narrow coastal strip with white sandy beaches, colourful villages, breathtaking scenery crowned with a majestic mountainous massif.
The stunning island of Senja is blessed with fairy tale scenery, that is any photographer's dream. The island's coastal pine forests and rugged shorelines are accentuated by the most remarkable mountains that seem to rise up from the Norwegian Sea.
Postcard pretty Tromsøya is a superb contrast to the other islands. Home to one of the most captivating cities of the Arctic, the island's famous parish church is known as The Cathedral of the Arctic Sea.
2. Hamn i Senja Northern Lights Break, with whale-watching option
Take a short break on the enchanting island of Senja, where you can choose to go whale watching by day. Tick the amazing experiences of seeing the magical Northern Lights and whale-watching off your bucket list.
"Nothing can quite prepare you for the staggeringly beautiful natural phenomenon of the Aurora Borealis… nor the tranquil setting of this delightful hamlet." Rebecca Bruce, Snow Holiday Expert, Inn Travel.
The waters that surround Senja attract iconic wildlife such as white-tailed sea eagles and killer, humpback and fin whales. Senja's diverse fairytale landscape boasts pine forests, jagged, dramatic mountain peaks and precipitous cliffs. The island is considered to be Norway in miniature.
Your beautifully refurbished accommodation is idyllically located in a former fishing village overlooking the harbour. Here you can enjoy striking views and tranquillity. Sample delicious dishes such as Boknafish, which is a traditional northern Norwegian cod dish.
3. Cross country skiing & enchanting accommodation in a Norwegian wood-style hotel
Located in the Rondane National Park, in the highlands of central Norway, the Spidsbergseter Hotel is an utterly charming, friendly family-run hotel. The architecture is inviting, using the warmth of Norwegian wood, with roaring log fires and a warm, friendly atmosphere.
The hotel nestles on a plateau. You can walk out the door to experience great cross-country skiing, with runs that are perfect for beginners, improvers and intermediate level skiers. The expansive, tranquil panorama is framed perfectly with mountains that rise to more than 2000 metres in height to the north. Criss-cross across the plateau using the well devised network of trails, all of which start and end at the hotel.
A converted family farm, the Spidsbergseter Hotel truly retains its character. Its excellent facilities includes an indoor pool complex, relaxation zone and a restaurant that has earned a well-deserved, enviable reputation. Here you can let a wonderful, enjoyable evening unfold, as you taste the delicious offerings of the renowned dinner buffet.
Before or after dinner is best spent in the cosy bar, where you can sample the famous Norwegian spirit, Aquavit. You've come to the right place for Aquavit, as the bar stocks over 140 varieties to choose from. When enjoying a bit of this Norwegian spirit, remember that this beautiful bar used to be a goat barn!
Disclosure: This post was sponsored by InnTravel.