I visited this mesmerizing city for the first time in February of this year and fell in love! Fell in love with it's dazzling colors, vibrant sounds, intriguing scents and wonderful people. I have only just returned from my second visit to find that I am infatuated! Friends and family were flabbergasted that I should choose to visit a city deemed to be "dangerous", but I am flabbergasted as to why and how tourists can stay away from such a diverse and appealing experience! Is there really a "safe" place to visit at this time?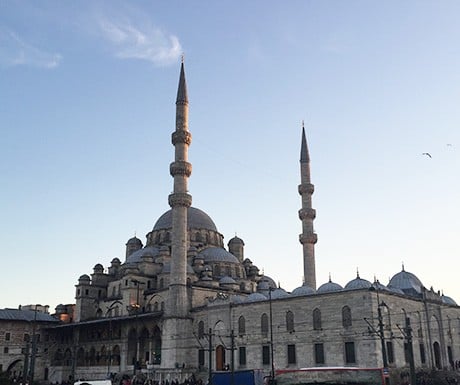 Istanbul is a never-ending maze of historical, scenic and symbolic sights. These are a very few of the experiences I was so lucky to have had with the wonderful local friends who showed me around their bewitching city.
The Basilica Cistern
Hidden between the magnificent Hagia Sofya and the imposing Blue Mosque lies a shrouded and mystic treasure. A small insignificant brick building is the entrance to this unexpected underground structure. Built in 532 to store water for the Palace and surrounding buildings, it is a true work of art. As soon as you descend the stairs one is mesmerized by the sight that greets you; the lighting and reflections in the water, the height of the columns and the sheer grandness of it all.
Local craftsmanship in Nisantasi 
This area of Istanbul is famous for it's luxury stores, but it is also the home of many local artisans and designers. Drop in to admire the craftsmanship of the wide variety of products on offer. If you have a daughter you cannot miss visiting the the children's party dress designer, Gulin Ozen, who designs and hand crafts these beautiful dresses to any specifics. Or visit the eccentric art gallery Muzayede and the disarray of objects on sale. Handmade jewelry stores, local fashion designer stores, here you can shop for true local wares or just admire the workmanship.
Towards the Galata Tower
Walk up to the Galata Tower along Serdari Ekrem street. This quiet and colorful cobblestone street is truly enchanting. Filled with bookstores, designer boutiques and chic cafe's, it is frequented by both locals and tourists. Take your time to admire the buildings, the smart store fronts and the vibrant atmosphere of this characteristic street. The historical Galata tower lies at the end of this street and is worth a visit.
High tea in Istanbul
Istanbul is a very hilly city so you will be either ascending or descending, and after all this exercise it is time for high tea or actually Turkish chai. Close to the Galata Bridge, in the Karakoy district you will find the best baklava in Istanbul. The Karakoy Gulluoglu cafe is a local self service baklava paradise. Surrounded by locals while enjoying every mouthful, is a true Turkish delight!
The quaint area along the Bosphorus
The imperial Ortakay Mosque occupies a prime position on the Bosphorus shore, under the Bosphorus Bridge and almost in the water. The area around the mosque is one of Istanbul's trendiest districts and is filled with unconventional stores, small boutiques and fashionable waterside cafe's. The enticing narrow streets are filled with wares of all kinds and the seafront offers spectacular views. This picturesque area if filled with street food vendors, especially the famous baked potatoes with loads of fillings to choose from. Grab something to eat and savor it on a bench while enjoying the breathtaking views.
Cocktails with a view
When the sun sets and you have had enough of the maddening crowds, head to the Vault Karakoy Hotel.
They have a very chic and modern rooftop bar with amazing views of the Old Town and the Golden Horn. Enjoy a good cocktail and have a light meal while looking down at the hustle and bustle you left behind.
Istanbul is a city of many cultures, colors and traditions. It changes with every step you take and leaves you in awe at every sight. It is a city that should be visited and can be visited even at this time.
Anna Moggia is Owner of Boutique Hotel Zenana.
If you would like to be a guest blogger on A Luxury Travel Blog in order to raise your profile, please contact us.