8 unusual birds to look for in Central America
Read this list to get your birdwatching must-see list started. We've included the national parks and regions where you can find them. And wherever you go, make sure you bring a naturalist guide with you. They can take you to the spots you're most likely to get a good look and can identify bird calls. Even if you're new to bird watching, finding new species will deepen your appreciations of the environment you're exploring. Many of these species are only found in rare environments, like tropical rainforest and cloud forests. Book a stay in a luxury eco-lodge to up your chances of spotting rare species.
Bare-necked umbrella bird
You can see this bird in Panama and Costa Rica. If you're in Costa Rica, you can keep an eye out for it in Braulio Carrillo National Park and the Monteverde Cloud Forest Reserve. This unusual bird eats insects. Male bare-necked umbrella birds have especially pronounced crests of black feathers on top of their heads. The males also have an interesting call — a deep hum that inflates their throat sacks.
Three-wattled bellbird
This unusual bird is rare to see, and they migrate around Nicaragua, Panama, and Costa Rica. They are called "bellbirds" because their call sounds a bit like a bell, and you are much more likely to hear them than to see them. Three-wattled bellbirds have been spotted in Monteverde Cloud Forest Reserve. Only the males have wattles, which they occasionally shake.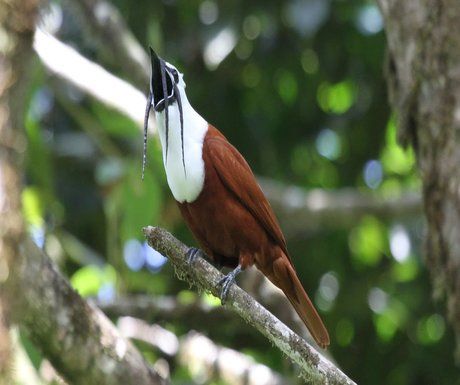 Bananaquit
You can see these in tropical forests in much of the Americas. Keep an eye out for them if you find yourself trekking through Guatemala's Petén region. This is one of the many birds you can see in the forest that surrounds the ruins of Tikal.
Turquoise crested motmot
It's possible to see the turquoise crested motmot in Santa Rosa National Park, Palo Verde National Park and Monteverde Cloud Forest Reserve. These birds also make their home in Izabál. These are quite small birds that have varied diets — they eat fruit and insects as well as small reptiles.
Brown pelican
These birds are notable for their method of hunting — they dramatically dive for their fish from impressive heights. Brown pelicans live in the Galápagos, where they don't have to avoid predators. When they aren't hunting, you can see them in mangrove forests near the coasts.
Fiery-billed aracari
The fiery-billed aracari is a type of toucan. You can see them throughout the Pacific slopes of Panama and Costa Rica, which is where they migrate to breed. They live in holes in trees left behind by woodpeckers and are the only birds that live in these types of nests year-round. Hikers can also look for them in Altos de Campana National Park.
Giant frigate bird
Great frigate birds are found in the Galápagos. The males inflate red, balloon-like throat sacks as part of a mating ritual. They spend most of their time hunting for crabs, jellyfish, and fish, and build their nests on the ground.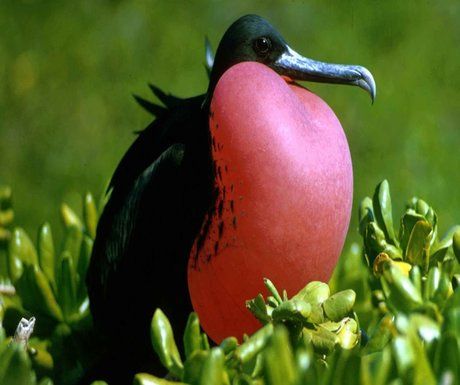 Long-tailed manakin
The long-tailed manakin is a neotropical bird. It's a rare bird that lives only in parts of Mexico and Costa Rica. In Costa Rica you can see it in Carara National Park and the Monteverde Cloud Forest Reserve. They eat mostly fruit. These birds are best known for their elaborate mating dance, where two males compete for a female with a supremely energetic dance.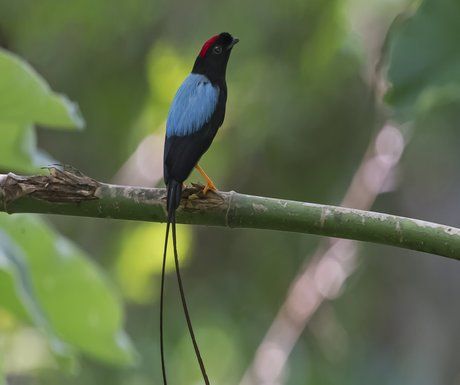 Zach Smith is CEO of Anywhere.
If you would like to be a guest blogger on A Luxury Travel Blog in order to raise your profile, please contact us.
Did you enjoy this article?
Receive similar content direct to your inbox.