One of the joys of skiing is the pit stop for lunch. You perhaps caught the first lifts, have already put in a few hours and you've worked up a raging appetite. Your thoughts are starting to turn towards a good feed  and a chance to refuel for the afternoon session on the slopes. Mountain lunches are a special treat but if you happen to be in either Courchevel, Val d'Isere, Meribel or Zermatt I urge you to make haste to these five wonderful establishments. Not only have they come to my aid when my legs have started to wobble and fatigue has set in but more than that, the food and ambience have been wonderful and worthy of note.
Le Clos Bernard, Meribel
Just a short walk or ski from Route de l'Altiport and tucked into a glorious glade in the woods above Meribel, you'll find Le Clos Bernard. This fabulous restaurant opened in readiness for the 2015/16 season. Word soon spread and if you happen to visit you'll soon understand why. Open every day for lunch and for supper on select evenings of the week, this place is popular, so reserving a table is highly recommended. I always prefer to dine outside as the mountain scenery is breathtaking but whether the snow is coming down faster than you can clear your goggles or the sun is beating down on the pistes, Le Clos Bernard has a table to suit.
Bel Air, Courcheval 1650
With three large south facing terraces for sunny days or large picture windows for when you want to admire the views in the depths of winter when the weather isn't so good, you get the best of both worlds here. Bel Air is a firm favourite with me. Situated just 10metres from the Bel Air bubble, its location cannot be beaten and is obviously an easily accessible place to meet your non-skiing friends to share in the joy of the mountains. Combine all that with the attentive staff and a mouthwatering menu to suit most tastes and budgets and you can guarantee you'll be recommending Bel Air to all your friends too.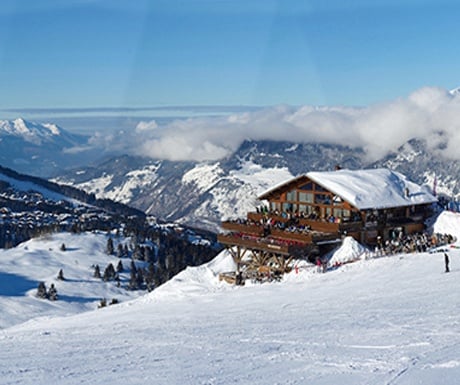 Le Signal, Val d'Isere
Le Signal has come a long way since its former days as a refuge. Situated 2330meters above sea level affords Le signal some breathtaking views. It has twice been voted "Best Mountain Restaurant". Its location close to the Fornet cable car is a bonus, making it easily accessible for all. With a renowned quality of service, traditional Savoie products and fabulous 3600 views, it's not hard to see why Le Signal has gained its reputation as the go to place on the slopes above Val d'Isere. Let your ski legs take a break, hang up your gloves and helmet and take life easy for a few hours and savour the superb menu and wines on offer.
La Fruitière, Val d'Isere
Anyone who has danced the afternoon hours away at La Folie Douce, will likely have peered over in slight envy at the lunching crowd in their onesies quietly enjoying the fare on offer at the neibouring La Fruitiere. Every detail has been thought through here, from the stylish décor of zinc pipework and whitewashed paint through to keeping the winter chill away from its guests. A modern restaurant with a welcoming ambience and friendly vibe I've always thoroughly enjoyed my time here. The food has always been tasty and filling, the staff more than helpful. At times I've been loath to leave as the cosy warmth has enticed me to stay and I've been tempted to settled in for the rest of the afternoon.
Chez Vrony, Zermatt
The chocolate-box charm of Zermatt has somehow managed to find itself transported 2130meters up the mountain to Chez Vrony. The restaurant prides itself on its range of locally sourced organic produce from livestock that has only ever enjoyed the alpine quality of life. Local cheeses, air-dried beef and homemade sausages contribute to an award winning menu. Add to this the best service you have ever had in a restaurant and combine it with a view that has to be seen to be believed and you're on to a winner. Some of the staff have been here for more seasons than you can shake a stick at, lending the place a continuity and a reputation second to none. The owners are always on hand to make sure standards are maintained. I could be accused of bias here as I reside in Zermatt but Chez Vrony is my No1 choice in the whole of the Alps.
Rebecca Taylor is Director at SkiBoutique.
If you would like to be a guest blogger on A Luxury Travel Blog in order to raise your profile, please contact us.