Now that we are in the Winter months, citrus fruits are in season. A wonderful Winter favourite are blood oranges, used here beautifully with caramelised aubergine and fennel in a wonderfully flavourful and healthy salad. The following is adapted from a recipe prepared and written by Keri Moss, winner of Masterchef 2012 The Professionals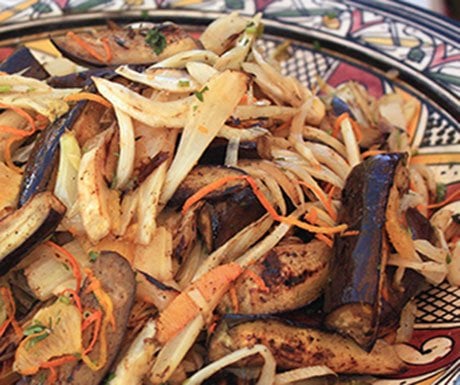 Ingredients
3 medium aubergines
2 small fennel bulbs
3 blood oranges, segmented
Zest and segments of 1 navel orange
35g fresh coriander, coarsely chopped
100ml of olive oil
30ml orange blossom water
15 g freshly ground ginger
Salt and freshly ground pepper to taste
Directions
Prepare the aubergines. Slice the aubergines lengthwise into 16 even slices each. Heat a wrought iron skillet to intense heat and caramelize the aubergines quickly in this pan. Once they are coloured on their sides, take off the heat, season with 40 ml of olive oil, salt and pepper and set aside.
Quarter the fennel bulbs, core, then slice fine into thin strips. Put the frying pan with the aubergines back onto the fire, toss in the fennel slices, and continue cooking until the fennel begins to colour. Add a further 40 ml of olive oil, the freshly ground ginger, and continue to cook another 2 minutes.
Keep the pan moving and add in the orange blossom water. Take off the heat and season to taste with salt and pepper. Zest the navel orange over the pan to ensure that all the oils are also caught. Set aside.
Section the blood oranges and navel orange. Save any orange juice that dribbles off during this process for the dressing. Chop the coriander.
Assemble the salad. Layer the aubergines and fennel and toss on the oranges and most of the coriander. Dress with the orange juice left from the sectioning of oranges and the remaining olive oil. Toss gently and then sprinkle with the remaining coriander. Serves 6.
Thank you to Keri Moss at the Sanssouci Cooking School in Marrakech, for the recipe.
If you have a recipe you would like to share with  A Luxury Travel Blog's readers, please contact us.