Whether you're seeking the ultimate private getaway or you wish to combine an exciting event with the utmost luxury, these exceptionally luxurious chalets and villas from One Authentic Properties in France are truly exquisite. Located in Paris, Côte d'Azur and Courchevel 1850, these exclusive, stunning properties and their staff have welcomed guests such as Naomi Campbell, Lady Gaga and some Royal families. Discover the six most exquisite, fully-staffed luxury retreats in France's most desirable locations.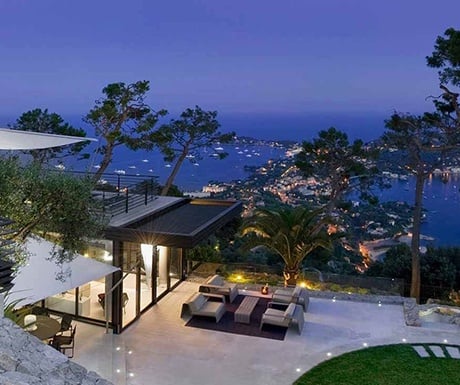 The Côte d'Azur
The dazzling playground of the rich and famous, the Côte d'Azur, is home to a breathtaking coastline, Monaco, St Tropez, and is overflowing with beauty and opulence. Whether you plan to visit for the Monaco Grand Prix, the Cannes Film Festival, or to enjoy three-Michelin starred dinners, these impressive retreats are the perfect private getaways.
1. Villa Water's Edge. St. Tropez
An exquisite villa in a heavenly location, Villa Water's Edge is a stunning new water front property in Saint Tropez. The villa has been designed by a team of internationally renowned designers and architects.
Located at Les Parcs, St. Tropez's most prestigious private domain, the villa has direct access to the sea and absolutely breathtaking views. The entrancing Villa Water's Edge blends only the most luxurious materials with fine art and bespoke furniture. The exterior boasts a heated pool, extensive covered terraces, state of the art security and a heli-landing pad. World-class hoteliers ensure that guests receive an impeccable, tailor-made 24-hour service.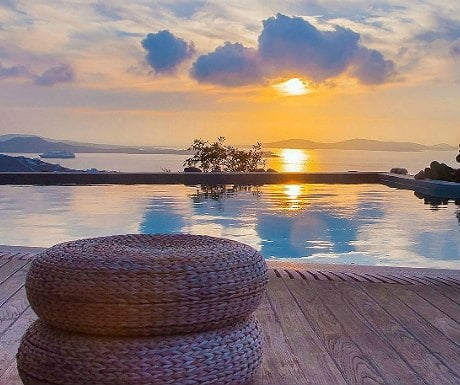 2. Villa Bayview, Villefranche sur Mer
Bayview is all about old style Riviera glamour in a property that exudes elegance and style. An exceptional architecturally designed villa, that seems to magically merge with the rock itself, Bayview is a magnificent eagle's nest, beautifully built against a hillside. It seems as if the villa has been sculpted directly from the rock. The contrast of the natural rough stone with polished glass is absolutely stunning, as if the architect thought to reflect the amazing natural environment in his design. Magnificent terraces offer guests the most spectacular views over the Bay of Villefranche. Some of these terraces are majestic and extravagant, while others are intimate and romantic.
Bayview is all about spectacular views in a sculpted, exquisite setting. Even a staircase has been sculpted to take you up to the lush roof-garden, with unimaginably striking views. The interior continues to work perfectly with the exterior, with gorgeous light-filled spaces. Somehow Bayview is both extravagant yet calm. This property is as perfect for impressive entertaining as it is for calm contemplation. And all of this is located a mere 15 minutes away from Monaco.
3. Villa Mas de la Rube, St. Jean-Cap-Ferrat
Welcome to one of the world's five most beautiful stretches of coastline – the Bay of Jean de Cap Ferrat. The cobalt blue sea and magical light have attracted numerous artists, musicians and writers, along with the rich and famous over the years. Set in this spectacular environment, the villa is an exclusive and personal private hotel.
Villa Mas de la Rube is a picture perfect Mediterranean Paradise. The property is embraced by two dramatic headlands, framed as if it is a beautifully manicured semi-island paradise, that still blends seamlessly with the surrounding landscape. The water that surrounds Villa Mas de la Rube on three sides is accentuated perfectly by the infinity pool which appears to stretch endlessly to touch the horizon, with steps that lead down to the sea. The verdant colours and aromas of a lovely mature waterside garden complete this unique setting.
Courchevel 1850
Come to Courchevel 1850 for world-class skiing, culinary excellence and unadulterated luxury. Situated at the heart of Les Trois Vallées, this alluring and exclusive ski resort will definitely take your breath away.
4. Chalet Le Blanchot, Courchevel 1850
Situated in the exclusive Bellecôte area, this beautiful chalet offers sublime, luxurious comfort. Step outside the front door of Chalet Le Blanchot, and walk a mere five minutes to the world-famous ski runs of Courchevel 1850. The charming timber chalet has been meticulously designed with features and state-of-the-art facilities which accentuate the colours, textures and moods of the mountains. At the end of an exhilarating day's skiing, you can come back to the chalet's indoor spa with a swimming pool, jacuzzi, steam and massage rooms,
Each floor is linked by a stunning crafted wrought-iron staircase, created by a renowned Parisian artisan atelier. This feature is perfectly complemented by subtle lighting, leather-clad wall panels and high ceilings. The tone of the timber throughout the property ensures a wonderful feeling of warmth, which contrasts superbly with the natural stonework in the en-suite bathrooms and indoor spa.
5. Chalet Le Coquelicot, Courchevel 1850
The world-famous ski runs of Courchevel 1850 are just outside the door of this amazing chalet, which is situated in the exclusive Nogentil area. Chalet Le Coquelicot boasts exquisite décor which blends dark woods with unique furnishings and polished stone. The interior design of the chalet echoes the magical mountain surroundings, featuring glimmering finishes and snow-inspired textures throughout.
One of the chalet's many highlights is its sumptuous indoor spa and swimming pool area, where exciting new materials have been perfectly blended with state-of-the-art equipment to create a luxurious sanctuary with the spirit of the mountains. At the chalet's heart, is a sculpted staircase which leads to a lush roof-garden.
Paris
The iconic city of Paris hardly needs an introduction. Anyone who has spent time there knows that this evocative, historic, artistic city offers a world full of possibilities.
6. Apartment Poincaré, 16th arrondissement
Embraced by world-famous museums, beautiful wide Parisian boulevards and wonderful parks, Apartment Poincaré is right in the heart of the city's most prestigious district the 16e arrondissement. The property is a superb example of blending classic and modern elements into perfect harmony.
First impressions are of the utmost luxury and Parisian grandeur, as you enter the apartment's large entrance hall, which leads into the grand living room and spacious balcony. The harmony between the modern and classic styles is cleverly accentuated with Italian antique furniture and the contemporary art, which graces the soaring walls. The elegance continues in the grand dining room, which has its own service entrance. This impressive Parisian apartment comes complete with high-spec audio, lighting and air-conditioning systems. It also has its own guest studio, which although it is connected, has its own private entrance.
Disclosure: This post is sponsored by One Authentic Properties.