There are several cruise lines around offering more space, better living quarters and an increased holiday experience with their premium suites. But which ones are the best? Many cruise lines specialise in luxury cruising exclusively, but if you have the extra cash to spend, which rooms are most likely to make a special occasion just that little bit more special? Surprisingly, despite the significant price difference between standard the staterooms and premium suites available on board, it's usually the premium luxury cruise suites that sell out first. They are highly limited in numbers, so if cruising in luxury with all the finer things in life at your fingertips, it's recommended to book as soon as the itinerary is announced.
Celebrity Edge Iconic Suites
Said to "leave the future behind" in the world of cruising, Celebrity Edge is expected to go above and beyond people's expectations of what it means to travel in luxury. The ship's first sailing is not until 2018 but from what we've seen so far, it looks rather impressive to say the least. The suites were designed using 3d technology and the designers aimed to create them as if they were being made for a luxury home, rather than a cruise ship. Even the staterooms have had a significant transformation, with a veranda that opens up your living space, right at the touch of a button. The best suites available are the new Iconic Suites, where your living quarters are placed at the top of the ship, offering breath-taking 270 degree panoramic views from front to back. Guests will also be able to enjoy a 700 square foot outdoor lounge area with a Jacuzzi to relax in. It really is the most luxurious and spacious area out of all of Celebrity's fleet, and is certainly one to look out for.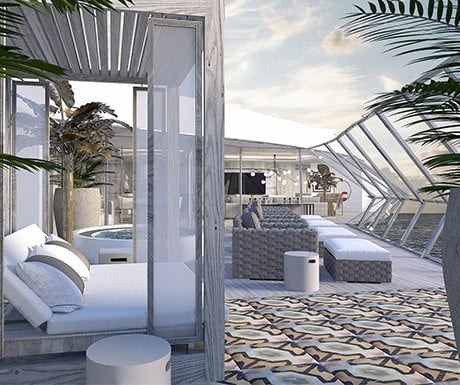 Oceania Marina Owner's Suites
Oceania don't miss a trick when it comes to luxury cruising. If you have the pleasure of staying in one of the Owner's Suites, you'll have perks such as a butler, fresh food and award winning fine dining. As well as a full-sized walk in wardrobe, a private Jacuzzi and outdoor area, the Owner's Suites are furnished with the highest quality décor from Ralph Lauren and Austyn cashmere. Need your shoes shined before dinner? No problem – guests are offered this service too when staying onboard Oceania Marina.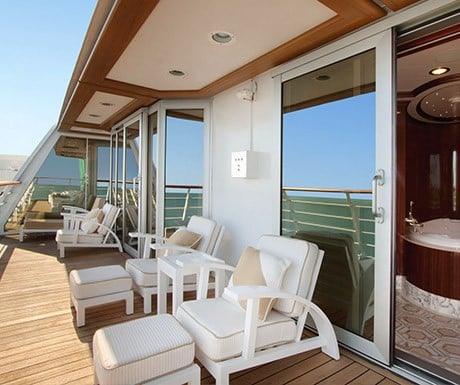 Crystal Symphony Penthouse Suites
There are three different Penthouses onboard Crystal Symphony, ranging from 367 square feet of living space right the way up to almost 1,000 square feet. Just like Oceania, all Penthouse suites have walk-in wardrobes along with exceptional views from extended balconies. You'll also be able to see these views while relaxing and soaking in the bathtub after a long day of exploring the last itinerary. The bathrooms in these Penthouse Suites really are something special. The cost of this luxury cruise suite start from around £1,400 per person per night.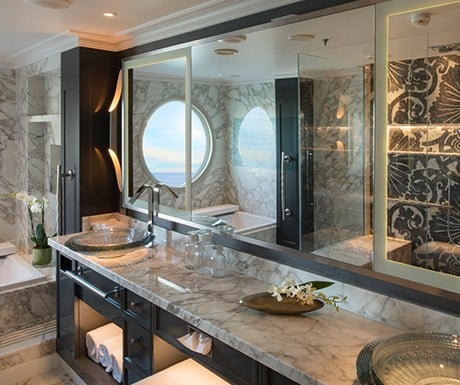 Regent Seven Seas Explorer Regent Suites
The Regent Suites on board Regent's Seven Seas Explorer, range up to a massive 4,000 square feet of living space and feature a furnished private balcony, which can be enjoyed in the comfort of your plush bathrobes and slippers. And of course, high-end luxury cruising wouldn't be the same without a grand piano in the room as well as a walk-in closet. The Regent suites are known to be one of the most expensive cruise suites money can buy – a 14 night cruise from Monte Carlo to Venice will set you back around £42,000. With a price tag this big, you'll be pleased to know that at least the drinks are included. Also included are the excursions, the fine dining and in-room spa treatments where you can be pampered in the 'relaxation chamber'.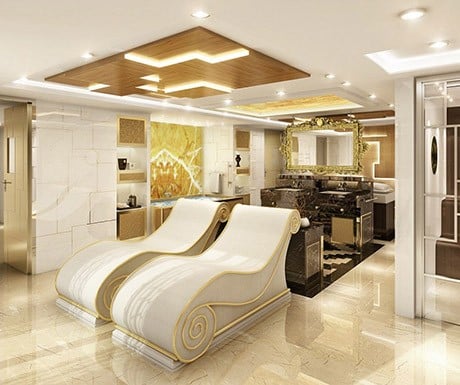 Ms The World Suites
Ever imagined living on a cruise ship in absolute luxury? Ms The World is a cruise ship that caters for those looking to wake up to a new view and destination every day. The ship sails from all corners of the globe and offers a unique and very distinct experience.  There is a gym, a golf course, a library, multiple restaurants as well as their very own market and deli. There are only 165 top luxury apartments available ranging from studios to 3 bedroom suites. Guests will be able to experience a night's sleep under the stars right outside their living quarters in luxury, soft beds. As this is a cruise ship for living on, prices are steep. A studio will cost you almost £500,000 and their World Suites will set you back £10.8 Million pounds. With this kind of money, The World appeals to those with a lot of cash to spend. As it happens, Madonna & Arnold Schwarzenegger own suites on board The World.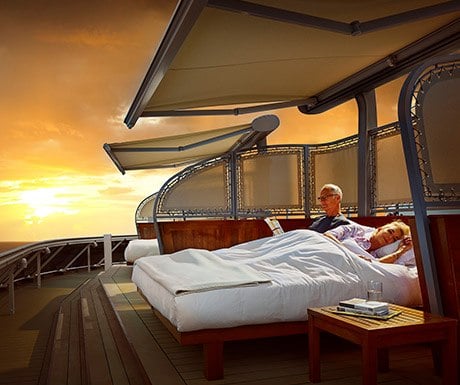 Neil Page is the Online Manager at CruiseNation.com.
If you would like to be a guest blogger on A Luxury Travel Blog in order to raise your profile, please contact us.