By
Zach Smith
on Apr 18, 2017 in
Belize
,
Caribbean
,
Central America
,
Cuba
,
Ecuador
,
Guatemala
,
Panama
,
Peru
,
Regions
,
South America
Why send mom some flowers in a vase, when you could take her to see exotic flowers growing in the wild? Skip the stuffed animals and plan an itinerary that includes a stop to see adorable wildlife. Don't send her a card with a picture of a tropical beach — book a plane and take her there yourself! We're ready to get you started brainstorming your Mother's Day getaway. These creative destinations will make you her favorite for the rest of the year.
1. Manatees in Peru – Iquitos, Peru
Manatees have a special place in animal lover's hearts. They are gentle, easy to approach, and consequently increasingly rare. But you can still see them in the portion of the Amazon River that flows through Peru's Pacaya Samiria National Reserve. There's also the Manatee Rescue Center near Iquitos. This center cares for injured manatees and releases them back into the wild. Visitors can feed and interact with the center's roly-poly baby manatees.
2. South Water Caye – Belize
The South Water Caye Marine Reserve is the largest marine reserve in Belize. Belize's Caribbean waters are known for their abundant marine life. South Water Caye has impressive mangroves and smaller cayes that make lovely destinations for boating tours. Visitors who come here get to stay at a private resort, and have their own little piece of a tropical wonderland.
3. Soledad Botanical Garden – Cienfuegos, Cuba
Wander the meandering trails of the Soldedad Botanical Garden. Begun over a hundred years ago by an Englishman, this garden is still flourishing. It has over 1,400 species of plants, including epiphytes, rubber trees, cacti, and palms. Look for colorful plants in the wild part of the garden, and then head to the green houses to admire the more delicate species.
4. Valle de los Ingenios – Cuba
Valle de los Ingenios used to be dotted with busy sugar plantations. Today, the plantation workers are gone, but the picturesque landscape remains. Now the ruins of the mills make the rolling hills look like something from the cover of a romance novel.
5. Ibarra – Northern Sierra, Ecuador
Ibarra is not at the top of the list of places to visit in Ecuador, but it has a few things that make it special enough for mother's day. Because this town is a little bit out of the way, it's a peaceful place to admire beautifully restored colonial architecture, without throngs of tourists. It has a temperate climate, which has made it an increasingly popular town for ex-pats. Visit the bustling outdoor market on Saturday to browse handmade textiles.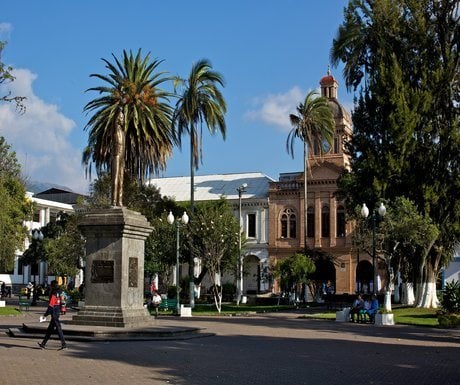 6. San Marcos la Laguna – Lake Atitlán, Guatemala
San Marcos la Laguna is one of the many towns bordering Lake Atitlán that has earned a hippy reputation over the years. It's easy to feel mystical looking out over the lake, surrounded by its age-old volcanoes. Check out a yoga class, and the soothing treatments available at the town's healing center. Don't leave without taking a boating tour with a guide who can tell you about the mythology of the environs.
7. Casco Viejo – Panama City, Panama
If your mom is a history buff, take her on a small step back inside with a visit to Casco Viejo. This is Panama City's oldest neighborhood. Many of the buildings here have been painstakingly restored, and some date back to the 16th century. You can book rooms in upscale hotels here that blend modern comfort with historic ambiance.
8. Yungay – Huascarán National Park, Peru
In Peru's central highlands you'll find the snow-capped mountains and glaciers of Huascarán National Park. Vist the ruins of the town called Yungay just outside of the park. An earthquake destroyed the town in 1970, but today there's a beautiful memorial rose garden.
9. Boquete Garden – Boquete, Panama
Boquete is a particularly lush part of Panama, with rich volcanic soil (you can't miss Barú Volcano, steaming away in the distance). Make a visit to Mi Jardín es Tu Jardín to see Boquete's vast array of tropical plants in one place. In addition to the botanical gardens, Boquete also has coffee plantations where you can sample spectacularly fresh brews.
Zach Smith is CEO of Anywhere.
If you would like to be a guest blogger on A Luxury Travel Blog in order to raise your profile, please contact us.