World-famous hotel bars, chic cocktail bars and quirky pop-ups: London boasts every type of bar imaginable. Naturally then, knowing where to start can be tricky. So we've whittled tens of thousands down to five must-visit venues. Sure the drinks are great, the service exemplary and the decor tasteful but then, that's not unusual. These five venues boast something intangible that propels them into the upper echelons. They have history, they have stories. They're the best of the best.
The American Bar, The Savoy
The American Bar at the Savoy is not only the most famous hotel bar in London, it's the most famous hotel bar in the world. From late-night shenanigans with Richard Burton and Oliver Reed to morning gin with the Queen Mother (she came every day, apparently) this London institution is teeming with interesting history.
Even the name has a great story as it was opened by an American cocktail waiter escaping Prohibition in his homeland. His cocktails soon became recognised as London's best: "Wanna find the best cocktail in London?" "Go to the American Bar".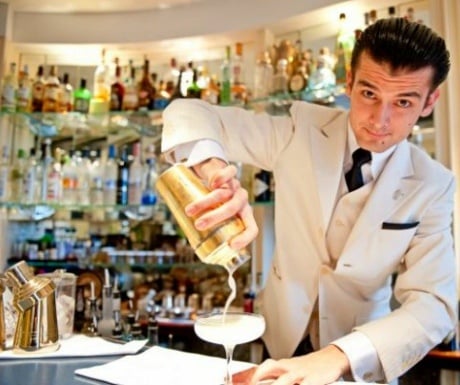 Gong at Shangri-La Hotel, the Shard
The fact is, no bar in London can compete with the views from the mighty Shard. When it comes to great vantage points – and this is a shrewd tip to remember wherever you are – then aim for sunrise or sunset as it's when the skyline (and of course, the sky) are at their most spectacular.
Obviously as we are talking cocktails, sunset might be a better option here! Drinks-wise, the Gong staff mix up a beautiful, complex range of Asian-influenced cocktails. And despite all the talk of sun – there's no tequila sunrise on this menu.
Mr. Fogg's
Ahhh, Mayfair – the most charming, opulent and quintessentially English area of London Town. Inspired by Jules Verne's eccentric "Around the World in 80 Days'" protagonist Phileas J Fogg, this cavernous delight is packed with interesting artifacts, thick rugs, clocks of all shapes and sizes and beautiful oak furniture.
Like the décor, the cocktail list is a quirky hotchpotch too. And no, you're not going mad, that is an audiobook of Around the World in 80 Days playing in the bathroom.
The Connaught Bar, The Connaught
You couldn't make a list of London's best cocktails and leave off the Connaught. Another London institution, another bar in Mayfair but really – unlike anything else on the list in that this is possibly the swankiest and most expensive hotel in all of England.
Make your first drink a martini: A trolley is wheeled out (in a classy way) and the drinks are made right there, at your table. If you're not staying at the Connaught – and if you can get in, you really should – then you still get to walk through the impressive hotel lobby equipped with a huge formal staircase and old-world front desk.
Punch Room, the London Edition
It could be the décor which perfectly captures private member's clubs of the 19th century, or it could be the fact that you need a reservation to get in, but one word encapsulates the Punch Room at the Edition perfectly: exclusive. As you may well have guessed, the drinks-focus is punch: There are 10 bowls on the menu coming in different sizes for one or more people.
A curated soundtrack of vintage soul, blues, ragtime, and doo-wop is complemented by impromptu live performances too. If you've watched hit US drama Mad Men, you'll have longed to visit bars just like this.
Rob Stross is Chief Marketing Officer at WeSwap.
If you would like to be a guest blogger on A Luxury Travel Blog in order to raise your profile, please contact us.