Thrill-seeking adventures on Vancouver Island
Whatever your age and whatever your passion, there is always a little part of us seeking adventure. With such a huge variety of landscapes on offer, Vancouver Island is the perfect place to pick and choose your adventure. This island off British Columbia's coast is the size of
Scotland
, and packed full of varied landscapes. You'll find captivating scenery from old growth rainforests and distant mountain views to windswept beaches and wild shorelines. But amid it all, incredible experiences await to satisfy even the most intrepid traveller. Here is our pick of the top three thrill seeking adventures you could have in Vancouver Island's great outdoors; the ideal destination for your next vacation.
Whale and bear watching excursion
The adventure you'll have
The
UK
is not known for its abundance of whale watching tours, so to experience this unbelievable sight, you'll need to go further afield. Mentioned in an article by the Telegraph, Vancouver Island was named one of the best whale watching destinations in the world. Johnstone Strait is known across the globe to be a fantastic area to see magnificent orcas and huge humpbacks. Orcas are often known as killer whales, but aren't dangerous to people. There are dozens of sightseeing boat trips on offer, but the best way to get a more intimate experience with these giants is via kayak. While cruising the island's surrounding waters, it's likely you'll get to see more than just whales. Vancouver Island is home to both black and grizzly bears, so look out for tours that offer the chance to spot both. If that isn't enough, Tofino offers wildlife tours that go to Hot Springs Cove where you can bathe under a geo-thermal waterfall. All of this in just one trip; it'll certainly check off some of your bucket list!
Where you'll stay
You would fly into Vancouver then be plunged into your nature watching journey by travelling, via floatplane or ferry, to Vancouver Island. There's a choice of places you could visit; Victoria is the capital and offers whale watching tours, Campbell River and Port Hardy are good for spotting grizzlies, and then there's black bears. If you travel here you'll discover the stunning surroundings, home to grizzly bears, eagles and of course whales. There are a number of wildlife tours across Vancouver Island so you'll be able to pick one to suit your every requirement. Staying on the island will provide you with an intimacy to nature that will distance you from the chaos of life back home. Cosy wooden lodges sit amid your stunning surroundings, providing an authentic wilderness experience. Alternatively, if you wanted to stay in the capital, Victoria, Chateau Victoria Hotel and Suites offers large luxury suites, an indoor pool and a spa. The Hotel is located just a short walk from the harbour and shopping areas, there's just so much to do!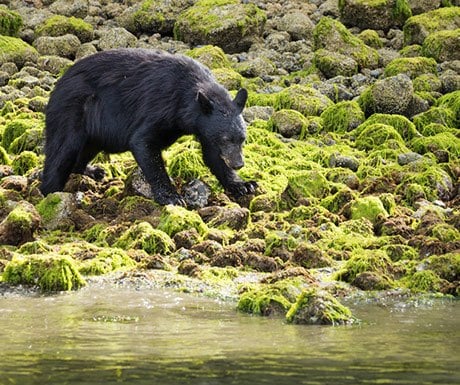 Where to eat
Of course there are lots of inviting and premium restaurants in the area, so you won't be short of choice. Shelter is a particularly strong option, they claim to be Tofino's "centre point for locals and visitors from all over the world". Their ingredients are fresh and locally sourced, so if you end up visiting you'll be in for a treat!
Nanaimo outdoor adventure
The adventure you'll have
How does a breath-taking zip line over a beautiful river canyon and forest trail sound? Or what about a 150ft jump? Of course you'll be attached to safety harnesses and have an excellent team behind you. These outdoor activities will certainly test your nerve but if you can overcome that immediate impulse to turn and run, these activities make for an incredible trip. Let your inner thrill-seeker thrive as you zip line above the dazzling Nanaimo River, passing from cliff edges and soaring across tree-tops. You'll get an exhilarating and unparalleled view of Nanaimo's unique landscape. Hidden in the forest you can find an impressive choice of ziplines, aerial games, giant swings and climactic bungee jumps. So you'll not be short of activities! Bungee jumps are located directly above the Nanaimo River which gives you the opportunity to take in the tranquil beauty of your surroundings before you take the plunge. Activities are available for a range of abilities and offer different challenges to suit, so there is truly nothing to stop you.
Where you'll stay
Nanaimo is a city situated on the north east coast of Vancouver Island; the city brags a large amount of hotels so you'll be spoilt for choice. But if you stay in Parksville, just north of Nanaimo, you'll be situated in a picturesque town home to friendly residents and flawless beaches. In terms of hotels, a particular standout is the alluring Beach Club Resort Hotel, which claims the most luxurious hotel rooms in Parksville. Rooms offer guests private balconies, immaculate interior decor and sensational views of beaches and mountains.
Where to eat
If you're tired from a day of thrill-seeking the Pacific Prime Restaurant and Lounge a convenient yet is premium choice when it comes to restaurants. The restaurant has its own patio just off the beach, which goes towards creating a perfect dining experience. Pacific Prime offers up West Coast style cuisine influenced their Executive Chef for a fresh, unique and exciting dining experience. They have partnered with the Vancouver Aquarium's Ocean Wise program and local suppliers to ensure your meal is ocean friendly and top quality.
Storm watching, Tofino
The adventure you'll have
By summer, Tofino is a favourite with surfers. Perched on the edge of the Pacific Rim National Park, it boasts stunning sandy beaches and even better waves. But it's during the winter when the true excitement occurs. Throughout the winter months, the district's exposed coasts stage the most raging storms seen on the Pacific Northwest. You can witness this first hand, as travelling to Vancouver Island's West Coast will put you right at the centre of it all. Scene-setting lodges with picture windows let you stay warm and cosy inside by an open fire, while the beauty of the region's natural entertainment unfolds outside. But for the braver of you, it's an incredible opportunity to take a walk along the beach to feel the true effect of the storm. Huge ocean swell, winds whipping through cedars and electricity in the air… there is simply no thrill like it. This is truly an awe-inspiring experience, making memories and stories that will stay with you for a lifetime.
Storms are most likely to be at their height in the winter months so a trip storm-watching is recommended between November and February. However, given Canada's exciting West Coast weather it's not unusual for storms to occur from October until March. As you might expect, suitable clothing is a must to stay snug and dry. Can you imagine the luxury of a warm bath awaiting your return to the hotel? It can hardly get more perfect.
Where you'll stay
The Wickaninnish Inn in Tofino is renowned for being the best site to stay at to watch the storms. In recent years, other storm-watching hotels have popped up to meet demand, but sometimes the original is just the best. In 2011 the Canadian Tourism Commission named storm-watching at the Wickaninnish Inn a Canadian Signature Experience. The inn offers different packages to suit your desires so take a look and start planning the adventure of a lifetime.
Where to eat
The Pointe Restaurant, conveniently located at the site of the Wickaninnish Inn, is the ideal place to enjoy a meal. The restaurant advertises a 240 degrees view of the Pacific Ocean, which means you won't have to miss a second of the storm unfolding.
No matter how adventurous you want to be, Vancouver Island is the perfect place to explore a huge variety of options. All activities are made even better, if that's possible, by the stunning location and your proximity to nature's beauty. Activities like these will take your mind away from the hustle of life back home and give you the holiday of a lifetime.
Kathryn Munro is Managing Director at Canadian Affair.
If you would like to be a guest blogger on A Luxury Travel Blog in order to raise your profile, please contact us.
Did you enjoy this article?
Receive similar content direct to your inbox.