Bali is repeatedly voted as the world's best tourist destination, and it doesn't take a genius to work out why. With white sand beaches, emerald green rice terraces, immersive culture and authentic spirituality, to many people this Indonesian island perfectly encapsulates the idea of an exotic, tropical paradise. Home to some of the world's best spas, retreats and resorts, choosing where to stay in Bali can seem an impossible task – so here are five of the most unique luxury resorts for the more discerning traveller.
1. Samabe Bali Resort
Samabe Bali is perhaps the best example of unabashed Balinese luxury. Perched upon the picturesque cliffs of southern Nusa Dua, Samabe is a spectacularly beautiful and intimate luxury resort. With only 81 suites and villas dotted through eight hectares of verdant land, Samabe offers a sense of peace and privacy that's missing from other larger resorts.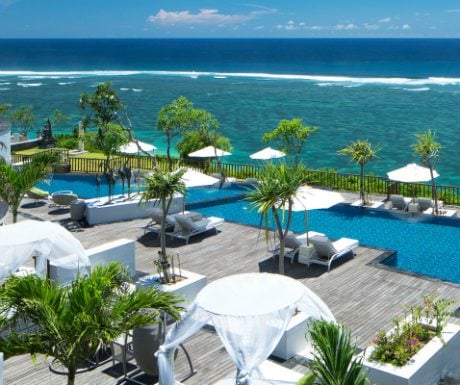 The resort provides extraordinary uninterrupted views of the Indian Ocean, and also boasts its own private white sand beach and utterly unique beachside cave. Here you can enjoy a truly memorable dining experience, where the only sound accompanying your meal is the gentle lapping of the ocean just metres away.
Guests will fall in love with the spacious and sophisticated thatched roof-structures, many of which come with their own private swimming pool. With a world-class restaurant, first-rate facilities and some of the most splendid natural surroundings imaginable, Samabe Bali is the perfect romantic getaway.
2. Anantara Uluwatu Bali Resort
Set above the ruggedly dramatic limestone cliffs of Bali's secluded southern coast, Anantara Uluwatu Bali is one resort that knows how to maximise its sensational setting. The luxurious suites and exceptional amenities cascade prettily down the cliff, providing guests with glorious views every way they turn. The 360 restaurant is the best place to take advantage of these panoramas; here guests can watch the sunset while enjoying a delicious meal from the resort rooftop.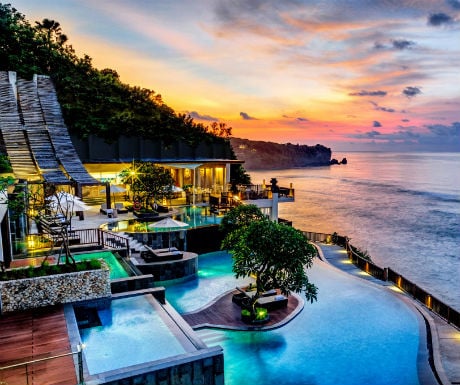 Anantara Spa offers up authentic Balinese treatments of the highest standard, with many signature rituals taking inspiration from Indonesia's Spice Islands. The cliff-edge infinity pool is the perfect place to spend a lazy afternoon – but if you're feeling more energetic you can take advantage of all manner of activities, from golf to rafting to elephant safaris to traditional Balinese cookery lessons. The stretch of coastline here is truly a surfer's paradise, and the world famous beaches of Padang Padang, Bingin, Impossibles and Dreamland are only a short drive away.
3. Alila Seminyak
In busy, bustling Seminyak, staying at Alila Seminyak Resort is like escaping to your own private paradise. This modern and glamorous hotel is the epitome of tropical cool: unique and contemporary architecture blends with green roofs, wall-climbing plants and gorgeous landscaped terraces to ensure guests enjoy a hotel experience with a serious 'wow' factor.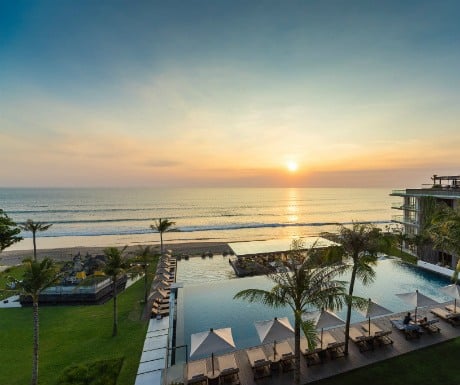 The Alila Spa provides bespoke treatments that use only natural local ingredients, and it's the perfect place for guests to enjoy some rest, relaxation and well-earned pampering. After a dip in the stylish infinity pool, the beach bar offers the ideal respite from the scorching Balinese sun, and the mouth-watering cocktails on offer here are wonderful refreshers. Afterwards, you can enjoy a meal in the outstanding bistro-style restaurant overlooking the beach, where you can feast upon first-rate food under the glittering Indonesian stars.
4. Grand Mirage Resort
With so many resorts focusing on romance and couples' getaways, Grand Mirage exists to ensure families don't have to miss out on the fun. Providing a more affordable slice of Balinese luxury, Grand Mirage Resort boasts a pristine private beach, 301 comfortable rooms and suites, a kids' club and a children's pool.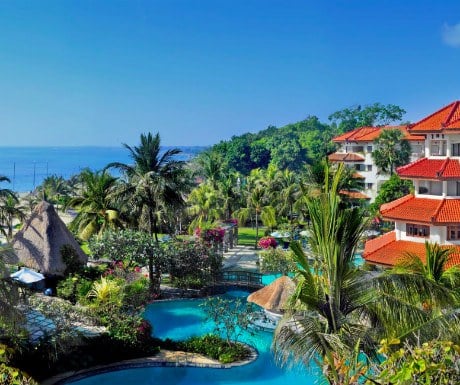 This 5 star beachfront resort has 4 different food and beverage outlets where guests can enjoy delicious tastes from Asia, Europe, and Australia. With unlimited use of non-motorized water sports, kids will be spoilt for choice for fun-filled activities, and adults can take advantage of the indulgent treatments at the Thalasso Bali spa. With exciting shows and entertainment daily, Grand Mirage allows families to experience authentic Balinese culture and provides guests with a genuine education as well as a relaxing vacation.
5. Bali Floating Leaf Eco-Luxury Retreat
For something truly different there's Bali Floating Leaf, which offers visitors so much more than a mere break in paradise. Rated the number one yoga retreat in Bali, this innovative and ethical eco-retreat combines contemporary luxury with traditional Balinese healing and ancient wellness traditions to nourish, recharge and heal.
Located in a beautiful green oasis, guests can take advantage of yoga classes, meditation workshops, Balinese arts and culture, photography, surfing and delicious organic food. The open air yoga sanctuary provides breathtaking views of the Indian Ocean and Mount Agung Volcano, and the beautiful Healing Pool has yoga and meditation platforms as well as water-hammocks for reading and relaxation.
It's rare that a holiday can lead to permanent transformation and a return to balanced wellness, but with its focus on relaxation and replenishment, Floating Leaf Bali provides genuine holistic relaxation for body, mind and soul. An entirely unique experience.