If you can't spruce yourself up in Vienna, where else could you? While Austria's capital boasts tons of old-world-glamour, the idea of true elegance often stops at the individual. Consequently, a few less savvy visitors stick out in elegant evening wear among a crowd of casual locals attending a concert or opera. Here are five occasions your black suit and long gown will be in good company.
A Vienna ball
To the delight of most classical fans, dress codes are strict at most Viennese balls. Unless you attend the folkloric Balls of the Hunters or the Styrians, or crazily flamboyant Life Ball, you can reach out to tail coat, tuxedo, and long traditional evening dresses. As Vienna stages some 400 balls each season, there are plenty of evening wear shops to buy or rent. Each ball has its own requirements when it comes to men's outfits. As for the ladies, dresses shouldn't be skintight. Every dress colour under the sun is allowed except white, which is reserved for debutantes.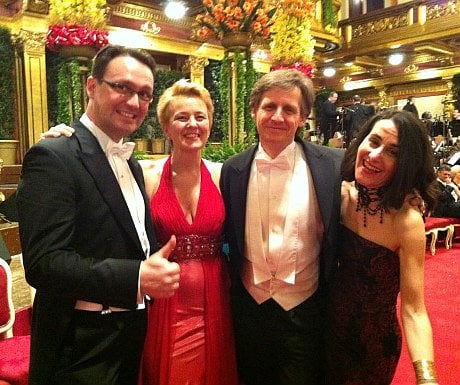 Premiere at Musikverein
Most people are surprised that the elegant home of the Vienna Philharmonic Orchestra does not have a dress code. While visitors of everyday concerts are best dressed in smart casual clothes, there are two exceptions that require elegant evening attire: The Musikverein's famous New Year's Concert that is broadcast across the world each January 1st, and important premieres. Apart from that, black suits and long dresses are more frequent at opening concerts of prestigious annual music festivals.
Gala events
The annual New Year's Eve Gala at Vienna's City Hall represents a classical dinner and dance event under the sparkling chandeliers of the neogothic ballroom. To add to the festive spirit the event organisers ask for evening dresses, tuxedos or dark suits. Unlike at most ball events, evening dresses are not required to be long but should be convenient enough to survive a few dances.
By the same token, the Life Ball's annual LIFE+ Celebration concert at Burgtheater with optional gala dinner presents an equally elegant occasion. On top, this event attracts numerous international celebrities each year, which adds to the glamour score.
Vienna Casino
Most of Austria's casinos are keen for their guests to pay tribute to the elegance and bling of a night at the roulette tables. The Wiener Casino is no exception though is far more relaxed than classical dance events. Provided visitors can sport a jacket, blazer or evening gown they will meet the minimum dress code requirements.
Premiere at Vienna State Opera
In spite of the casual outfits during everyday opera performances there are certain grand premieres that prompt more guests to make an effort when reaching into their wardrobes. The more exquisite the premiere and the more famous the starring opera singers the more black suits and elegant dresses can be expected in the auditorium.
Barbara Grüll-Cação is the Founder of Vienna Unwrapped.
If you would like to be a guest blogger on A Luxury Travel Blog in order to raise your profile, please contact us.