With a landscape that is 70% mountainous, it's unsurprising that Japan's terrain has some of the best skiing conditions in the world – just look at snow-topped spectacle Mount Fuji. Unique weather conditions teamed with a unique culture make Japan a destination well worth packing your skis for.
1. Powder snow
If snowball fights are your thing, you're out of luck here unfortunately; cold winds blow from Siberia across the Sea of Japan dropping snow so light and dry that it refuses to stick together. Best of all, Japan's drifts are incredibly reliable – it regularly receives the highest annual snowfall worldwide. There's no compromise with quantity or quality and the white stuff remains fluffy rather than well-tracked and icy.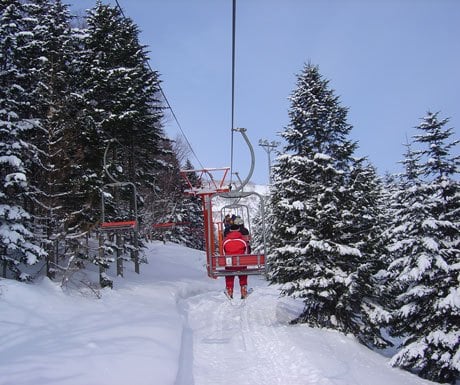 2. World-class resorts
The 'ski boom' hit Japan in the heady 1980s when resorts sprang up with astonishing speed. As with many booms a bust was to follow. There are still nearly 600 resorts, but many of them are tiny and queues are rare even at the larger, more popular ones.
Niseko, on the northern island of Hokkaido, is the most famous resort in Japan. It is known for being very welcoming to international visitors and for off-piste skiing which is largely off-limits elsewhere in Japan. For those planning a trip to Niseko in February, head to Sapporo for a snow festival with breathtaking snow and ice sculptures.
On Honshu main island, Hakuba is best known for hosting the Winter Olympics in 1998 and is one of the largest resorts, while Nozawa Onsen is a more traditional, family-friendly and quaint option (there are no towering hotels). Perhaps the greatest draw of all here is the opportunity to bed down in a traditional ryokan (Japanese inn).
3. Hot spring bathing (Onsen)
Talking of hot springs… Stepping off the slopes to soak in a hot tub is always a welcome way to end the day, but a hot spring bath in Japan takes it to a whole new level. A Japanese onsen is nature's own hot tub, with volcanic spring water chock full of minerals and healing properties.
Onsen etiquette differs from its western counterpart; ditch the swimsuit in favour of your birthday suit, have a shower before entering (there is a communal row with stools), and make sure you're heading to the right onsen for your gender! Nozawa Onsen in Nagano even has onsen for your feet in the streets. Rest those weary limbs against a mountainous backdrop and watch the snowflakes.
4. Japanese food
What a way to work up an appetite! Japanese resorts are always ready to remedy that après-ski hunger. While the fresh sashimi and sushi may come as no surprise, there is so much more on offer.
Try crispy gyoza (Japanese dumplings), tempura, Japanese curry and okonomiyaki, a savoury pancake style dish with your choice of toppings. To really thaw out though, have a steaming bowl of nabe, Japan's version of a hotpot made entirely to your tastes.
5. Japanese culture
A significant reason to visit Japan, ski season or not, is the impeccable Japanese culture. Expect to meet well-mannered, gracious people (no pushing a shoving for that ski lift, then) and high standards resulting in spick and span resorts and punctual services.
6. Snow monkeys
It's lovely to make new friends from all walks of life on holiday… how about making pen pals with a snow monkey? In truth, they are more likely to pinch your pen and paper than write back, but it's worth making the trip to Yudanaka (1 – 2 hours) if you're staying in Hakuba, Nozawa Onsen or Shiga Kogen. Not big on skiing or thermal jackets, they warm up in the hot springs and have even been known to have snowball fights. It certainly is the life for some.
Alastair Donnelly is Director at InsideAsia Tours.
If you would like to be a guest blogger on A Luxury Travel Blog in order to raise your profile, please contact us.