Luxury cruise company a la française, Ponant, have announced new fleet plans for 2018 that will offer the world's most sensory cruise line experience. Ponant's Le Lapérouse liner will feature an underwater passenger lounge: the Blue Eye lounge. Think along the lines of James Bond meets The Big Blue.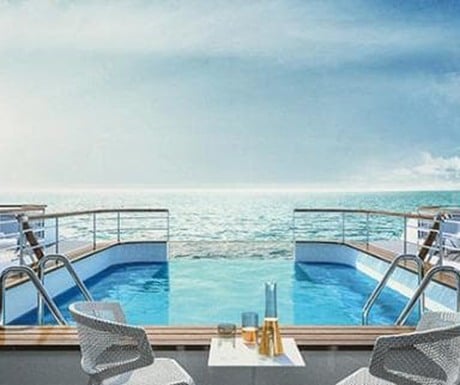 A multi-sensory experience
Ponant have described the Blue Eye lounge as a multi-sensory experience for passengers. Located below Le Lapérouse's water line, the Blue Eye will be a futuristic space of 75m2, with a capacity for 40 people. It will set sail in 2018.
Become a modern-day explorer of the sub-aquatic world
The Blue Eye lounge main focal points will be two gigantic curved portholes of 1.6m by 3.4m, enabling guests to explore and experience the sub-aquatic world. Specially designed lights, which don't harm the marine biosphere, will be installed outside the ship's portholes, to allow observation of photo-luminescent fish, plant-life and the seabed.
Architect Jacques Rougerie has made bringing in the sub-aquatic world a top priority. The Blue Eye lounge will feature high resolution digital screens, dotted around the lounge, which will display live aquatic images. This stream will be brought to you by underwater cameras positioned on the ship's hull. These images will also be available to guests in their cabins.
Curves, dolphins, whales and jellyfish
The lounge's interior design will flow perfectly with its curvaceous theme continued from the portholes to white curves of resin, fluidly sweeping down from the lounge's stairs and surrounding the seating. A distinctive ridged ceiling and mirrored panels will accentuate the stunning, curvaceous design. Murals of dolphins, whales and jellyfish have been commissioned.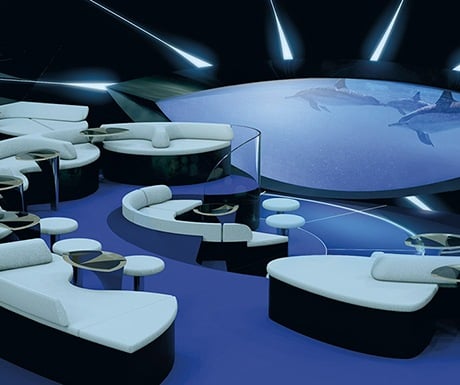 Be at one with the fish
Hydrophones will also be provided. These are special microphones to capture deep sea sounds as far away as a five-kilometre radius. These underwater sound waves will be streamed on a 3D sound system.
The final touch of this incredible sensory experience are the "body listening" sofas, where you can relax. These amazing sofas vibrate as they respond to sea sounds, ensuring that you feel at one with the fish on the ocean floor.