By
Craig Burkinshaw
on Aug 10, 2017 in
Adventure Travel
,
Asia
,
Attractions
,
China
,
Going Out
,
Kyrgyzstan
,
Pakistan
,
Regions
,
Road Travel
,
Speciality Travel
,
Uzbekistan
The Silk Route has connected the East with the West for over 2,000 years, acting as a catalyst in the development of China, India, the Middle East and Europe. It wasn't just goods such as silk and spices that were traded along the route; ideas, religions, and even diseases were passed on, shaping many countries' identities.
Today, you can travel along a section of the ancient route from central China to Uzbekistan. It's a journey that takes you through mountains and deserts, immerses you in a variety of cultures and lets you explore the region's rich history. Part of the thrill is also about encountering the unexpected: below are a few surprises we've discovered along the way.
Xian's Terracotta Warriors are still being uncovered
One of China's best-known attractions, the Terracotta Warriors in Xian, Shaanxi Province, entice millions of visitors each year. Over 8,000 of them stand in formation, making up the mausoleum of China's first emperor, Qin Shi Huang Di, who ruled over 2,200 years ago.
The first thing that might surprise you is the size of the statues; while they vary according to their rank (the biggest are the Generals), they're all life-sized at over 1.8 m (6 ft) tall. Secondly, the profound attention to detail paid to their creation is still apparent: each one has a different facial expression, intricately carved clothing befitting their rank, and you can see remnants of the paintwork used to bring them to life.
Then there's the fact that not all of them have been uncovered yet. The four pits in which they were discovered by farmers in 1974 are only partially excavated, and the site is still an ongoing archaeological project. The atmosphere is therefore one of excitement and anticipation rather than it feeling like a lifeless museum.
And still sleeping beneath the earth is the emperor himself: his tomb is yet to be excavated and is likely to have many more treasures buried inside.
You can walk among sand dunes… in China
As you travel far away from China's big cities into the far northwest of the country, you'd be forgiven for thinking you have arrived in the Sahara. The landscape becomes increasingly arid until you're surrounded by vast sandy plains, cracked and golden in the relentless sun.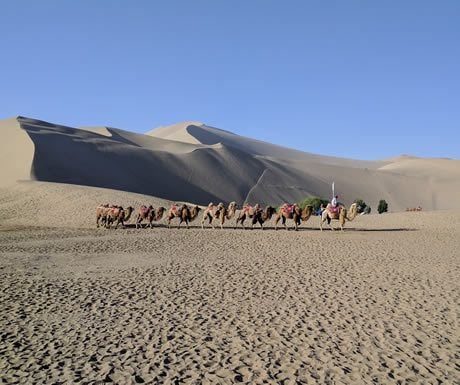 Dunhuang, in Gansu Province, is a city on the edge of the Gobi Desert. Its strategic position, straddling crossroads between the Silk Route and the main road leading from India to Mongolia via Tibet, made it an important stop for traders along the ancient Silk Road.
From the city you can head out into the desert, where some of the tallest dunes in the world create a backdrop fit for an Arabian Nights tale. If you're feeling energetic, walk to the top of the dunes for far-reaching views over the sea of sand. Time it right and you can watch as the light changes with the rising or setting sun, gradually illuminating the dunes or casting them in shadow.
Afterwards, run or slide down the slope and you'll discover why these are known as the 'singing sands'. The sound you can hear is created by wind whipping off the dunes.
Nearby, Crescent Lake appears like a mirage. While shrunken in size, the lake's emerald waters create a stark contrast against the sand and provide cooling relief from the day's heat.
There are caves that reveal the history of religion
Also accessible from Dunhuang are the Mogao Caves. Dating back to 366 AD, the caves are actually a system of 492 temples that were carved into the rock by Chinese Buddhists looking for a place to worship.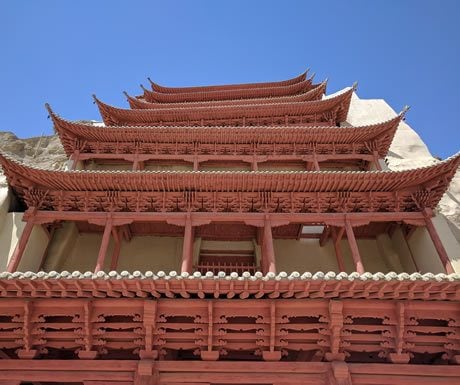 Stepping inside is like entering an underground art gallery. You'll come across paintings, murals and Buddha carvings spanning 1,000 years — the largest being two giant Buddha statues 27 m and 35.5 m (88.6 ft and 116.5 ft) tall respectively. While the tallest has been heavily restored over the years, the other has remained largely intact since its construction in the 8th century.
While the majority of the paintings sprawled across the walls are examples of Buddhist artwork, in some instances the original illustrations were painted over to indicate a new dominant religion. For example, you can see where images of Buddha were scratched out and replaced with Arabic writing when Islam spread, only for this to be scratched out completely during the Cultural Revolution and the rise of communism, when religion in China was suppressed.
Seeing this changing religious landscape gives you greater understanding about the spread of religion across Asia, the Middle East and Europe, which was in part thanks to the Silk Route.
Centuries-old trading traditions are alive and well
As you approach the Kyrgyzstan border, you're likely to make a stop at the city of Kashgar in the autonomous region of Xinjiang. The population here is 90% Muslim, so there's a completely different feel to most other parts of China. In fact, the city is closer geographically to Turkey than Beijing, and is home to a Turkic ethnic group called Uyghurs.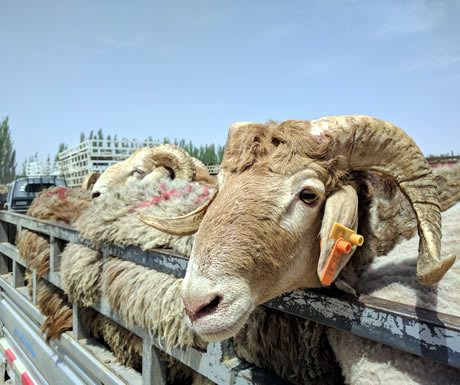 One of the best places to immerse yourself in this culture is to visit the historic Kashgar Livestock Market. Every Sunday, Uyghurs from rural villages far and wide lead their goats, horses, sheep, cows, donkeys, camels and mules to the market in the hope of trading and making a profit. They've been making the same journey for centuries, and little has changed in the way that the market operates.
There's a cacophony of noise as you wander around — both from the animals and from traders. You can tell where people have come from by looking at their hats, which are decorated with different patterns to indicate their area.
But the most interesting sight is watching trading and bartering in action. When people want to make a purchase, they pile their money on the animal's back — whoever's pile of money is highest gets to take the animal home.
The long drives are actually a highlight
Unsurprisingly, long journeys are part and parcel of following the Silk Route; some days you'll spend seven or eight hours in a car. But rather than simply being a way of getting you from A to B, these lengthy drives often create some of the best memories of your trip as you pass through a wide range of landscapes that keep you glued to your window.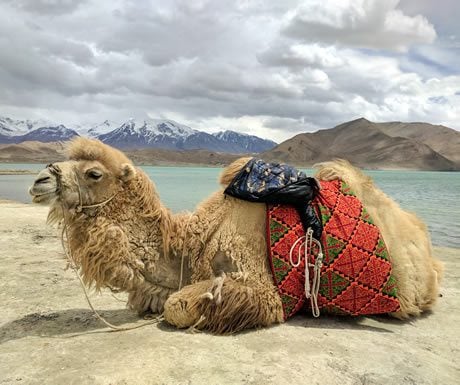 In western China you have the wide open desert, which is then replaced with Kyrgyzstan's sky-punching mountains and green plains dotted with wild horses. As you enter Uzbekistan, the landscape becomes drier and more barren, but retains a stark beauty.
From Kashgar, you might have the opportunity to drive along part of the Karakoram Highway. Running for 1,300 km (800 miles) from Kashgar across the Himalayas to Abbottabad, Pakistan, it's the world's highest paved international road and once formed a branch of the ancient Silk Road.
Following the highway, you'll climb close to 4,000 m (13,123 ft) in altitude, passing through mountains draped in snow. Four hours from Kashgar, the mountains open out to reveal Karakul Lake. On a still day, its azure waters perfectly reflect the surrounding peaks. Dotted around the shoreline are traditional felt yurts, where you can stop to have lunch with a local family.
You'll experience incredibly varied cultures
It may not be much of a surprise to know that you'll encounter a number of different cultures along the way. But the contrast between these may be much bigger than you expect — even those within the same country. The cultural shift between central and western China makes it feel as though you've already spanned two or three different countries by the time you arrive in the Xinjiang region.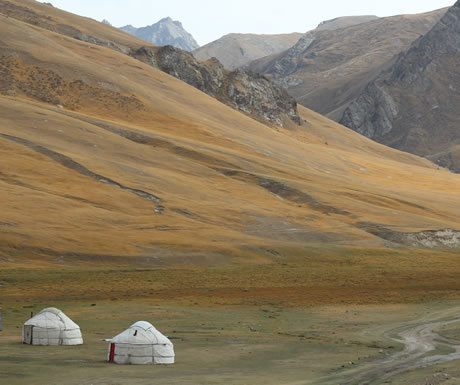 You can explore Kyrgyzstan's traditionally nomadic lifestyle by staying overnight in an authentic felt yurt (from June to September). These domed structures are so much a part of life here that one even appears on the national flag. While facilities are basic, you'll gain an insight into local life that would otherwise be difficult to appreciate.
If you're short on time, you can take part in a felt-making workshop in the village of Kochkor, run by a lady called Fatima, who'll show you how to make felt slippers, bags or simple decorations. Afterwards, Fatima invites you to have lunch with her family — the food is influenced by both Russian and Chinese cuisine, accompanied by freshly baked bread.
In Uzbekistan, while Islamic influences are evident in the striking mosaicked mosques and madrasas, the country's not-too-distant Soviet past has left its mark on the people who have lived through both eras. In the evening, don't be surprised if you're invited to dance to live music, drink vodka shots and sample food by locals eager to share their way of life.
Uzbekistan boasts some of the finest Islamic architecture in the world
Search for images of Uzbekistan and you'll be inundated with photographs of intricately decorated mosques and madrasas. You can't help but admire the imposing architecture of these religious buildings; their bright mosaics and vivid blue domes stand out against the otherwise sand-hued buildings.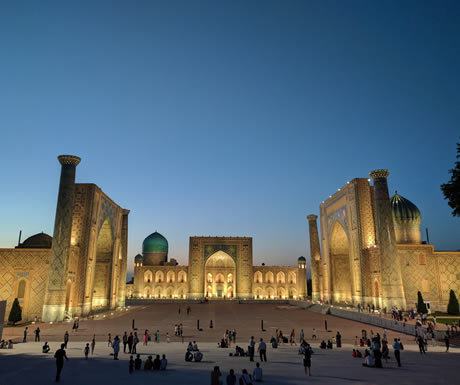 Some of the best examples can be seen at Registan Square in the historic city of Samarkand. Three madrasas — Ulugh Beg, Tilya-Kori and Sher-Dor — frame this large public plaza, which has been at the heart of the city for centuries. Over the years, the buildings formed a backdrop to royal announcements and public executions, and countless traders would set eyes on them after following the Silk Road into the city.
Minarets rise on either side of the madrasas, and the archways are symmetrically decorated with bright tiles. The decoration on the Sher-Dor madrasa is particularly interesting in that it uses images of tigers, despite Islam's ban in depicting living beings on religious buildings.
Fountains are also an important feature of Islamic landscaping, and their trickling water can be heard in most public squares. You're also likely to see them outside mosques — with water in short supply in this largely arid country, they were once used as a source of drinking water as well as for wudu (ritual bathing before prayer).
Craig Burkinshaw is Founder of Audley Travel.
If you would like to be a guest blogger on A Luxury Travel Blog in order to raise your profile, please contact us.