It's sizzling hot in the UAE but let that not stop you from enjoying a pop of colour on canvas at several art exhibitions and events taking place over the summer.  Several luxury hotels are hosting various artist exhibitions, many of these are running for more than two months. So, if you find yourselves in Dubai or Abu Dhabi and eager to see and do new artful things, pop on over to the following locations in the cities and enjoy some art.
Art exhibition by Fabian Edelstam, Rosewood Hotel, Abu Dhabi
The exhibition by Swedish artist Fabian Edelstam is presented by Swiss Art Gate, a UAE based company that seeks to foster interest in the arts and regularly hosts exhibitions featuring Swiss and Arab artists mainly, around the country. This art exhibition takes place in Roberto's, a gourmet Italian restaurant based in the well-known luxury Rosewood Hotel on Abu Dhabi's Al Maryah Island. The selection of paintings on display includes mixed media artworks where the portraits capture the artist's love for travelling through the Far East.  He's also created art portraits of celebrities such as The Supremes, Salvador Dali, Audrey Hepburn and Scarlett Johansson. Each portrait starts out as a photograph which is digitally enhanced with oil and acrylics.
The exhibition is open daily from 12pm to 2am till 30 November 2017.
Perspective – a Korean art exhibition at St. Regis Hotel, Al Habtoor City, Dubai
St. Regis Hotel Dubai has thrown open its doors to all art lovers this summer at Le Patio, home to the current group exhibition titled 'Perspectives.' This is the third installation of the exhibition that has been well received by private collectors and art galleries alike. Supported by Gallery The Grace Seoul and The China International Development and Investment Corporation Limited, the art exhibition showcases paintings by Korean artists such as Hakman Hwang, Sunhee Kim, Nahyun Hwang, Hyojung Kim and Jiyoun Jeon.  Opened in July, the exhibition runs till the end of September 2017.
Clyde & Co MENA Art Showcase, Dubai
Each year, Clyde & Co, a leading lawyer firm on the global scene, holds an art showcase at its offices in Dubai as part of their global corporate responsibility programme to support emerging local artists in the MENA (Middle East North Africa) region. The showcase is part of the annual MENA Art Award by Clyde & Co for the purpose of nurturing emerging visual arts talent in the region. This year, artists whose works are selected have had the once-in-a-lifetime opportunity to have their work on display at the firm's offices. The pretty art wall shows a myriad of art techniques used by the nominated artists, from sketches to watercolours, acrylics and resin. Several art galleries and organisations support this initiative including Antidote, Kobo Art, Gulf Photo Plus and Dubai Community Theatre & Centre.  Viewing of the artworks is by appointment only.
Literaturhaus at Nadi Al Quoz, Al Serkal Avenue, Dubai
Al Serkal Avenue in Al Quoz is the home of every creative, whether artist, collector or art aficionado. During the summer, one of its venues, Nadi Al Quoz, is offering a full summer programming called Literaturhaus. Nadi, meaning 'Community Club' in Arabic, will host its events in the style of a 19th century salon where people come together at salons to discuss all issues related to art and literature. Every Saturday this summer from 4pm onwards, regional and international creatives will be featured, some of them are household names such as Hussain Ali Lootah, Andrew Hansen, Philip Kennedy, Marian Al Saedi, Farah Chammah as well as Nathalie Fend De Sousa Lobo. From poetry slam to creative writing workshops and spoken performances, the Literaturhaus at Nadi Al Quoz will satiate your creative hunger.
'Made in Tashkeel 2017' Summer showcase, Dubai
Established in 2008, Tashkeel is an art organisation in Dubai that places the city at the helm of art and design by supporting the creative community. Their summer showcase called 'Made in Tashkeel 2017' displays works done by its members and exhibiting artists. Several mediums have been used by the artists, from photography to jewellery, illustration and print-making. Prints of their work have been showcased on merchandise such as notebooks, aprons, pencils and laptop bags.   The artworks were created specifically for Made in Tashkeel by artists such as Ibraheem Khamayseh, Mobius Design Studio, Myneandyours, Tulip Hazbar and Wissam Shawkat. Take time to visit the gallery that's located in Nad Al Sheba and is open from 10am to 8pm Saturday to Thursday, throughout the summer. The showcase will run till the end of August.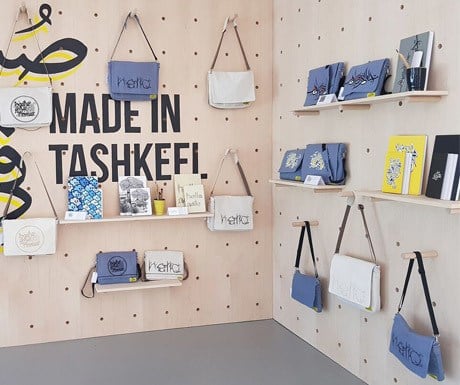 Art exhibition at Sofitel The Palm, Dubai
Monda Gallery is presenting an exhibition of regionally inspired artworks at Sofitel The Palm, Dubai. Artists taking part in this exhibition include Art Noor, Dana Naser, Wafa Khazendar, Olivia Boa, Cathy Deniset, Sara Nimer, Cecile Delikoura and Cristina Baekkelund. And if you find yourself at The Dubai Mall, visit Kinokuniya a book haven where various prints, framed and unframed artworks and photos by the Monda Gallery artists are available for purchase.