5 of the best luxury camps and lodges in Tanzania
With some of Africa's biggest parks and reserves filled with all manner of game and birdlife, a rich Maasai culture, and landscapes that change from great bulky mountains to deep calderas and vast stretches of grassland,
Tanzania
is everything you'd imagine an African safari destination to be. But experiencing these things doesn't have to mean compromising on accommodation. Luxury can be found amidst the wilderness of Selous Game Reserve, in the shadow of Mount Kilimanjaro, and on the lip of the Ngorongoro Crater.
Namiri Plains, Serengeti National Park
Situated in central
Serengeti
, over an hour's drive from any other camp, Namiri Plains offers a remote and intimate safari experience in a secluded area of the Serengeti. Between December and March it's possible to see the Great Migration herds as the wildebeest have their young in the southeast of the Serengeti, and you can watch as calves take their first tentative steps. Hot on the heels of these grazing herds are predators such as lion, leopard and cheetah.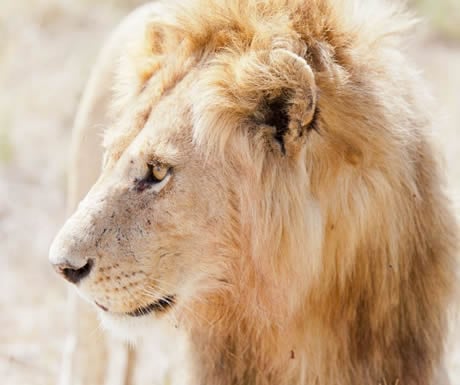 The camp is located on what was, until fairly recently, a cheetah research base inaccessible to tourists for 20 years. Cheetah and lion populations therefore thrive here. You might also encounter leopard, buffalo, spotted hyena and, in rare instances, black rhino. The camp's eight canvas tents have far-reaching views over the plains, with sides that open out during the day. Each tent has an en suite bathroom with both indoor and outdoor showers, a king-sized bed, and a safe. There's a family tent for up to four guests (children must be aged five and over to stay here), as well as a more luxurious honeymoon tent. The communal mess tent is scattered with sofas and has a shaded outdoor seating area. From here, you can sit and watch animals coming to drink at the natural waterhole next to camp. Meanwhile, in the dining tent you can enjoy cooked or continental buffet breakfasts and three-course dinners. Activities from the camp include twice-daily game drives in 4x4s (which come complete with mini fridges), guided walking safaris out in the bush (extra cost), and time spent with a local cheetah researcher to learn more about the area's endangered cats. At an additional cost you can take a sunrise hot air balloon ride over the Serengeti, giving you bird's-eye views of the wildlife in the early morning light.
Ruaha River Lodge, Ruaha National Park
The Ruaha River snakes its way through the rocky outcrops and dry grasslands of Ruaha National Park, in the heart of southern Tanzania. Green woodland thrives along its banks, and during the dry season in particular (June to December) its waters quench the thirst of lion, elephant, leopard, cheetah and hyena, among many other species.
Set around a kopje right beside the river, Ruaha River Lodge offers close-up views of these animals as they come to drink and cool off from the day's heat. Its 24 stone-and-thatch chalets are dotted along the bank beneath tamarind trees, each with a veranda overlooking the water where private dinners can be arranged. Inside your chalet you'll find a comfortable sitting area with exposed stone walls, twin or double beds and a large bathroom with heated shower. The lodge has two communal bandas — one set by the river and another perched high on a kopje looking down over two sections of the river. Here you can enjoy breakfast, farmhouse-style dinners or sundowners as hippo splash in front of you, crocodiles laze on sandbanks, and lizards and rock dassies scuttle over the sun-baked rocks. During the dry season (July to October), head out on a bush walk with the lodge's guides, who have an intimate knowledge of the park and its wildlife. Ruaha lies in an area where the wildlife of the northern and southern hemispheres overlap, so there are huge numbers of bird species (at least 530) and of plants (around 1,400) which your guide can help you to identify when out on foot. Meanwhile, game drives give you a chance to see the park's larger wildlife — both predators and prey. Herds of zebra, kudu, roan, sable and eland antelope graze nervously under the watchful eye of wild dog, lion, cheetah and hyena. Giraffe drift by elegantly, and herds of elephant make their way to the water's edge.
Africa Amini Life, West Kilimanjaro
Overlooked by the imposing outline of Mount Kilimanjaro and the volcanic cone of Mount Meru, Africa Amini Life's Maasai Lodge was set up by Austrian-registered NGO Africa Amini Alama in its efforts to benefit Tanzania's Maasai communities through responsible tourism. All of its staff are from local villages, and profits from your stay here are fed back into their communities.
As you arrive at the lodge, which is set on a hill surrounded by volcanic savannah plains, you're greeted by Maasai men and women, who line up in their traditional clothing like a rainbow as they sing you a greeting. You're then shown to your hut. With clay walls, a thatched roof and a wooden door, it's designed to resemble a traditional Maasai hut. But step inside and you'll find custom-made wooden furniture brought to life by brightly patterned cushions and throws, embroidered animal skins, beaded dream catchers and woven rugs. Unlike the huts lived in by the Maasai, yours will have windows that let in plenty of natural light to offset the dark walls. Separate compartments from the bedroom, sitting area and bathroom, and there's an outdoor porch area with seating where you can take in views over the plains, which are dotted with small triangular hills. These views can also be enjoyed from the lodge's sauna, pool and massage area, as well as from seats that have been set out at secluded viewpoints high on the hill. While you might be content to sit there and soak up the landscape, a stay here focuses on exploring Maasai culture. You can join a Maasai warrior guide for a nature walk, learning about the local plants and their various medicinal uses. Join in with a spear-throwing competition as competing Maasai warriors mock each other through song. And watch Maasai women perform traditional dances as the sun sets over the mountains.
Siwandu, Selous Game Reserve
Lion, leopard and wild dog compete for prey, black and white colobus monkeys rustle in the trees, and hippo cool off in the waters of the Rufiji River. This is southern Tanzania's Selous Game Reserve. Around four times the size of the Serengeti but seeing far fewer visitors, you can enjoy safaris here undisturbed.
Set on the shores of Lake Nzerakera in the north of the reserve, Siwandu's 13 canvas-and-thatch tents are positioned around two communal bomas. Each boma houses a dining room, lounge and bar area complete with decking, where you can sit with a drink in the evening and watch the landscape blush under the setting sun. Outside the bomas is a swimming pool surrounded by loungers. Dinners can be enjoyed in the dining room, or the camp can set up private dining out in the bush. Traditional Swahili dishes are served alongside international fare, and you have the option to upgrade from a continental buffet breakfast to a cooked breakfast. Elevated on wooden decks, the generously sized octagonal tents offer panoramic views over the lake — a popular drinking hole for game such as elephant and giraffe, which you can watch from your veranda. They come furnished with large beds, wardrobes and fans, as well as en suite bathrooms with solar-heated open-air showers. Traditional game drives are offered from Siwandu, but there's a particular emphasis here on alternative safari experiences. Guides can take those aged 16 or over out on leisurely bush walks, where you can track animals on foot and learn about flora and fauna you might otherwise overlook. There's also the option to take boat trips along the river or out on the lake, where you might come face to face with a hippo, see basking crocodiles, spot malachite kingfishers sitting on low-hanging branches or watch weavers making nests in the banks.
Ngorongoro Crater Lodge, Ngorongoro Conservation Area
Bordering the south of the Serengeti, the Ngorongoro Conservation Area is home to the world's largest unflooded caldera. Created when a huge volcano erupted and collapsed in on itself around 300 million years ago, the Ngorongoro Crater has a total area of 260 sq km (100 sq miles) and is 600 m (2,000 ft) deep. Its steep, rainforest-covered walls create a bowl-like sanctuary for more than 25,000 large animals, including lion, black rhino, Cape buffalo, hyena and hippo.
Set on the crater's rim looking out over this vast natural wonder, the opulent Ngorongoro Crater Lodge is divided into three separate camps — North, South and Tree Camp — with a total of 30 rooms housed in individual thatched huts. Each camp has its own communal lodge with living and dining areas, adorned with chandeliers handmade by the Maasai, antique furniture and bronze statues. After your three-course meal, join other guests around the open fire pit to take in the star-studded sky. The spacious rooms each feature a living room with open log fire, a king-sized bed, and an en suite bathroom. Silks, velvets and dark woods create a sense of luxury, yet step outside onto your private veranda and, using a good pair of binoculars, you can pick out individual animals living in the crater below. For a closer look, join a game drive into the crater. Staying here means you can arrive before anyone else, with the journey taking just 20 minutes. Look out for predators on the prowl before the day heats up, or watch lion snoozing in the afternoon sun. You can also explore the crater on foot with an experienced guide, who'll show you how to track rhino and point out the many bird species. Visit during the green season (December to April) and you're likely to see thousands of flamingos congregating around Lake Magadi, forming a vivid sea of pink.
Craig Burkinshaw is Founder of Audley Travel.
If you would like to be a guest blogger on A Luxury Travel Blog in order to raise your profile, please contact us.
Did you enjoy this article?
Receive similar content direct to your inbox.