Ever thought of restoring your health in cake paradise Vienna? While Austria's capital is famous for adding a few extra calories few travellers are aware that Wien and surroundings host top health oases. Here are the best 5 spas and wellness centers to balance out the sweet life.
Sacher Boutique Spa
Vienna's legendary hotel and home of the Sacher Torte knows how to turn temptation around. Its signature chocolate treatments work completely calory-free. Instead of Sacher's sponge cakes guests themselves get wrapped in liquid chocolate rich antioxidants. Cocoa beans and chocolate masks peel and massage until the skin radiates. In addition to beauty treatments Sacher's day spa offers a top equipped fitness center, a salt steam room (great for fighting colds) and a Finnish sauna. Another advantage is you don't necessarily need to stay at the hotel to access the day spa.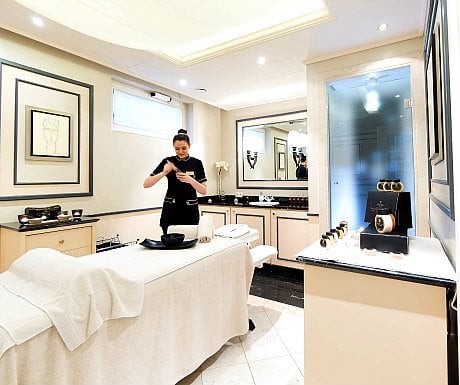 Aisawan Boutique Spa
This Asian day spa in the center of Vienna has quickly conquered hearts and minds of local residents and travellers alike. Located in a vast old vaulted basement the subtle lighting and warm atmosphere move guests instantly into calmer spheres. Among the most popular treatments are the Balinese massage and Aisawan's signature body massage. Staff is widely praised as always having a smile on their faces and being exceptionally professional. On top of various cosmetics treatments and packages the oriental and Asian Hamam experiences are another highlight, whether you get 24-gold-carat plates put on, or chocolate and Rassoul soil massaged in.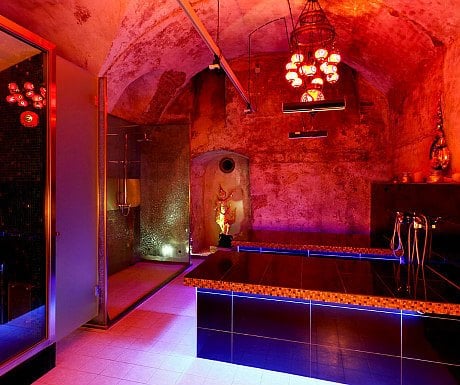 Therme Wien
Vienna's largest and most popular spa and wellness center uses a layout that perfectly integrates pools, cascades, and fountains with various themed areas, inside and outside. Guests can almost float between a spa, sauna, beauty, tranquillity and adventure zone. The spa's large 'Four Seasons Garden' borders with heritage-listed Kurpark Oberlaa. There is a mixed sauna as well as separate saunas for ladies and gentlemen. A word of caution for international travellers: In Austrian saunas people generally 'dress' naked, just using their towels to sit on.
The spa's origins date back more than 85 years ago when Vienna discovered sulfuric thermal springs in the south of the city. The sodium-calcium-sulfate-chloride sulfuric water helps with rheumatic and joint problems which are treated in the spa's own public therapy unit (Kurmittelhaus).
Loisium
A few kilometers north of UNESCO World Heritage site of Wachau Valley Loisium Wine and Spa stretches out between rolling vineyards. Wine lovers and beauty aficionados get their money's worth at Loisium's Wine World, its design hotel and in house spa. Wine treatments include massages and poultices using grapeseed oil, and peelings with ground grapeseeds, in addition to other botanical skincare treatments. Among the most popular massages are the stone fusion massage and foot reflexology. With each treatment guests receive a glass of Loisium's home made wine.
Römertherme
The Southern Vienna Woods are well known for their many sulfuric thermal springs. Probably the best thermal spa experience and health resort in the area is the Roman Thermae (Römertherme) in the Biedermeier town of Baden bei Wien. Dating back from the Romans 2,000 years ago the sulfuric mineral springs now nourish two warm outdoor pools. The thermal springs come from a depth of 1,000 meters and have a natural temperature of 36 degrees Celsius. Apart from sulfur baths and sulfur mud packs Römertherme is a good place to swim, relax in the aroma steam baths and saunas, and get a thorough massage.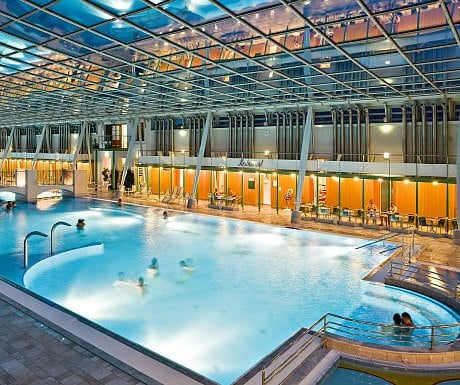 Barbara Grll-Cao is the Founder of Vienna Unwrapped.
If you would like to be a guest blogger on A Luxury Travel Blog in order to raise your profile, please contact us.