Top 5 high altitude resorts in the Alps for early skiing
I feel the same as you, it's been a disappointing summer, and now your thoughts are turned to the white stuff, the mountains, the buzz, that magical feeling of just standing on a mountain and looking down, surrounded by the white stuff, snow… lots of lovely snow. You're torn, you want to enjoy the view but the slope and gravity beckon and before you know it, you're flying, it's exhilarating. Should any of that blatant hard sell convince any of you, here are five resorts that will guarantee early know and thrilling skiing.
Verbier, Switzerland
It's estimated that Verbier has over of 3,000 permanent residents, when the ski  season is in full swing the numbers swell to well over 35,000, perhaps testament to the enduring appeal of this world class resort.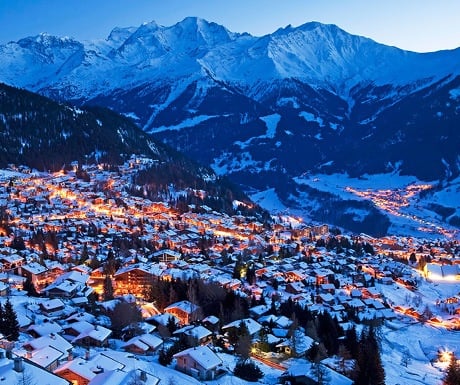 Verbier is one of the most popular Swiss Ski resorts in the Swiss Alps and is recognised as one of the premiere "off-piste" resorts in the world. Some areas are covered with snow all year, making early and late season skiing an attractive proposition. Many top skiers have settled in the Verbier area in order to take advantage of the steep slopes, varied conditions and resort culture. There is also a strong presence of Scandinavian and British visitors and residents in resort. The nearest international airport is Geneva, with a transfer time of approx 2 hours. There is a smaller airport in Sion, about and 45 mins away, where many private jets disgorge the wealthy and famous for the short transfer up to Verbier, often by helicopter. Verbier is known for its off-piste and itinerary runs. Notable off-piste runs have pretty exotic sounding names, except Creblets, which sounds quite northern. Here, test a few of these out in a faux French accent; Bec des Etagnes, Croix de Coeur, Bacombe, Col des Mines, Creblets, Couloir de la Banane, Col de la Mouche, Couloir des Dix, Col de la Banane, and the less accessible Bec Des Rosses, annual host for the finals of the Freeride World Tour. How's your French? On rare occasions, it is also possible to ski 700 vertical metres from Verbier Village (1500 m) to Le Châble (800 m) in the valley below, though such a run now entails going through terrain with felled trees and other obstacles. Yeah, just what you need! The off-piste run from Col des Gentiannes (2,950 m) down to Le Chable is a better option, but it is important to check that snow conditions are good and that there is no avalanche risk. Also, some of the trails from Col des Gentiannes to Le Châble lead to dead-ends and dangerous rock faces, so it is essential to be familiar with the terrain before attempting to ski down to Le Châble from Gentiannes. Unless you're a complete idiot, then go for it! knock yourself out.
Zermatt, Switzerland
Zermatt is arguably the No1 Swiss
ski resort
and for good reason, because I just said so. It's possible to ski all year round on the glacier high above the village. Zermatt is a pretty resort and contains some of the finest luxury ski chalets in the whole of the Alps. Along with Verbier, Zermatt is a resort that attracts wealth and celebrity and can be a little pricey if you're on a budget. Having said that it's possible to self cater for a fraction of the cost of eating out. Or, alternatively, a money saving tip just in, Fast for the week.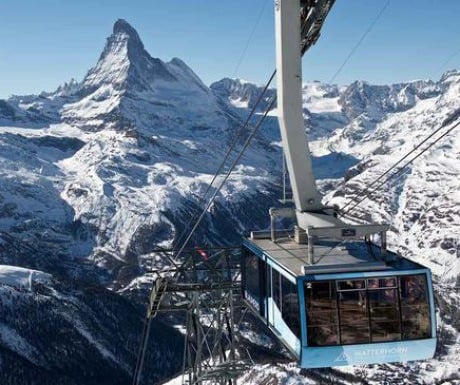 Zermatt is car free and quite a compact resort, in general anything is at most a thirty-minute walk away but if you've taken the fasting option, best to hop on one of the electric taxi's that make there way around resort. The village was "discovered" by mid-nineteenth-century British mountaineers, most notably Edward Whyper, whose conquest of the Matterhorn made the village famous. The Matterhorn was one of the last alpine mountains to be conquered (in 1865), and the first expedition that reached the top ended dramatically and tragically with only 3 of the 7 climbers surviving the descent. Most visitors reach Zermatt by cog railway train from the nearby town of Tasch. It's a beautiful and pretty dramatic climb up the valley and at times it beggars belief that they even built the thing in the first place. Trains also depart for Zermatt from farther down the valley at Visp and Brig, which are on the main Swiss rail network. The town also has a Heliport and a local helicopter operator, Air Zermatt, which also provides alpine rescue services. Zermatt is renown for its skiing. The high altitude results in consistent skiing continuously throughout the summer. Skiing in Zermatt is split up into four areas: Sunnegga, Gornergrat, Klein Matterhorn and Schwarzsee. There is also a connection to Cervinia and Valtounrnche in Italy through the Plateau Rosa glacier, which is a fabulous day out, should you be inclined, which you literally will be, both there and back.
Tignes, France
Tignes is a French ski resort situated in the Tarentaise Valley, in the Rhone-Alpes region is south-eastern France. There are three airports that serve Tignes, Lyon, Geneva and Chambery. Together with nearby Val d'Isere, Tignes forms the vast "Espace Killy" ski area. Tignes was the freestyle skiing venue for the 1992 Winter Olympics and co-host city for the 1992 Winter Paralympics.
Within the Tarentaise valley is the biggest concentration of world-class ski resorts in the world. The resorts include Les Arcs, La Plagne, Courchevel, Meribel and Val Thorens. There were once plans to interlink all the resorts to create the largest ski area in the world. However that vision was ended with the creation of the Vanoise National Park and that put the kybosh on it. The original village of Tignes was in the Isère valley below Val d I'sere. After the second world war it was decided to build a hydro-electric dam to supply France with electricity. Whilst this was a great achievement for French engineering and was for the greater good of France, it meant that the old village of Tignes was drowned. Which didn't best please the people that were living there at the time. A few of them couldn't swim and a lot of them were complaining that they couldn't dry clothes, so they all finished up moving higher up. They were dark and dangerous days, the protest were loud and murderous. Once the dam was completed in 1952, the village was submerged. Once every 10 years the lake behind the dam is drained for maintenance work and the remains of the old village becomes visible. One stubborn soul has resisted after all this time and still refuses to move. |He takes the opportunity to give his place a fresh coat of paint. The dam wall was decorated with a fresco of Hercules in 1989 by Jean-Marie Pierret with the help of eight mountain climbers. The fresco is considered one of the largest in the world. After the loss of the old village it was decided to develop a ski resort at the higher lake (Le Lac). This was surrounded by a bowl that is ideal for skiing and is headed by the Grand Motte glacier. The resort was developed largely during the 1960s and the building style certainly betrays that era. In recent years the town has worked hard to improve the aesthetics with some success.
Val d'Isere, France
Val d'Isere is part of the huge Espace Killy ski domain, named after the triple olympic champion Jean-Claude Killy who grew up in Val d'Isère. Val d'Isère regularly hosts World Cup alpine events in early December. With good transport links in and out of Lyon, Geneva and Chambery, Val d'Isere is easily accessible and a good bet for early season snow.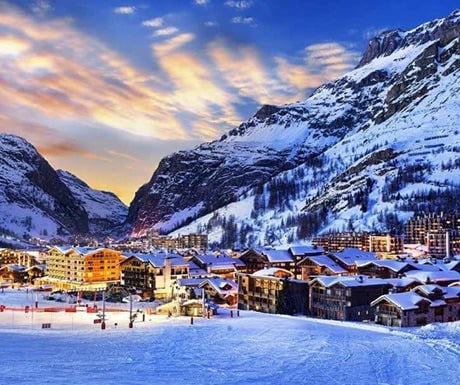 The Pissaillas Glacier offers summer skiing, as well as the usual winter fare. Snow cannon are placed on certain slopes to accommodate heavy skiing. There are both groomed slopes and "off-piste" skiing. The slopes' difficulty levels are particularly high. However, as in Tignes there are wide, easily navigable pistes for those of the beginner-intermediate level as well. Its extensive off-piste facilities include guides for safety reasons. As in all the other resorts there's a thriving apres ski culture which is perhaps why Val d'Isère was made well known as the vacation spot for the two characters Edina and Patsy in the British sitcom, Absolutely Fabulous. Patsy certainly knows how to party, although she does tend to overdo it a little, she's not alone.
St Anton, Austria
St. Anton, is a pretty village and ski resort in the Austrian state of Tyrol. It lies in the Tyrolean Alps. It is also a popular summer resort among hikers, trekkers and mountaineers. St. Anton is frequently listed as one of the world's top skiing resorts both in terms of the quality and diversity of skiing available and the thriving après-ski entertainment scene.
Skiing has a long history in St. Anton, ski instructors from the area emigrated to the
USA
in the 1930s, helping to popularise and globalize the sport. St. Anton is part of the Arlberg area of ski resorts – a region that includes 94 cable cars and ski lifts, 340 km (210 miles) of groomed pistes and 200 km (120 miles) of deep-snow runs, all of which are covered under one lift pass. The skiing at St Anton would test the most seasoned skiier, it's not to be underestimated. Expert terrain includes less-frequently groomed ski routes such as Schindlerkar and Mattun, and the backside of Valluga (2,811 mts or 9,222 feet) down to Zurs which is for experts, only if accompanied by a guide. There are also a large number of off-piste routes in the area that experts can explore with the help of a guide. Serious stuff! St Anton looks so alluring at Christmas, it's picture book stuff but you won't be seeing any of that, not if you're wanting to hit the slopes asap, well before Santa fills any sacks. All the resorts I've mentioned guarantee early snow, so what you waiting for, get your self booked in, we know you can't wait.
Rebecca Taylor is Director at SkiBoutique.
If you would like to be a guest blogger on A Luxury Travel Blog in order to raise your profile, please contact us.
Did you enjoy this article?
Receive similar content direct to your inbox.