On January 16, 1920 the 22nd Amendment was put into effect banning the sale and consumption of alcohol in the United States. As Prohibition agents patrolled the streets of New York City, illegal practices and criminal activity ran rampant. During the 13 years of Prohibition, more than 15,000 speakeasy bars were opened. Although many of those bars have since closed, some New York City proprietors have enjoyed keeping history alive and reliving the underground culture of the 1920s. Whether you are a regular to the NYC bar scene or just visiting, here are 5 of the best speakeasies in New York City.
The Back Room promotes itself as one of the only two speakeasies in New York City open during Prohibition that remains open today. To be expected, the bar itself is tucked away in a secluded spot with access through a hidden entrance located down a back alley (look for a sign reading Lower East Side Toy Company).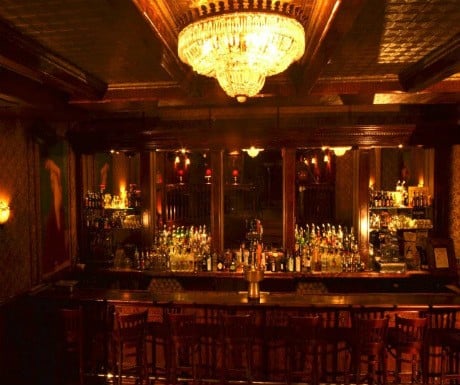 Once you enter the bar, the space opens up to a large two-floor venue with plush, velvet couches, elegant chandeliers, open fireplaces, paisley wallpaper, tin ceiling, and paintings from the 1920's and 30's adorning the bar. Cocktails are served in teacups and beer bottles are wrapped in paper bags. The atmosphere is that of an old English style gentleman's club complete with a large oak bar and dim lighting with a golden hue. One of the highlights of the room is the ornate renaissance style paintings on the wall. Besides the music, which features live jazz on Monday evenings and a mix of 90s and pop music on the weekends, this bar give you an experience of drinking during a time when it was illegal. While it may be difficult to find, it does garner a sizable crowd on the weekend – get there early.
102 Norfolk St. New York, NY
The degree of difficulty entering a speakeasy in NYC is all part of the experience and Please Don't Tell does not disappoint. This particular speakeasy is located in a gourmet hot dog place which has you entering a phone booth to "dial" a passcode before you can actually enter the bar. Ask anyone in NYC about Please Don't Tell (PDT) and they'll tell you it's one of the most exclusive speakeasies in NYC; if you do get in, you'll boast about your experience to just about everyone you know.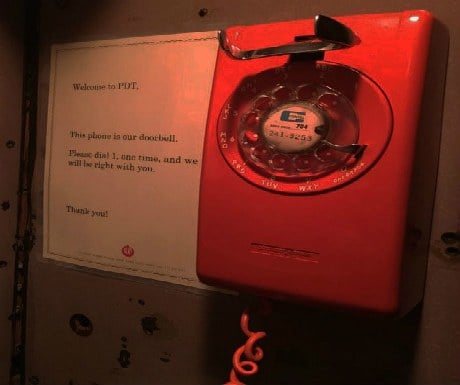 The place itself is small, narrow, dark, and intimate with mounted moose and deer heads on the walls. The cocktails are delightful and well crafted, which may explain why this East Village drinking den took home the 2012 James Beard award for best bar program. If you come hungry, you can order food from the menu which comes directly from Crif Dogs hot dogs next door. The bartenders receive the food from a small slot adjacent to the eatery. This is well worth the experience for anyone that loves visiting unique bars.
113 St. Mark's Place New York, NY
This speakeasy, located in the Chelsea section of NYC, was named for an 1896 law meant to ban drinking outside of New York hotels. When you arrive, you have to pull a doorbell and provide a password in order to enter.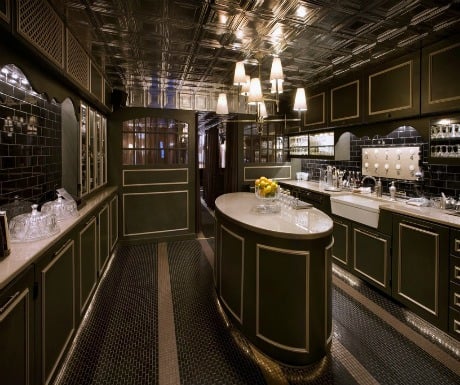 Once inside, you will encounter the 1920s in all its glory; Chesterfield furniture, turn-of-the-century wall hangings, a tin ceiling, and wallpapered walls. Like most speakeasy bars, it's dimly lit, fairly small establishment that immediately transports you to a time where gangsters roamed freely and jazz music could be heard on every street corner. Be sure to arrive early to land one of the private tables surrounded by velvet couches and black curtains.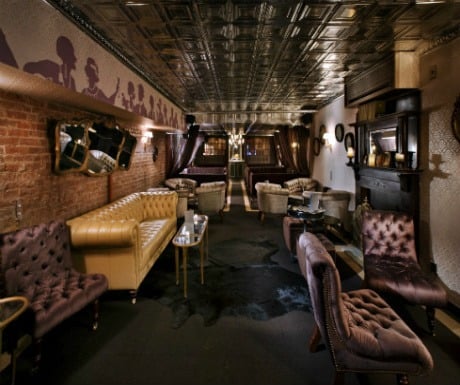 Each table comes equipped with a wall buzzer to call your waitress when you are ready to order. Be certain to try pre-Prohibition inspired drinks, such as, Gershwins (gin, lemon, ginger, rosewater) and McKittrick Old-Fashioneds (bourbon, sherry, mole bitters). While you don't need a reservation, it is recommended because of its popularity.
48 W. 17th Street New York, NY
Hidden behind large, ominous, distinctive wooden doors shaped like a castle from the 15th century, this small speakeasy features beautiful chandeliers, booth seating, and a rounded edge bar featuring cordials that are not well known.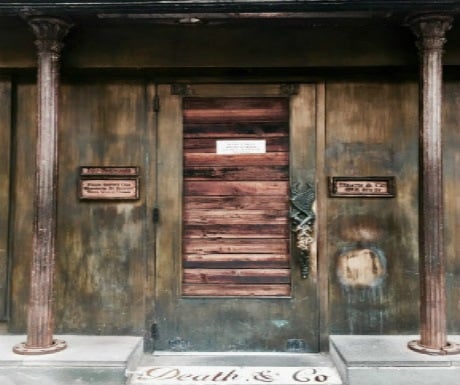 The low-lit and intimate interior exudes a cool, jazzy, yet classy vibe. Candles burn brightly on every table and kerosene lanterns align the walls giving it a classy, romantic, yet secretive atmosphere. There is a no standing policy rule here and seating for less than 30, so you are almost always guaranteed a wait time by the bouncer when you arrive.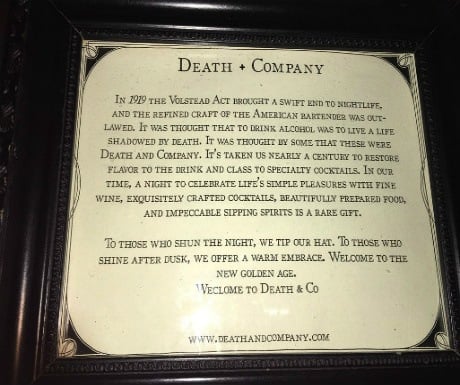 If you decide to wait and make it inside, be sure to order their signature Zombie Punch, a powerful mix of three different types of rum shaken together with fresh lime juice, grapefruit and cinnamon, grenadine, Velvet Falernum, Angostura bitters and a few drops of absinthe. Legend has it, the classic drink, which was invented in 1934, was so strong, the legendary bartender, Don the Beachcomber, had to limit his customers to only two per visit.
433 E 6th Street New York, NY
Rounding off the list is one of New York's most popular speakeasies and is a must visit when in NYC. Employees Only is one of the easiest speakeasy bars to find on this list as it is located on Hudson Street in the West Village. However, it is disguised by a large glowing red 'psychic' sign in the window and a woman dressed as such sitting by the window trying to lure onlookers by inside to have their fortunes told. Upon entering, guests are lead into a small hallway, past the fortune teller's den and through the massive ruby red curtains made to mask the excitement going on inside.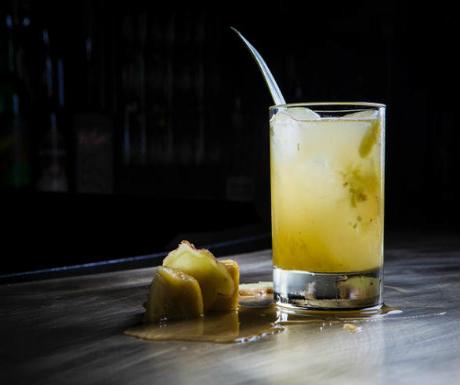 The inside of Employees Only is dimly lit, with a tin ceiling and beautiful track lighting along the walls along with a few older lamps that that drop down from the ceiling and emit low levels of light. The walls are aligned with pictures from the 1920's and there is a certain vibe about the bar that seems to transform a patron to a different time period. The inside is cozy and romantic with a beautiful fireplace downstairs by the bar, lots of candles, and a large wall behind the bar housing some of the best whiskeys in the world.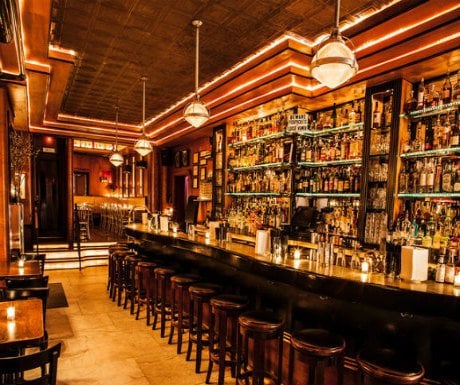 Walking past the crowded bar area up a few stairs is the restaurant area which hold about 10 small tables for dinner. Employees Only has an excellent full menu including appetizers, salads and entrees. Employees Only has been honored with many awards including #4 on Drink International's "World's 50 Best Bars" list in 2015. The bar is open every night of the week from 6pm until 4am, as the fortune teller is there all night, as well. Reservations are recommended as there is often a 20-30-minute wait just to get in the door.
510 Hudson St. New York, NY