Top 5 sushi restaurants in Barcelona
Did somebody say sushi?! A favourite of many, sushi always makes for great eating whether it's for lunch, dinner or simply just a snack.
Barcelona
is buzzing with international eateries including a handful of great sushi restaurants, but these can sometimes be difficult to find. So, if you fancy a break from Spanish and Catalan cuisine, take a look at our top picks for sushi restaurants in Barcelona!
Ikibana
With three restaurants in Barcelona, Ikibana is most definitely making its mark on the ever-growing sushi scene in the Catalan capital. With dishes based upon an exotic fusion of both Japanese and Brazilian cuisine, dining at Ikibana truly offers a unique taste sensation. Expect to find dishes such as prawn tempura maki with avocado and mayonnaise, noodles with vegetables and different kids of meat with a secret Japanese sauce.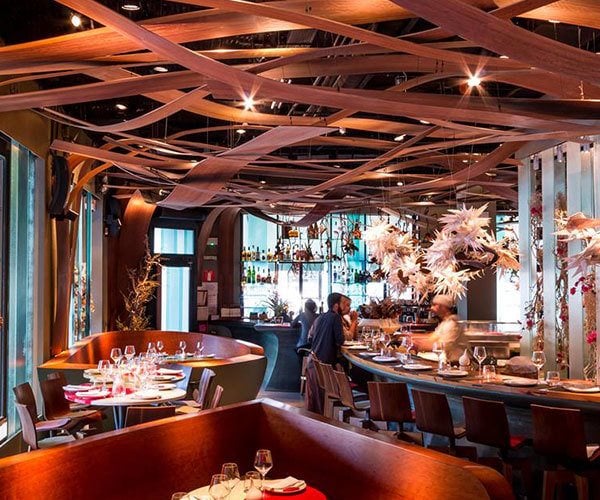 What's more, the restaurant also features a sake bar where you can taste the potent alcoholic drink made from rice or if you prefer something closer to home, the extensive wine and cocktail list will be sure to accommodate your desires. Ikibana's cool and quirky interior features incredible sculpted woodwork that decorates the entire ceiling, along with curved wooden booths to accommodate for larger dining groups. Top-notch ingredients, reasonable prices and a warm, welcoming ambience combine to create the perfect dining experience!
Avinguda del Paraŀlel, 148, 08015 Barcelona
Carrer del Dr. Fleming, 11, 08017 Barcelona
Passeig de Picasso, 32, 08003 Barcelona
Koy Shunka
Located in the heart of Barcelona just off Via Laietana, Koy Shunka is sure to grab the attention of any foodie, if not for its Michelin star, but also for its name, which translates as 'intense seasonal flavour'. Koy Shunka's menu is extensive, so if you want to try a bit of everything we recommend the tasting menu, which consists of eleven dishes and desserts.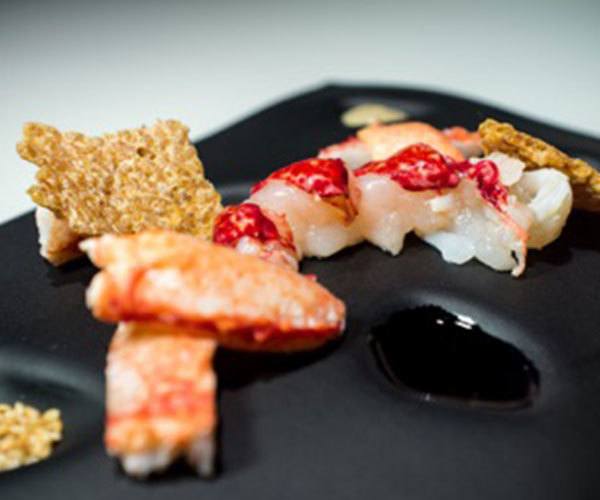 Japanese noodles 'nyumen', squid socarrat, lobster ikegime and shrimp tartare are just some of the delicacies featured on this menu (and plenty more sushi, of course!). The restaurant's interior is simple and classy in its design, with a large focus on the huge central kitchen, surrounded by a wide sushi bar made from cedar wood. For those wanting to enjoy the culinary show on the frontline as well as recommendations from the chef, a seat at the bar is the best spot for this! Overall, not only the taste of the food, but also the presentation of the dishes at Koy Shunka will be sure to impress the most critical of diners as chefs pull out all the stops. This establishment skews closer towards the fine dining scene in Barcelona meaning it's necessary to book in advance to avoid disappointment.
Carrer d'en Copons, 7, 08002 Barcelona
Sushifresh
With the option of either dining in or home delivery, Sushifresh is undoubtedly up there with our favourites due to its versatility! With restaurants in both the trendy neighbourhood of Gràcia, as well as in the Les Corts district, this makes the perfect spot for a casual and affordable meal with friends, or if you prefer, a chilled evening at home on the couch watching movies whilst tucking in to your choice of sushi.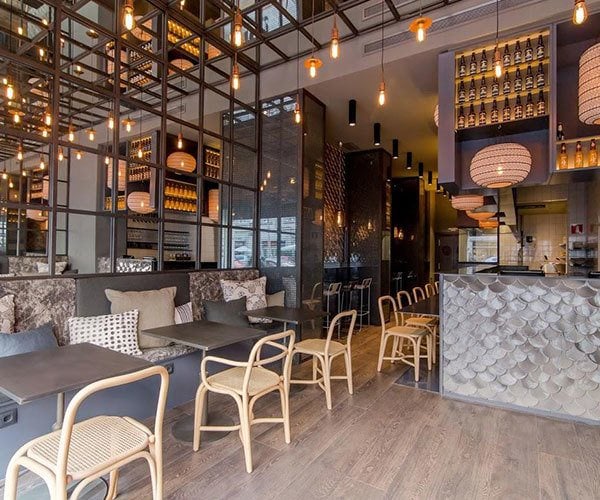 We recommend the Les Corts branch for eating in as it is larger and the interior is more catered to dining in, whereas it's a better idea to grab your takeaway from the Gràcia branch as there are fewer seats. Both restaurants boast an open kitchen so you can watch the chefs work their magic as they prepare your dishes. Expect a wide variety of sushi including favourites such as salmon and avocado maki and spicy tuna rolls, as well as more out of the ordinary choices such as chicken, bacon and crunchy onion tempura futomaki pieces. The extensive menu also offers wok dishes and desserts, as well as vegetarian and gluten-free dishes, meaning there really is something for everyone at Sushifresh – don't miss out!
Via Augusta, 65, 08006 Barcelona
Carrer d'Europa 24, 08028 Barcelona
Robata
Located in the central Eixample district, Robata is a Japanese sushi-grill restaurant that we just can't get enough of! Here you can enjoy top quality Japanese dishes whilst taking in the chic and cosy ambience of the restaurant created by low, warm lighting, comfy and contemporary furniture and leafy plants. Robata serves up a variety of dishes created using meat, fish and vegetables cooked following the traditional technique to conserve and respect the ingredients' authentic flavours, as well as an endless selection of delicious sushi, of course!
Expect plates such as tuna and caramelised foie gras nigiri with wasabi, dorada white fish sashimi, grilled chicken skewer with tare sauce and chicken wings marinated in anticucho sauce, to name just a few. Robata makes an excellent choice for a chic, cool and delicious meal in Barcelona. It also has a brother restaurant named Monster Sushi, situated in Gràcia, which offers a similar concept just without the grill menu (but surely that's the best bit!).
Carrer d'Enric Granados, 55, 08008 Barcelona
Kibuka Sushi Bar & Restaurant
Situated just a short walk from Plaça de la Vila de Gràcia, Kibuka is a relaxed restaurant that offers a fusion of Japanese and Mediterranean cuisine. The menu is very varied and the chefs are incredibly creative, managing to fuse a variety of unusual ingredients to create culinary excellence. Sushi dishes include salmon and avocado with Japanese tartar sauce and mint, tuna tartare with fresh basil, and kiwi and white fish with langoustine, lime and coriander.
However, Kibuka is not just limited to sushi, it also serves hot dishes such as tempura vegetables, lightly fried tempura sushi rolls, and a variety of noodle dishes. The restaurant has a fresh and simplistic design whilst also retaining a Catalan-style interior with an arched ceiling, wooden ceiling fans, beams, stained glass windows, and a long bar to enjoy a traditional Japanese sake. The laid-back style of the restaurant creates a welcoming ambience and the perfect environment to dig into some freshly made sushi. The best way to enjoy this cuisine is to order with sharing in mind, because it really is too difficult to choose just one dish in a place like this…what's more, this also helps to avoid food envy! Kibuka also offers a delivery service called fastKibuka, meaning you can enjoy their yummy dishes in the comfort of your own home – the perfect takeaway choice! Aditionally, Kibuka Sushi Bar & Restaurant has a second location just a few minutes' walk away called Kibuka Sushi Bar & Drinks, which, as the name suggests, is specifically for those wanting to enjoy sushi with a tipple or two.
Carrer de Goya, 9, 08012 Barcelona
Carrer de Verdi, 64, 08012 Barcelona
Sandra Roig is Marketing Director at AB Apartment Barcelona. AB Apartment Barcelona is an apartment rental agency offering over one thousand short and long term apartments across Barcelona.
If you would like to be a guest blogger onA Luxury Travel Blogin order to raise your profile, pleasecontact us.
Did you enjoy this article?
Receive similar content direct to your inbox.