10 Viennese Modernism gems for art fans
At the turn of the 19th century Vienna's art scene was packed with aesthets, geniuses, revolutionaries and psychos. Together they created the Viennese Modernism that still enthuses art fans around the world. Exactly 100 years after its key protagonists Gustav Klimt, Koloman Moser, Egon Schiele, and Otto Wagner died, what are the must sees of Vienna Modernism? Here are 10 key highlights.
Wiener Secession
Although it hardly looks like a revolutionary headquarter, it was here that Vienna Modernism developed and spread across the Austro-Hungarian Empire. Local architect Josef Maria Olbrich designed the white cubic building with its characteristic gold leafed dome. The motto of the Vienna Secession and its eponymous group of visual artists is a cry for freedom: 'To Every Time Its Art, To Art Its Freedom."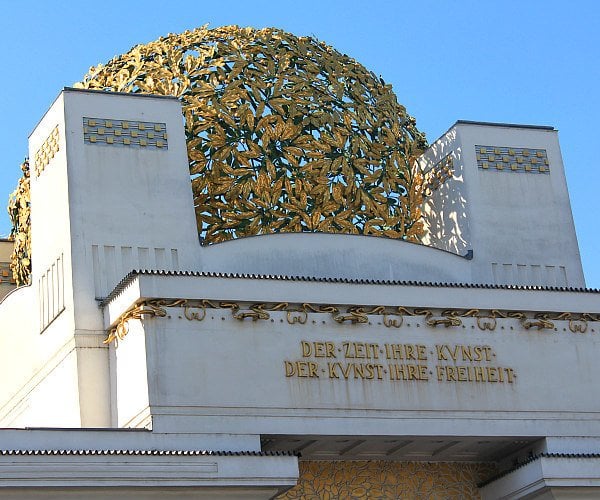 Inside the building, Gustav Klimt designed a monumental frieze covering three entire walls. Known as the Beethoven Frieze, Klimt not only paid tribute to Beethoven with this work, but his beasts, knights and ethereal females dramatically visualise our human search for happiness in the midst of terror and suffering.
Location: Friedrich Strasse 12, close to Karlsplatz and Naschmarkt; 1010 Vienna
Otto Wagner Houses
Whoever looks up from the fruit and vegetable stalls at historic Naschmarkt is rewarded by two Modernist gems: Art Nouveau and Modernist architect Otto Wagner showed the Viennese a new form of aestheticism. Instead of the usual baroque squiggles and Greek columns he constructed bleak façades, which he then richly decorated with vibrant flowers and gold ornaments.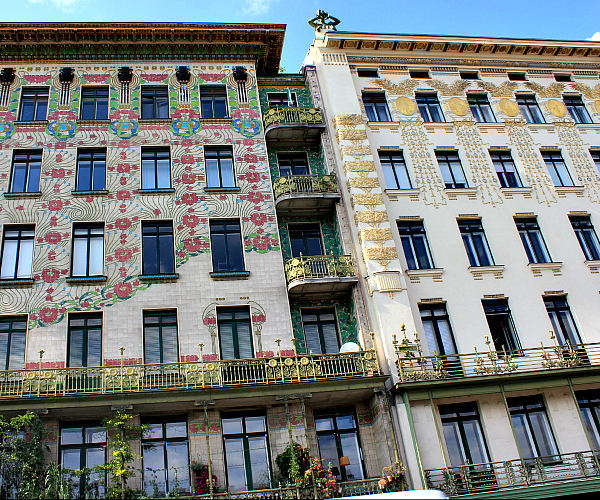 The most famous of the buildings is certainly the red poppy tiled 'Majolikahaus'.
Location: Linke Wienzeile 38 and 40 (Majolikahaus), 1060 Vienna
Otto Wagner Postsparkasse
Like a futuristic money box the Austrian Postal Savings Bank discretely hides between sumptuous town palaces at the back of a square along historic Ringstrasse boulevard. Probably Vienna's most famous Modernist building, the Postsparkasse embodies the Modernist claim of creating a holistic piece of art. Otto Wagner not only designed its structure and façade but meticulously created every radiator, door handle, chair and table.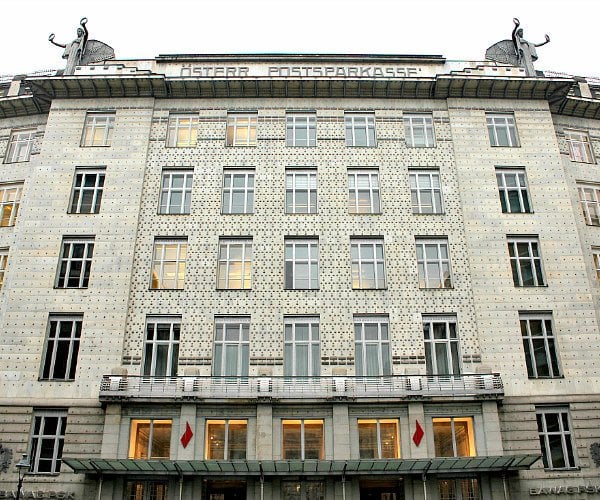 While the Austrian Savings Bank is highly recommended for a visit, Modernist fans need to hurry. Due to a change of ownership, the Great Cash Hall will only be open to the public until June 2018.
Location: Georg-Coch Platz 2, 1010 Vienna
Loos House
When stern modernist architect Adolf Loos opened the building right opposite the Imperial Palace in 1910, Emperor Francis Joseph was so outraged that he ordered for his curtains to remain shut to avoid seeing that 'monstrosity'. Unlike Otto Wagner Adolf Loos detested ornaments and rich decoration. However, he made ample use of luxury materials outside and inside: from Greek marble to polished dark wood and delicate glass roofs.
Today the Loos Haus is owned by a local bank. The ground floor hosts a permanent Loos exhibition and is open to the public.
Address: Michaelerplatz 3, 1010 Vienna
Otto Wagner Church
On a sunny day Europe's finest Art Nouveau church sends golden beams across the Vienna Woods in the city's western part. Housed on the compounds of the Otto Wagner Hospital the church is a shining contrast to the usually somber gothic and baroque churches. Originally built for patients, hospital staff and their families the church overlooks the dozen pavilions also designed by Wagner. The interior brims with light and exudes the simple elegance and functionality that Wagner's Modernist designs are so famous for.
The church is only open on Sundays. A guided visit through the hospital and church are highly recommended.
Location: Baumgartner Höhe 1, 1140 Vienna
Gustav Klimt's Fulfilment
Since Gustav Klimt painted countless masterpieces, his 'Fulfilment' serves as an example for his revolutionary art. Like in his signature painting The Kiss the embracing couple shows a tenderness rarely seen in paintings before. If Klimt's swirls seem familiar it is no coincidence: The painting belongs to a three part mosaic, including the well known Tree of Life and a black haired lady in a geometrical dress.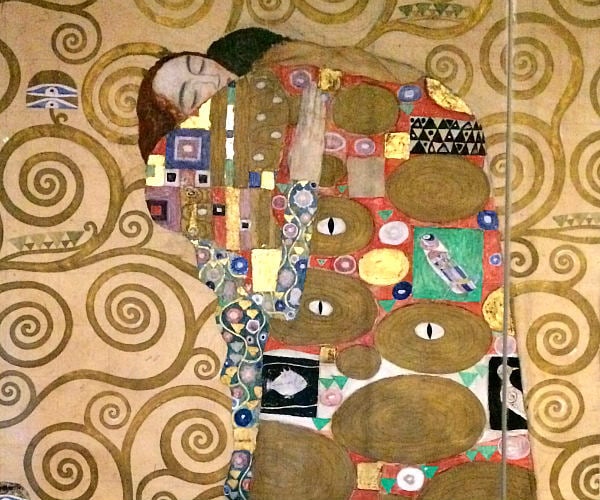 Location: Vienna 1900 exhibition at Museum fuer Angewandte Kunst (MAK), Stubenring 5, 1010 Vienna
Egon Schiele: Self Portrait
From psycho to crowd pleaser in 100 years: As dramatic as Egon Schiele's paintings and drawings are, as meteoric has been his rise to fame, following his rediscovery by the international art world. As one of the first Modernist Austrian painters, Schiele visualised the inner torments of his characters, showed vulnerable nudes and wistful landscapes.
Like Adolf Loos, Egon Schiele eventually became involved in a paedophilia scandal. He was imprisoned for three weeks for seducing a young girl below the age of consent, and for owning pornographic material. Location: Leopold Museum at Museumsquartier, Museumsplatz 1, 1070 Vienna
Wiener Werkstätte: Josef Hofmann's 'Seating Machine'
While the Wiener Secession united visual artists, the Wiener Werkstätte (Vienna Workshop) became the association of arts and crafts people creating in the spirit of Viennese Modernism. Founded by architect Josef Hoffmann and artist Koloman Moser, the Werkstätte helped to realise the Modernist claims to creating a work of total art.
Josef Hoffmann's armchair became one of the association's signature pieces. The geometrical 'seating machine' (Sitzmaschine) was revolutionary in its simplicity, and allowed for an adjustable back support. The armchairs was produced in several series.
Location: Hofmobiliendepot (Imperial Furniture Collection); Andreasgasse 7, 1070 Vienna
Wiener Werkstätte: Kolo Moser Furniture
Apart from co-founding the Vienna Workshop, Austrian artist Koloman Moser was a ground breaking graphic designer, ceramicist, silver, jewellery, fashion and not least furniture designer. This bench and chairs, mirror and display cabinet in lacquered acorn wood were created for the parlour furnishings of the Hellmann family. As with most other works of Wiener Werkstätte, elegance comes from simplicity and functionality.
Location: Leopold Museum at Museumsquartier, Museumsplatz 1, 1070 Vienna
Gustav Mahler Concert
Though harder to grasp for the average culture fan, Viennese Modernism left a distinctive mark on music. The most accessible modernist music is perhaps Gustav Mahler's. Like Klimt, the Austro-Hungarian composer started out representing the outside world in his works. Gradually, his music developed to express personal feelings: often complex and quite disharmonic. One of his most famous works is the 8th Symphony for grand orchestra, two soloists, two mixed choirs, boys choir and organ (1906).
Best place in Vienna to hear a Mahler concert: Wiener Konzerthaus, Lothringerstrasse 20, 1030 Vienna.
Barbara Grüll-Cação is the Founder of Vienna Unwrapped. Vienna Unwrapped is a destination site for Austria's capital that lets travellers either plan their own trips to Austria or connects them with Barbara's bespoke trip planning service.
If you would like to be a guest blogger on A Luxury Travel Blog in order to raise your profile, please contact us.
Did you enjoy this article?
Receive similar content direct to your inbox.