By
Jennika Argent
on Mar 11, 2018 in
Asia
,
Attractions
,
Food and Drink
,
Going Out
,
Health & Safety
,
India
,
Regions
,
Spas & Pampering
,
Speciality Travel
,
Travel Miscellany
India is renowned for its crammed, crazy cities, bursting with colour and culture, and for years I avoided going in case it might all be too much for me! That was until I discovered Varkala, a breath of fresh coastal air, in the Southern spice province of Kerala. Instead of taking the motorway from Trivandrum airport, my driver took me down a small road running parallel with the Arabian sea, lined with a billion palm trees.
Varkala sits perched along the edge of a red stone cliff, overlooking an ochre sandy beach. The sound of gently crashing waves is a constant accompaniment to the aroma of incense wafting from pretty much everywhere. The mis-matched decor of the pink, green and blue buildings provides a charming air of shabby-chic. This place doesn't take itself too seriously and the relaxed, laid-back vibe is apparent. Kerala, which is known as 'Gods Own Country', boasts 14 of the least polluted cities in India, and according to the latest Greenpeace Report, is India's saving grace.
Here are 8 ways to immerse yourself fully into the rhythm of this town:
1. Ayurveda
India is the home of Ayurveda, which translates as the 'knowledge of life'. This ancient system of healing centres on the connection between mind and body to regain balance, together with the use of plants and herbs. There was a time when Ayurveda was overshadowed by Western medicine, but it is now enjoying a healthy resurgence of interest. An experienced doctor of Ayurveda can establish your body to be one of 3 types (Kapha, Vatta or Pitta) by asking very specific questions about your temperament and habits, sometimes done whilst the pulse is read. He or she can then prescribe treatments and lifestyle suggestions such as meditation, massage, cleansing, and eating plans as well as herbal supplements to support your body type.
There are a wealth of Ayurvedic retreats in the area, some more established than others, with generations of the same family maintaining the tradition. Two of my favourites are AyurSoul and Thanal. My massage therapist at Thanal, Sunita, had magical hands and after performing a herbal head and face massage, I felt rejuvenated and nourished and slept soundly that night. Massages, which are recommended on a regular basis, can be very oily, but showers are available, although it is recommended to leave some of the fragrant oil on the skin to absorb.
2. Yoga
The spiritual practice of yoga has had its roots in India for at least 5,000 years and is one of the Vedic philosophies of Ayurveda. Unlike Ayurveda, its primary intent was not to heal the physical, but to focus on the inner self and the nature of consciousness, however modern yoga has been re-designed with the intention to rejuvenate the body. Yoga is a constantly evolving movement, which has many branches to the main tree, such as the slow Hatha, which is great for beginners, the heart-pumping Vinyasa flow, the challenging Ashtanga, the precise Iyengar and the hot, sweaty Bikram. Varkala offers the chance to try out a few of these branches, with various drop-in classes available morning and evening, when the temperature is cooler.
Practicing yoga surrounded by the beauty of nature serves to enhance this sacred ritual, promoting a connection with our environment and a sense of inner peace (the word yoga itself means to join or unite). I joined a mindful morning class of Hatha yoga with a wonderful teacher from Tamil Nadu named Kamraj, who gave careful guidance and support throughout the class. Morning sessions are sometimes followed by a sociable breakfast, providing a great opportunity for discussion and making new friends. Starting the day with yoga can really have a great influence on your whole day!
3. Papanasham beach
Varkala beach, also known as Papanasham (which means 'wash away sins') is a beach like no other. Here you will regularly see people sitting in meditation, breathing with the rhythm of the ocean. Yogis practice their handstands in the early morning light, while local families frolic among the waves, fully clothed, before the sun gets too hot.
At the south end of the beach, there is a small temple, where locals make prayer offerings (Puja) to departed relatives, with holy men sitting under colourful umbrellas. This involves filling two banana leaves, one for the father's family and one for the mother's family, with flower petals, seeds and rice, while repeating complex Sanskrit verses. The mother's leaf is left to rest on the beach, while the father's leaf is held atop the head, and thrown backwards into the sea, like a bouquet at a wedding. The orange petals then wash back up to decorate the shore line. Further south of the temple, surfers glide along smooth, clean waves which are perfect for beginners. Even though there are some hefty waves, swimming is possible, as the water behind the waves is much calmer. Getting past the waves, however, can be an effort without good timing!
4. Cooking
Another important aspect of Ayurveda is diet and eating the right quantity and types of foods to balance your body type. I took a short cookery course with Chef Anir at the Sanctum Spring Beach Resort. We first visited the roof garden to pick fresh, organic ingredients, including purple spinach, ocra, long beans and chilli peppers.
We then set about creating dishes from both North and South India, which incorporate all 6 tastes (sweet, sour, salty, bitter, pungent and astringent). The main spices used in Chef's cooking include cardamon, cinnamon, coriander, cumin, curry leaves, fennel, fenugreek, turmeric, mustard seeds and Kashmiri chilli powder. Spices which come in their whole or seeded versions are generally added at the start to a sizzling pan, and can be heard 'popping'. Powdered spices tend to be added half way through or towards the end, which gives the depth and complexity of flavour characteristic of Indian cuisine.
My favourite dish of the day, and one I have never tried before, is a sweet and tangy Pineapple Pachadi. It is usually made with yoghurt, but we substituted coconut cream instead to make the dish vegan. Chef starts every dish by lighting the fire, waving his hand over the flame and bringing it to his heart. Before Chef tries a dish, he stands in the sunlight and gives thanks for the meal. Gratitude and mindfulness play a part of Ayurvedic cooking.
5. Indian food
The restaurants along the cliff top boast incredible daily catches of sailfish, tuna, butterfish and king prawns, proudly set out in eye-catching displays. There are so many local dishes to choose from, but the winner every time for me, was the Kerala Fish Curry, accompanied by a freshly made naan, roti or dosa.
Make sure you try eating with your hands, by pinching the food with bread between the fingers. This way of eating reflects the sacred mudras (hand gestures) used in yoga for channeling prana (energy) through the body. Interestingly there are a lot of Tibetans living in Varkala and so Tibetan food, such as mono steamed dumplings, are also a speciality here. Fresh juices are found everywhere and food is always seasonal and safely washed in clean water. Tip: when travelling, its always good to prepare by taking probiotics before and during the trip, which help the stomach deal with any foreign bugs or types of food which may not agree with you. The best place to sit for dinner is higher up on one of the terraces, where the breeze is cool and fresh. This will also give you a better view of the coast and sunset.
6. Backwaters
Watch the world float by as you let the tranquil, calming waters carry you downstream though a winding web of palm-fringed rivers. Locals living by the waters edge can be seen going about their daily routines, kids climbing palm trees, women in beautiful saris protecting themselves from the heat of the sun with colourful umbrellas and the occasional half-submerged cow, lazily chewing the afternoon away. Jelly-fish waft just below the surface, while Eagles and Kites soar in the skies above.
Your vehicle of choice can range from a big houseboat 'kettuvallam' where you can eat dinner and sleep the night, or for shorter excursions, small wooden fishing boats with bamboo punts are able to access the narrower veins of river. My choice was to SUP (stand up paddle board). It requires a half-decent sense of balance, and a little bit of elbow grease, as I paddled under my own steam for an hour to reach Golden Island (also known as Ponnumthuruthu Island). There is a small temple hidden behind the shady foliage, which can sometimes be entered, although non-Hindus, as a rule, can generally not enter temples and may only walk around the perimeter. On the return journey, the sun started to set and the water became a mass of sparkling serenity.
7. Vibrant culture
Festivals are deeply atmospheric occasions, smoky incense creating clouds of mystery, street vendors' sizzling hot-plates wafting spicy invitations to sample their snacks. I was lucky enough to catch Lord Shiva's birthday (Shivratri) which is celebrated on 13th February. The main event takes place further north in Tamil Nadu, with thousands of devotees making an all-night vigil outside a gargantuan black statue of Lord Shiva.
Entertainment carries on all night, to keep devotees from falling asleep! For a smaller local taste of the action, the 2,000 year old Janardanaswamy temple hosts a Puja (prayer offering to the deceased), together with dancers, musicians, and a decorated Elephant which, although revered as a sacred animal, has increasingly become the subject of animal welfare debates in recent years. If you don't catch a festival, there are weekly Kathakali dance performances, a classical, but quirky, Indian dance story. Men play both the male and female roles, with elaborate makeup and costumes which take hours of preparation. The actors must practice the facial expressions and mudras (hand gestures) for years to perfect them. The performance was mesmerising and very memorable!
8. Shopping
The shops around Varkala offer a bounty of unique items to take home, including Ayurvedic oils and creams, spice mixes, hand-made incense, intricate paintings and the opportunity to have your own unique item of clothing made by one of the tailors along the cliff. There's a huge choice of materials, but you can also bring your own. The tailors can re-create one of your favourite designs, or you can choose a classic Indian design.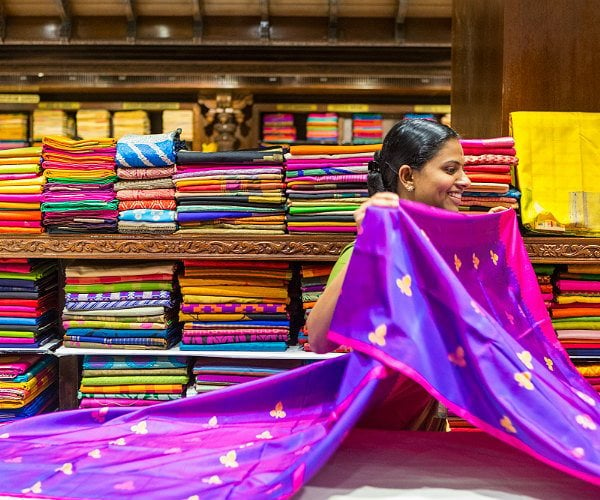 For a bigger shopping extravaganza, Trivandrum has a wonderful department store called Pothys, which sells food, materials, home-wares and extravagant silk saris. It is the Indian equivalent of Debenhams. For a more trendy scene, visit FabIndia, which is a smaller boutique. I tried on a stunning gold sari, which instantly made me look more feminine, and goddess-like. A sari is actually just one long piece of material, which is wrapped and folded in a particular way to enhance the curvature of the body. The folds also bring out beauty of the material.
When to go?
Etihad flies into Trivandrum airport via Adu Dhabi with a very short flight change. December 15th through to January 15th is the peak time due to the cooler temperatures, therefore it can be difficult to find accommodation during this period, but the month before and afterwards are less crowded. Avoid visiting in June and July when its Monsoon season, unless you love the rain! However, one upside of visiting in the monsoon is that the sunsets are incredible! The rains clear the air of pollution and so the colours are more saturated and vibrant. Its good to note that for half the year the tide comes right up to the cliff, engulfing the beach.