When planning your trip to Greece, treat yourself and spend a few days or more in Athens. For many, it is just a transit city to one of the islands, but for us it is definitely a place to be visited and seen.
Athens has a great history and culture, being the city where Democracy was established and has kept the interest of the world through the years, either with positive or negative news. It has though never lost its liveliness and uniqueness and beside some difficult times that now belong in the past, it is still a city that rewards each visitor. An amazing mix of historic and modern buildings, plenty of museums and parks, shopping districts for every taste, restaurants and bars that are open until late preparing the town for an amazing nightlife. With the city being expanded from mountains to the sea, it is certain that a few days are not enough. But isn't this one of the reasons to travel? Finding places to admire and wanting to visit again.
Acropolis & Acropolis Museum
The Acropolis is one of the most famous & influential landmarks in history, well worth the climb. Make sure you go early morning or late afternoon to avoid the heat and if you want to get the most of your visit, we suggest that you book a private tour with a licensed guide. This would truly make your visit more interesting and especially for kids, there are some amazing guides organising the tour in a way that the whole family can enjoy.
The Acropolis Museum is a true gem and definitely not to be missed. It opened its doors in June 2009 and since then it has been admired and received many awards for its Architecture and content, being considered one of the top modern museums in Europe. Here, you may enjoy a lovely a break at its beautiful terrace to enjoy a snack or drink with the amazing views of the Parhenon, whereas if you are lucky you may also enjoy a Jazz concert or dance performance.
The Odeon of Herodes Atticus
An emblem of the city and the place where important concerts and performances take place during summer, as part of the Athens Festival. A grandiose stone theater located on the south slope of Acropolis that can host up to 4.680 visitors.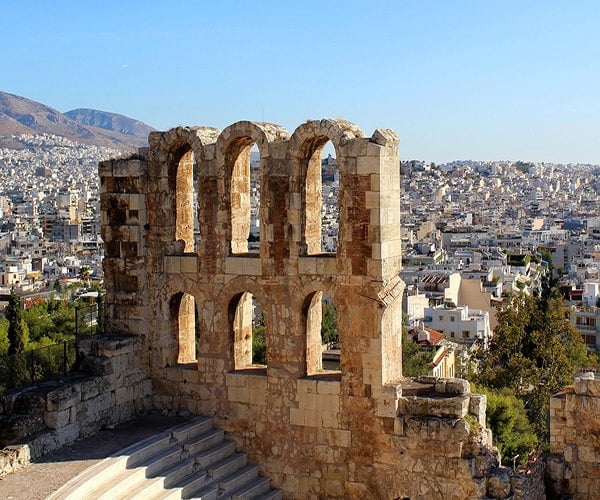 Stavros Niarchos Foundation Culture Center
The latest addition in the Athenian culture, located 4,5 km south of the Athens city centre, at the beginning of Faliro Bay. A large and brand new project that was designed by Renzo Piano and built by the Stavros Niarchos Foundation. The development consists of the wonderful Stavros Niarchos Park and an architecturally unique building that is now home to the National Library of Athens, as well as the Greek National Opera. The SNFCC has already become a modern landmark and it hosts great happenings, concerts and events making it an ideal place for everyone to visit.
Poseidon Temple
The Temple of Poseidon in Sounio is just an hour drive from Athens, at the most southern tip of the peninsula of Attica. It is a great tour to combine with a swim at the nearby beaches, a mouthwatering seafood meal by the sea with amazing views of the sunset and the Aegean.
A walk in the beautiful city centre
Walking in Athens will fulfil all your senses. Start your day by watching the change of the guards at the Parliament and then have a stroll in the wonderful National Garden. A small paradise, an oasis in the city centre where you may explore and marvel some ancient ruins and tambourines, a lot of lovely trees and flowers, ponds and a small zoo. After you unwind at the botanical museum and the cafe, shopping sounds like fun. Starting from Ermou street and moving south towards Monastiraki square. Here you can pass by the flee market and get your handmade Grecian sandals. Then, continue your walk to Plaka, grab an iced coffee (typical Greek custom) or an ice cream and explore the pedestrian streets of Plaka, with a lot of archaeological sites and churches to admire along the way. The best way to end your walking tour in the city is to find a place for a nice meal, perhaps at one of the rooftop bar/restaurants where you can enjoy the amazing views.
Gastronomy
Athens offers a great variety in terms of cuisine and restaurant options. You may chose one of the traditional tavernas which typically serve "mezes", I,e,: a selection of small dishes to be shared with your loved ones, or if you prefer you can try one of the awarded restaurants mostly found around the city centre offering an amazing gastronomy experience. The last few years there has also been an increase in the street food options, starting with the traditional Greek souvlaki, but offering nowadays a lot of new additional options, such as falafel, kebab, Venezuelan, Chinese and Indian food. Expect to find many ice cream parlours, sweet stores selling loukoumades and frozen yogurt shops.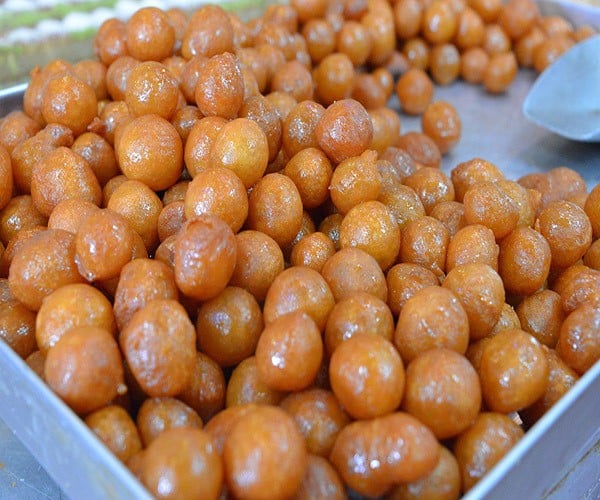 Nightlife
A city that never sleeps; a vast variety of wine and cocktail bars await for visitors to light up the night. In the areas of Kolonaki, Agia Irini, Thissio and Gkazi you may find bars for every taste. Lounge bars serving colourful cocktails, roof top bars with music and live events, clubs ideal for the dancers of the bunch. In the Athenian Riviera you may also find the bigger open-air clubs with a great variety in music and happenings.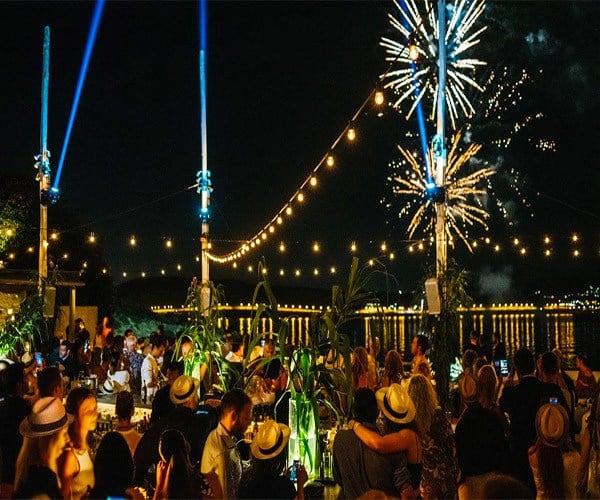 Maria Nikolakaki is Managing Partner at Beyond Spaces Villas.
If you would like to be a guest blogger on A Luxury Travel Blog in order to raise your profile, please contact us.