By
Paul Johnson
on Sep 21, 2018 in
Accommodation
,
Australia
,
Cruises & Boat Travel
,
Events
,
Featured
,
Hotels
,
Oceania
,
Regions
,
Speciality Travel
,
Travel Miscellany
This week I travelled to Sydney for just four nights to attend the seventh edition of Luxperience, a three and a half day luxury travel trade forum connecting many of the world's most exclusive travel providers in the southern hemisphere. It was therefore an opportunity to network with a number of people within the industry that I might not normally get to meet.
I stayed at Sofitel Sydney Darling Harbour – Darling Harbour's tallest building – which opened its doors just last year, making it the first new-build, international luxury hotel to open in Sydney's CBD this millennium.
The welcome
Check-in was swift, polite and efficient – just as it should be and just what you want after a long journey.
The room
I stayed in room 2217, on the 22nd floor of this 35-storey building. It is a spacious room with a king size bed and classified as a 'Superior room with Darling Harbour view'.
Behind the blind was the most amazing view of Darling Harbour…
…which was just as majestic at sunrise, too!
In addition to the trademark Sofitel MyBed™ – which I have to say was supremely comfortable – was a sofa, table, chair, minibar, safe, Nespresso machine and various other useful items – even an iron and ironing board.
Separating the bedroom from the bathroom were screened sliding doors.
The bathroom
The bathroom had a stand-alone bath and cubicles with frosted glass doors for a separate shower and WC.
Toiletries are from Paris-based atelier de parfums, Lanvin, in keeping with Sofitel's French roots.
Towelling dressing gowns and slippers are also provided.
The facilities
The hotel has two restaurants (plus a Champagne bar and pool bar). I didn't dine at either but enjoyed the buffet breakfast which is served daily at the restaurant on the third floor of the building.
This included all the usuals – fruit, cereals, bread, hams, cheeses, juices and more. There was also a hot buffet with sausages, bacon, scrambled eggs, hash browns, etc. and some Oriental options, plus you could order eggs or omelettes to your liking.
WiFi is free for staying guests throughout the hotel and I found it to be very reliable; in fact, so reliable that I was even picking up signal when I was several hundred metres away from the hotel building. You see the bridge in the photographs of the view just above? That's Pyrmont Bridge and I was extremely surprised to find that I was still getting signal even from there – and if you don't believe me, here's the proof! I thought this was very impressive given that it's probably around 400 metres away as the crow flies.
The hotel also has its own gymnasium and small outdoor infinity pool overlooking Darling Harbour, both on the fourth floor – some renovation work was going on in this area at the time of my visit.
Other nice touches
As a new hotel, I feel a great deal of thought had gone into planning the room from a guest's perspective. I found the lighting and sockets in my room to be very user-friendly – plenty of USB sockets, ample sockets either side of the bed (something you don't always get), and lighting and 'do not disturb'/'make up my room' switches that could be easily controlled from bed, from the bathroom or on your way out. There were even a few welcome treats in the room on arrival.
I always like to look for the extra little touches, though, when staying at a luxury hotel – where the service goes that extra mile that you might not expect. On my last day, there was one such instance of this; I went for a very early morning run before catching a flight to Hong Kong and was pleasantly surprised to find the doorman handing out bottles of water to myself and other runners who were guests of the hotel. What a star he was!
Cost
Superior rooms typically start from approximately 300 AUD per night.
The best bit
For me, the best bit about this hotel (other than the great view of Darling Harbour) was the proximity to the International Convention Centre (next door) where the majority of Luxperience 2018 was held.
When you've travelled half way around the world just for a few days, it makes a big difference to have what you need on your doorstep. Here is a picture of the ICC, with the hotel towering just behind, to give you an idea of the proximity.
The final verdict
The Sofitel Sydney Darling Harbour is a fitting addition to what has become a really bustling and lively waterfront on the western outskirts of Sydney's CBD and an area that has been completely transformed in recent years. The hotel is airy and modern, and provides an alternative location to a number of Sydney's other luxury hotels (many of which happen to be clustered around a historic area of Sydney's city centre known as The Rocks).
More about Luxperience
As already mentioned, I was staying at the hotel in order to attend Luxperience, an annual luxury travel industry exchange event.
Here are a few photographs to give you an insight into the set-up for this boutique forum.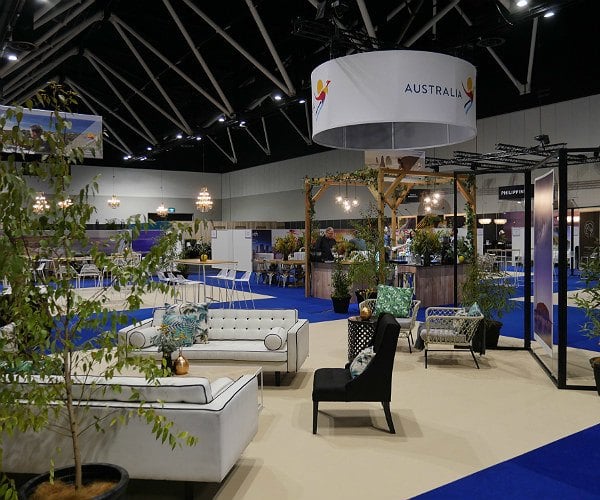 As well as being very well set up for meetings and networking, there were a few activities to enjoy on the sidelines, including an amazing Australian VR experience.
I had a quick go with this and admired the white sandy beaches and crystal blue waters of Whitehaven Beach in the Whitsundays, off the coast of north Queensland. You can see it in the video below (note that you can move around the video once it starts) but, for the best immersive experience, download the app and place your phone in a VR headset (or a homemade Google Cardboard device) to see this and more.
There was also a guy doing some beautiful aboriginal artwork on surfboards…
…and a rescue centre that had brought in some beautiful animals for us to admire and learn about, including this 7-month-old quokka and a very fine tawny frogmouth.
Immediately outside the ICC is the fresh air of Tumbalong Park, a relaxed area of parkland with fountains and a casual atmosphere, for those needing a little headspace.
Although I had lots of productive meetings, the highlight of Luxperience for me was the sunset cruise that a handful of us were lucky enough to go on at the end of the third and final day.
If you ever get the chance, this is something I would heartily recommend – it was such a wonderful way to take in the city.
We were aboard a beautifully-designed, 80-foot NISI yacht, capable of speeds in excess of 20 knots (although we took things at a rather more leisurely pace) and sleeping up to 8 people.
It was such a memorable cruise and a fitting way to end a very intimate conference.
Disclosure: This trip was made in partnership with Luxperience, with our hotel accommodation provided by Sofitel Sydney Darling Harbour and the sunset cruise organised by The Superyacht People.