Top 5 cruises for an unforgettable luxury holiday in Antarctica
A holiday to the white continent of Antarctica is on many a traveller's bucket list, but how can you decide on which cruise to take? There are now a number of operators offering exciting trips to this vast and icy part of the world, all with their own unique benefits. The ships are decked out with modern, state of the art technology and luxurious cabins, offering everything from private butler services to spas, making it a difficult decision. To help you make the right one, here we compare 5 of the best luxury Antarctica cruise ships;
1. The Greg Mortimer
Brand new for the 2019/20 season, the Greg Mortimer is a
luxury cruise
ship like no other. Featuring an impressively long list of state-of-the-art technology, this ship is one of the most advanced vessels in the world. Just by looking at the ship with its unique Ulstein X-Bow, guests will know they are going to be experiencing something very special indeed. This striking design means that it is faster, more comfortable and has less emissions.
Once inside, the luxury style become apparent, with publics areas such as a lecture theatre, observation lounge and mud-room all featuring excellent facilities. Floor to ceiling windows and hydraulic observation platforms offer unparalleled views of the passing icebergs and wildlife – perfect for photographers. Each cabin is spacious and well-equipped with en suite bathrooms, a desk, plenty of storage and daily cabin service. One of the features that sets this ship apart from the rest is the incredible activities on offer – from ice diving to ski touring, all lead my experienced professionals, there's something to suit everyone. And after a day out in the elements, what better than to end the day with a delicious meal in the comfortable and cosy dining area.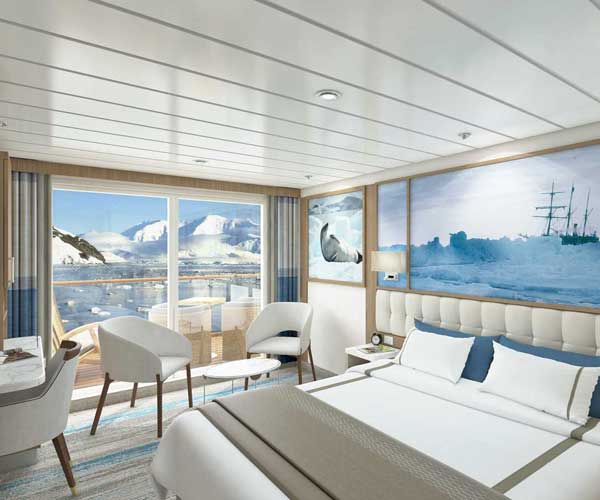 2. RCGS Resolute
The Resolute is another brand-new cruise ship that will be sailing to the icy waters of Antarctica this season. Offering luxurious comfort and a modern design, this ship is one of the most capable, safe and exclusive in the industry. Inside, both the bar and the lounge offer 180-degree views, which makes for pleasant sailing days. There is also a well-stocked library, two dining rooms, gym, wellness centre and theatre-style presentation area.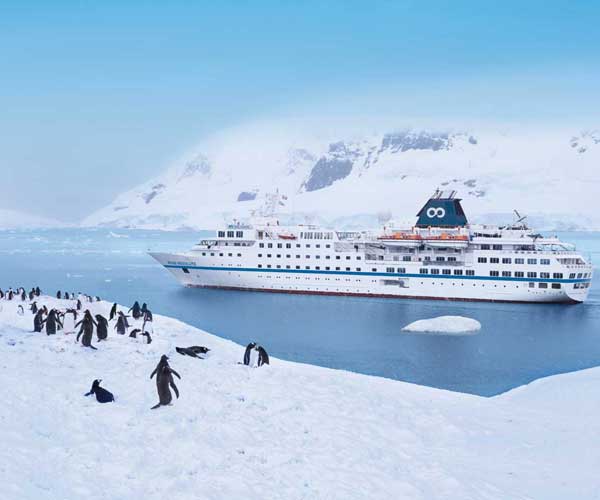 All of the ship's spaces are well designed and the cabins range from traditional porthole style to large suites. Each is extremely comfortable with cosy carpets, contemporary bathrooms, soft accent lighting and a journaling desk. Guests will receive equipment for use during their stay, including rubber boots, waterproof jacket and binoculars, perfect for spotting the wildlife during the many excursions offered.
3. The Silver Cloud
This small luxury cruise ship has been meticulously designed for those who enjoy exploring extreme areas whilst indulging in lavish surroundings. The large suites (which have a butler option), carefully planned itineraries and unparalleled service make this ship truly special. In numbers there are 19 passionate and dedicated experts on board, 18 zodiacs for excursions, 5 dining options and a swimming pool.
You'll cruise across the southern seas, passing giant prisms of ice floating on a deep blue sea, whilst bellowing elephant seals and raucous rookeries of penguins are unafraid and unperturbed by your presence. This ship offers the highest standards of comfort, safety and style. To see such a cold and hostile environment from such a luxurious base is a once-in-a-lifetime experience, and one that will never be forgotten.
4. Hanse Explorer
Private yachts are often associated with the Caribbean, the Galapagos or the Mediterranean, however, the Hanse Explorer is a private expedition vessel that offers exclusive holidays to Antarctica. With a capacity of 12, this is intimate and
luxury cruising
at its finest. The ship itself is steel built, ice-class and built to withstand some of the most challenging waters in the world.  There are two Mark-IV zodiacs on board for guests to explore the surrounding environment, making spotting wildlife such as whales, penguins and seals at eye-to-eye level much easier.
Inside is spacious, with friendly staff and gourmet meals served daily, making it very homely. The cabins inside are smart, with a nautical theme and which can configured into either double or twin beds. One owners suite on the upper deck benefits from a large private lounge. For those looking to embrace the spirit of exploration, this is the shop for you.
5. The Island Sky
Refurbished in 2017, the Island Sky is now one of the finest small ships offering luxury cruises to Antarctica. Built in an Italian ship yard, the interior is well-appointed with a boot room, library, spacious lounge, bar, top deck observation platform and elevators serving all passenger decks. The excellent facilities continue into the cabins, which boast a flat screen TV, independent temperature control, mini-bar, marble bathroom, fine toiletries, hair dryer and a generous amount of space.
With core technology, the ship has been built to operate smoothly, even in the testing conditions of the southern oceans. Guests are provided with a complimentary expedition jacket for use when exploring the stunning Antarctic landscapes by boat or on foot. If you are looking for an elegant cruise among whales and penguin colonies, the Island Sky is the perfect choice.
Did you enjoy this article?
Receive similar content direct to your inbox.