By
Thomas Ryves
on Oct 14, 2018 in
Accommodation
,
Argentina
,
Bolivia
,
Brazil
,
Camping
,
Central America
,
Chile
,
Costa Rica
,
Ecuador
,
Hotels
,
Regions
,
Resorts
,
South America
Latin America abounds with all manner of fascinating wildlife species, from tree-dwelling monkeys and birds of paradise in an array of colours to rare marine creatures like the pink dolphin and land-based ones like the elusive jaguar and the famous camelids of Latin America: vicunas.
Sloths, Costa Rica
Sloths, found in the Monteverde Cloud Forest in Costa Rica, are extremely endearing for their unhurried nature and their inquisitive chocolate-button eyes. Other than being completely adorable, they also have a fascinating fur coat – which, made up of algae, moths, mites and fungi, is in itself an entire ecosystem!
Where to stay
Hotel Belmar, nestled in the mountaintops of the Monteverde Reserve, is the place to stay to see these furry charmers in the wild. Stay in Austrian-inspired chalets overlooking the Arenal volcano and the surrounding forest. Over 28,000 hectares of unspoilt grounds, which you can explore on a guided walk, are home to two-toed sloths, as well as rare birds, frogs, snakes, raccoons and armadillos.
Jaguars, Brazil
Your best chance of seeing these elusive, rosette-patterned wild cats in Brazil is in the Pantanal (the world's largest tropical wetland, which is bigger than England). These wild cats have incredibly strong jaws that can crack a sea turtle's shell and hunt everything from amphibians to reptiles and mammals.
Where to stay
The Pantanal is the largest wetland plain on the planet – a definite must-see for lovers of wildlife and nature. If you wish to see jaguars, stay at the Caiman Ecological Refuge. The jaguar-tracking expedition – or 'spotlighting' as they call it – is a real adventure, made all the more exciting by the fact that it happens at night.
Magellanic penguins, Argentina
Named after the explorer Ferdinan Magellan in 1520, the South American magellanic penguins are the cousins of Galapagos, humboldt and African penguins. Big colonies can be spotted in Argentina, Chile and the Falkland Islands. When it gets too hot, these penguins shed the fur around their beaks, stick their arms out and pant like a dog.
Where to stay
You can encounter up to 100,000 magellanic penguins on a small island, only 15 minutes from the Bahia Bustamente lodge in Argentina, which, during low tide, you can walk to. As well as penguins, 13 marine birds that nest in Argentina's coast (out of 16), do so at Bahia Bustamante, including the blue-eyed cormorant and rock cormorant.
Vicunas, Bolivia
Vicunas are the smallest of the four South American camelids at just under two feet tall. Believed to be a wild predecessor of the alpaca, they are extremely furry and live in groups of approximately 10. Like rodents, their teeth never stop growing and they live high in the Andes Mountains of Bolivia, Chile, Argentina and Peru.
Where to stay
We recommend the Airstream Campers experience which takes you across the vast, dazzling-white expanse of the Uyuni salt flats. Cruise along this magical landscape in a 4 x 4 before spending the night in your camper at the heart of the desert, including dinner under the stars and morning breakfast on the salt flats. As well as seeing vicunas, this is a top spot to see flamingos gather around reddish lakes.
Toucans, Costa Rica
You'd think toucans would be easy to spot with their bright orange bills but these birds are very shy and live high up in tree canopies. There are 40 species of toucans throughout Mexico, Central and South America, the most famous of which is the bright-billed toco toucan. These spectacular birds use their colourful choppers during mating rituals where the male and female toss fruit at one another.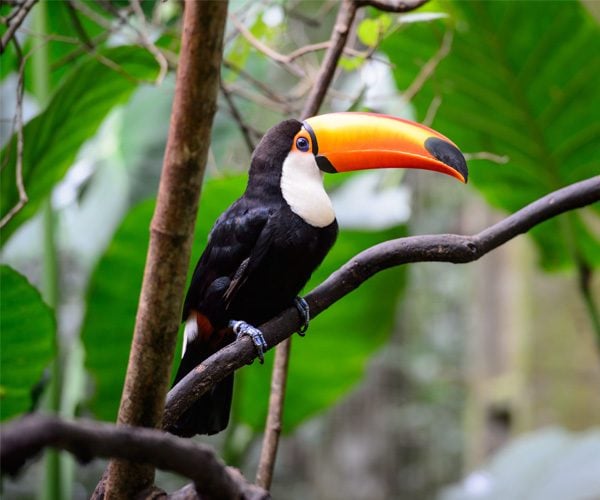 Where to stay
Set on 1,000 acres of lowland rainforest, Lapa Rios is one of National Geographic's 'Unique Lodges of the World' and offers 'a Noah's Ark level of wildlife', with over 300 bird species to delight keen twitchers. Skilled guides with trained eyes can help you to find shy toucans as well as the plethora of species which have made this stunning rainforest home.
Resplendent quetzals, Costa Rica
This iconic bird truly lives up to its name and is nothing short of resplendent. With eye-poppingly green feathers and a red belly, it is truly captivating. This bird was sacred to the Mayans and Aztecs and it was seen as a symbol of wealth. During mating season, male quetzals grow twin tail feathers that form a metre-long train.
Where to stay
The Villa Blanca Cloudforest Resort & Nature Reserve offers charming lodges and suites within a 19th-century mountain village. The Villa Blanca Quetzal tour takes you on a scenic drive to the Azahar Peak in the Central Highlands, where you'll visit a family-operated farm where quetzals nest, along with a variety of birds and wildlife.
Marine iguanas, Galapagos
Marine iguanas, unique to the Galapagos Islands, are the only lizards that have the ability to forage and swim in the sea. These are the only marine lizards in the world and love basking in the sun while lounging on the rocks (which is why they are black as their colour helps them to retain the heat since they're cold-blooded).
Where to stay
The eco-chic Finch Bay is one of the Galapagos's finest hotels, perfect for exploring this fascinating region by land. Marine iguanas are prolific throughout the Galapagos and can be seen pretty much anywhere. Surrounded by mangrove forests, it also provides the ideal base for birdwatching.
Pumas, Patagonia
Also known as the mountain lion, pumas are incredibly powerful as contemporaries of the extinct sabre-toothed cat and can run up to 50mph. They have powerful hind legs which give them great jumping power- perfect for hunting deer, elk, moose and pretty much anything else it can get its paws on.
Where to stay
The Awasi Patagonia overlooks the iconic peaks of the Torres del Paine National Park and its crystal-clear lakes. The Awasi Puma Foundation works for the conservation of these big cats, with a 4,500-hectare reserve for the puma population. Stay in one of the resort's luxurious villas, with pumas nearby, as well as guanacos, condors, foxes and other fascinating neighbours.
Thomas Ryves is Marketing Director at Exsus Travel. Exsus Travel specialises in creating the very best luxury tailor-made holidays, honeymoons and family adventures in over 80 destinations worldwide.
If you would like to be a guest blogger on A Luxury Travel Blog in order to raise your profile, please contact us.