By
Jo Mackay
on Oct 22, 2018 in
Attractions
,
Europe
,
Food and Drink
,
Going Out
,
Italy
,
Leisure Travel
,
Regions
,
Speciality Travel
,
Travel Miscellany
,
Western Europe
Le Marche is actually one of the smallest regions in Italy and, arguably, one of the least well known. However, there is no doubting that it really is the hidden gem of this beautiful country with a size that is deceptive given the incredible wealth of sights to see and attractions to visit. No matter where you choose to stay in Le Marche, the local people – the marchigiani – will welcome you with their warmth and hospitality, sharing with you the passion they have for their region and their traditions.
So what are the many reasons you should be putting Marche on your holiday bucket list….
Sports and leisure
This is a region that truly offers an all year round programme of sporting activities. For Winter sports enthusiasts, Marche offers skiing in the Apennines, whilst for those who enjoy water-based pastimes, there are plenty of opportunities to enjoy a spot of fishing along Le Marche's coastline. There are also yachting and sailing schools in many of the harbour towns, including Porto San Giorgio. And on land in the Spring, Summer and Autumn months, there is horse riding, hiking and Nordic walking.
Beaches
Whilst the region may be bordered by inland Umbria to the West, to the East it boasts 180km of stunning coastline along the Adriatic sea offering some fantastic beaches. There are 16 Blue Flag beaches in total, known for their clean water and superb environmental record. If you're looking for a stretch of coast with some nightlife thrown in, then Pesaro, Fano, Senigallia and San Benedetto del Tronto are probably the best options, while Sirolo, Numana and Grottammare will not disappoint with their sheer beauty.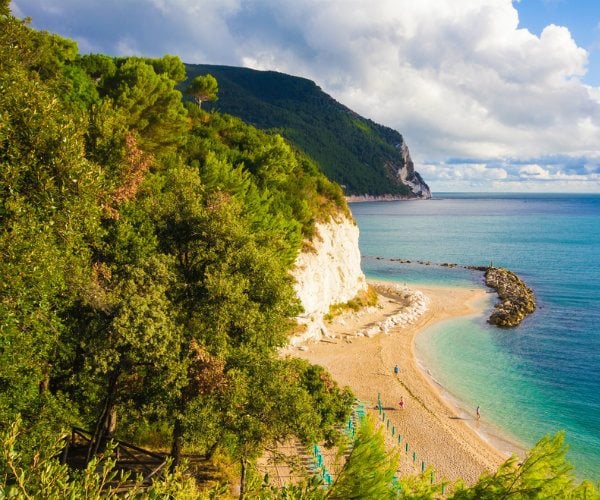 Spas and relaxation
Marche boasts the most wonderful natural parks and is perfect for those looking to relax and unwind. Marche residents certainly lead a slower pace of life. They have learnt to appreciate the small and ordinary things in life, enjoying the company of friends and family closest to them to truly understand how sweet 'la dolce vita' can be…. So there really is no better place in Italy in which to relax. For those looking to indulge in spa treatments, whether simply for relaxation or for the health benefits they offer, there are spas located in Carignano Terme, Montegrimano, Tolentino, Sarnano, Torre di Palme and Acquasanta Terme. Mud baths, aerosol therapy and other treatments are all on offer here.
Sightseeing
Marche boasts a plethora of fascinating towns to visit. Some of the more well known and note-worthy include Urbino to the North, Jesi, Lotero, Macerata, Senigallia and Corinaldo. However, don't confine your visit to the larger towns. Marche's central belt is rich in beautiful hilltop villages allowing visitors to almost take a step back in time to Renaissance or Medieval times. In total 25 of these villages have been awarded the crown of being 'the most beautiful villages in Italy' and a further 21 have also been awarded the orange flag as places of tradition and hospitality. Don't miss Offida, Cingoli, Treia, Mondolfo and Gradara to name but a few. With approximately 350 museums to explore and with numerous theatres and literally thousands of churches, Le Marche truly is an area that is incredibly rich in history and culture.
Landscape
The landscape of Le Marche is incredibly varied, from the mountains of the Apennines which separate Marche from Tuscany, Umbria and Lazio, to the gentle hills and long stretch of coastline to the East. But it's not just above land that the landscape is worth exploring. Deep underground, there is just as much to explore. The 3rd largest subterranean passageway in the world, the Grotte di Frasassi are well worth a visit and have to be seen to be believed. It's a fascinating collection of caves, underground lakes, stalactites and pillars. It's largest cave, known as the "Grotto Grande del Vento' (the large wind cave) is a vast space measuring 180 by 120 metres and even hosts events and weddings.
Food
As you'd expect from anywhere in Italy, the region of Le Marche has many unique local specialities but the breadth of specialities without doubt reflects the sheer variety of it's landscape. Don't miss the chance to sample the olive all' ascolana, absolutely delicious deep fried olives stuffed with a mixture of meats. Also of note is the salumi production – the area is famous for a spreadable salami – and the production of pecorino cheese which is used often and varies in taste depending on the method and area of production. And, of course, the area is famous for it's truffles, including the white truffle found in Montefeltro and the Pesaro uplands. The annual truffle fair is arguably second only to that in Alba, Piedmonte. Don't miss the opportunity to try the region's truffles paired with it's unique pasta – passatelli. And let's not forget that the sea is also a fantastic source of food in this region. The fish soup – brodetto – is superb! And, of course, what better way to wash down all this food than with a glass of wine. As in many regions of Italy, wine production abounds with the Verdicchio wine-making area of the Esino valley in the North.
Art
While the Renaissance may more regularly conjure up images of Tuscany, in fact, Le Marche, has a rich history of art. One of the most famous Renaissance artists, Raphael, was born in Urbino, a town whose court attracted artists from all over Italy and Europe during the Renaissance and which remains one of the best kept examples of a Renaissance town. It is also possible for holidaymakers to visit the house where Raphael was born. The Galleria Nazionale delle Marche in Urbino is where visitors can admire works by other famous artists such as Piero della Francesca and Luciana Laurana.
Music
Marche's music heritage is just as strong as it's history of art. To take just one example, Pesaro, in the North of the region, was home to the internationally famous composer, Rossini. Although Rossini left his hometown aged eight, he never forgot his birthplace and the inhabitants of the city have honoured the composer ever since his death. Every August, the Rossini Opera Festival takes place and in February 2019, a new museum will open in the Palazzo Montani Antaldi to celebrate the life and work of this great man. Visitors to Pesaro can already visit Rossini's birth house and enjoy the multimedia 'Rossini experience' as well as listen to some of the incredible performances by the city's Conservatorio Rossini, home to more than 700 musicians and composers.
Shopping
Marche is home to some of Italy's most famous designers and it is where the quality associated with the strapline 'Made in Italy' really comes to life. Whilst Milan may be the city that most often conjures up images of high fashion, in reality, Le Marche is the birthplace of many of Italy's most famous fashion brands. Post WW2 leather production in the region, for example, resulted in first class accessory companies such as Tod's and the region is now home to outlet stores for many of the big multi-national fashion houses such as Prada, Armani and Tod's. Not only that, small family-run factories still sit comfortably alongside these big corporations and, venture into the rolling hills of the region and it won't take you long to come across traditional artisans, masters of their craft. The one thing that unites them is quality and tradition. And on that note, it's worth shopping for some of the traditional crafts of the region too. The region is famous for its pottery production which dates back to the Renaissance period and for the world famous paper of Fabriano, the techniques to produce which tourists can discover at the Museo della Carta e della Filigrana.
Dialects
If you thought that your Italian wasn't up to scratch on holiday in Le Marche, then it may just be that you were trying to understand an unfamiliar regional dialect. In total, thirteen main dialect varieties have been identified in Italy. In turn these have been divided into three main categories. Le Marche is the only Italian region where dialects belonging to all three main categories are spoken, surely making it the linguistic epicentre of Italy. What better way to really test those language skills?!!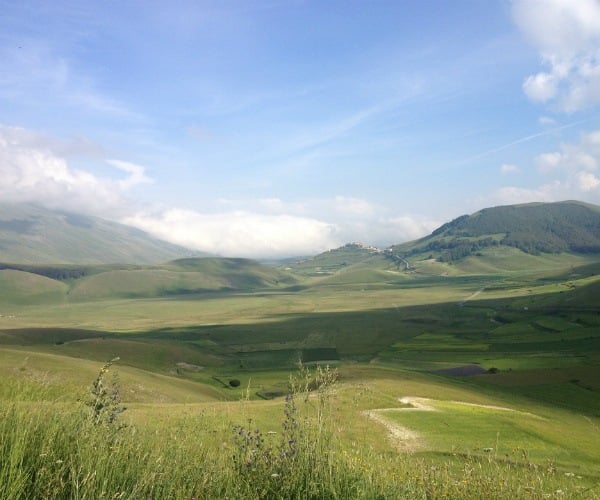 Jo Mackay is Owner of Bookings For You. Bookings For You is a company offering apartment and villa rentals in Italy and France.
If you would like to be a guest blogger on A Luxury Travel Blog in order to raise your profile, please contact us.